Hidden along a lengthy driveway off the main street in the Fife village of Crossford on the outskirts of Dunfermline, Keavil House Hotel is part of the Best Western group but maintains the look and feel of an individual establishment, with its Scottish baronial architecture and sympathetically modernised light, airy interior spaces.
The main restaurant, now called the Botanist, lies at the back of the ground floor in a high-ceilinged conservatory area. It's large and spacious with another, more warmly and colourfully decorated adjoining space offering a different, cosier atmosphere.
We started off with a drink in the lounge before being shown to our table. From the beginning, the service was excellent – a brigade of young servers and supervisors were friendly, efficient and gave the place a real feel of local personality.
They also knew their stuff about ingredients and suppliers, including local producers like Fife Creameries, the Linlithgow-based Campbell's meat company and family-owned Mark Murphy vegetables.
A complimentary tray of very nice bread, served with pats of butter, oil and balsamic dip and a scatter of whole olives arrived to whet our appetites. There's a pleasing informality about the approach here – classics from fish and chips to lasagne, burgers and prime steaks, alongside sharing platters and grills.
There are also some interesting individual dishes and from the starter section, though tempted by the soup of the day (the unusual combination of cauliflower and tarragon), we opted for the Botanist version of Cullen skink (advertising smoked haddock, potato and leek with a light curry oil, topped with a poached egg – £5) and for a savoury panna cotta – usually a creamy Italian dessert – at £7.
Himself, being a huge Cullen skink fan, was looking forward to this rather different take on an old favourite but unfortunately, it didn't live up expectations. It looked lovely, with the pale green of the leek component showing through, the dots of oil floating on top and the perfectly poached egg. But the brew wasn't rich enough and the effect was frankly bland.
The approach to it seemed tentative – it definitely needed much more smoked fish both for texture and flavour and much closer attention to seasoning. This was a real disappointment because the idea behind it seemed interesting and imaginative but the execution let it down.
Happily, the other starter more than held its own for originality and taste. The finely textured "cooked cream" was well-flavoured with blue cheese and melded perfectly with the carpaccio of fig (thinly sliced, ripe fruit) and a generous, slightly sweet, scattering of toasted sunflower seed granola.
Taking the notion of a classic pudding and altering it to make a savoury starter was inspired – and the staff obviously had me bang to rights because before it even appeared, I was presented with a spoon "so you don't miss any of it!".
Not usually being great steak hands, we both opted for different versions as a main course – Neil ordered the classic steak frites (£15), a flat-iron cut served with a packed dish of thin and crispy fries and a generous jug of creamed peppercorn sauce. He asked for the steak rare and got it absolutely perfect, pronouncing the whole dish "simple but just how it should be."
My steak and kidney (£16) was a hearty combination of a grilled, thickly sliced bavette cut, with a mini steak and kidney Scotch pie topped with mash and a slab of rosti, smoked carrot puree and wilted spinach. I LOVE kidney which I know isn't everyone's cup of meat but this perfectly cooked (medium-rare) bavette complemented the little pie, whose crispy pastry and rich gravy were right up my rue.
From a wine list offering a good selection by the glass, as well as top end bottles of Pomerol and Pouilly-fuisse at £40 and £45 a pop, Neil enjoyed a 250ml measure of Caleo Montepulciano, served rather nicely in a little carafe. Next time, he's going to be the designated driver…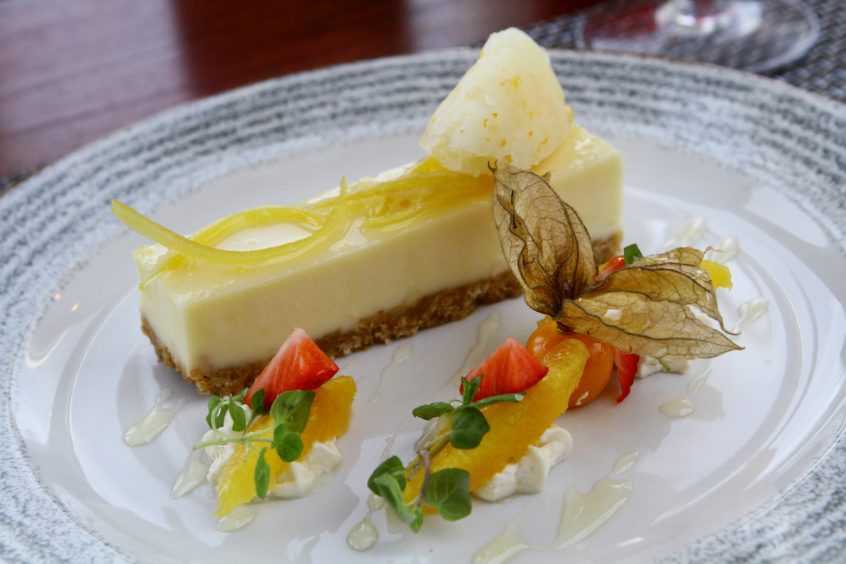 Eventually deciding that we could cope with a pudding, Neil opted for two scoops of vanilla ice cream (a steal at £1 per generous scoop) and I decided I couldn't miss the lemon and stem ginger cheesecake which came with a satsuma sorbet (£6). I was sorely tempted by the interestingly presented beer mug chocolate brownie (again, £6) but was glad I'd chosen the zingy citrus of the light cheesecake, the kick of real ginger and the colourful and yummy sorbet.
There were lots of good ideas on this menu – I was intrigued by side dishes of potato, black pudding and lemon thyme gratin or warm pancetta, Brussels sprout and gnocchi salad, to name but two.
Someone here is thinking carefully about the mix and match of ingredients and with a bit more confidence and attention to detail, it's certainly well worth trying.
Price: starters £5 to £7; mains £9 to £29; pudding/cheese £6 -£9.
Value: 8/10
Menu:  7/10
Atmosphere: 7/10
Service: 8/10
Food: 7/10
Total: 37/50
Info: Botanist Restaurant
Address: Keavil House Hotel, Crossford, Dunfermline KY12 8NN
t: 01383 736258