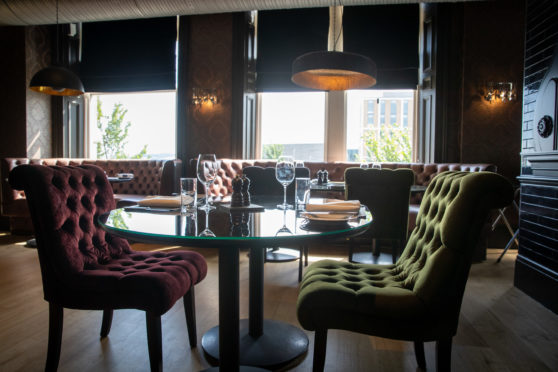 Malmaison hotels have gone through various owners since their quite brilliant launch by ace Scottish hotelier Ken McCulloch in 1994 and sadly it's fair to say that they have got less special as the years have gone by.
Increased visual awareness and appreciation of true individuality mean that what once seemed louche, sexy and innovative now seems old, tired and corporate – faux attempts at individuality and wackiness dreamed up in a boardroom rather than in a maverick's head. Plus there's more competition now.
However, the Dundee Malmaison is to be applauded for rescuing from dereliction a once glorious city centre hotel (the Tay Centre, to which my school pals and I would chase pop groups after their Caird Hall concerts); they did a good job and the hotel stands as a beacon to the new Dundee, especially at night with their logo shimmering in the dark. To walk up the magnificent staircase to the Brasserie is genuinely thrilling.
First impressions of the Brasserie are good. It looks glamorous and inviting – well-spaced tables and a general air of celebration at the end of a working week. Our table is at the far end of the room, sadly affording a perfect view of the ghastly Sleeperz hotel and the new train station; other views of the equally horrific and still unoccupied new office building, successfully blocking the world-class brilliance of Kengo Kuma's V&A Dundee, are sadly also available.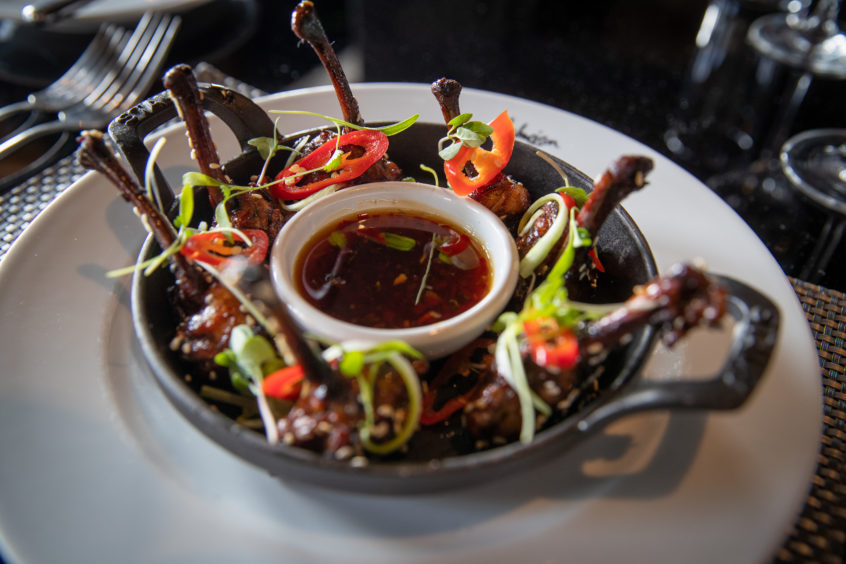 We so wanted to love the Brasserie at the Mal because they are obviously trying hard. The menu is extensive and, I would guess, doesn't change much because copies of it are liberally distributed on paper outside the restaurant and the menu itself is printed within quite a lavish booklet. There is a vegan menu presented on a sheet which still bears the food stains of previous diners and could do with a laminating machine and a cloth – but good to see a vegan menu nonetheless.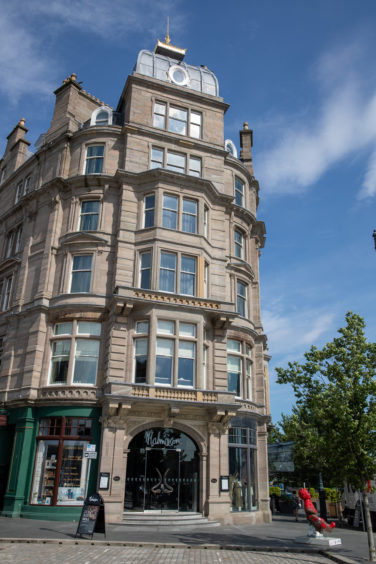 The menu tries to cover all bases with some new innovations/clichés, some old standards and some frankly baffling additions, making us wonder what the modern, PC equivalent of "all fur coat and no knickers" would be? Alvin, kinder and not so base in thought, suggested 'emperor's new clothes' so let's stick with that.
We ordered some nibbles, the idea being that they would come quickly. This was just as well because service started well but got progressively slower and less interested as the night wore on. Fried pickles (£4.50) were a new one on me and I can say that my experiment wasn't hugely successful; the batter was fine but many of the vegetables were still rock hard so the whole experience became something of a challenge.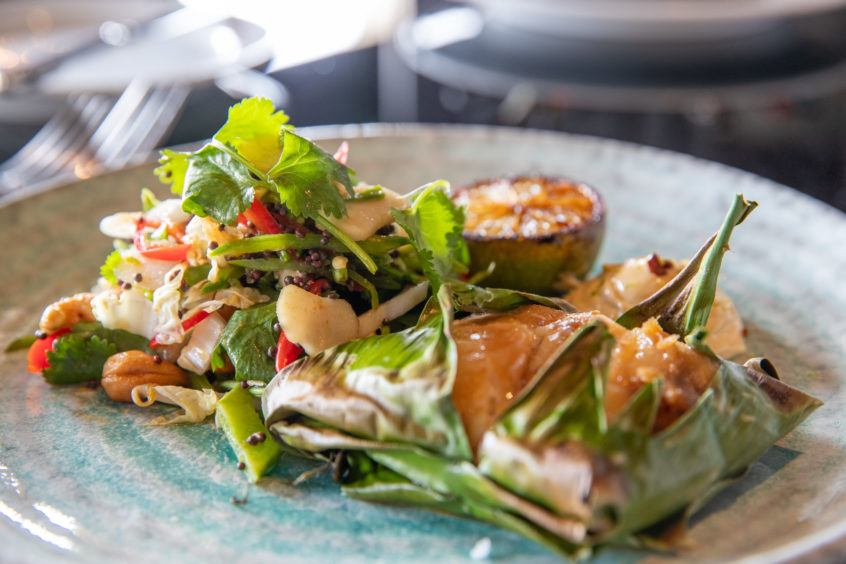 Pickling didn't seem to have added any discernible positive element; I love Japanese pickles and often eat them straight from the fridge but putting raw pickled veg in a batter was a fusion step too far. In fairness, the ones that were cooked were fine. Next was home-made fougasse with a black garlic aioli (£5.50); the bread wasn't baked properly and the black garlic aioli had a muddy look, texture and a taste that was unappealing.
Actual starters took an hour to arrive. My starter of Thai sticky chicken lollipops (£8) was great; grilled chicken wings with the bone exposed, served with a good Thai dipping sauce. David's vegetable tempura (£7.50) were also pretty good, served with a sweet chilli sauce – abundantly portioned, although again some of the vegetables were undercooked.
Main courses were more miss than hit. My blackened cod fillet baked in a banana leaf (£16) wasn't baked enough so really all you got was a bland piece of fish inside a charred banana leaf. The ponzu mayo, toasted cashew nuts and hot and sour salad were too incidental to really add zest to the bland fish.
Alvin's ribeye steak (£28) was served rare as requested and we both thought it tasted pretty good but the fact you had to pay extra for chips and béarnaise/peppercorn sauce etc was both irritating and mean. Who orders steak without chips? The two 'free' onion rings that came with the steak were almost inedible.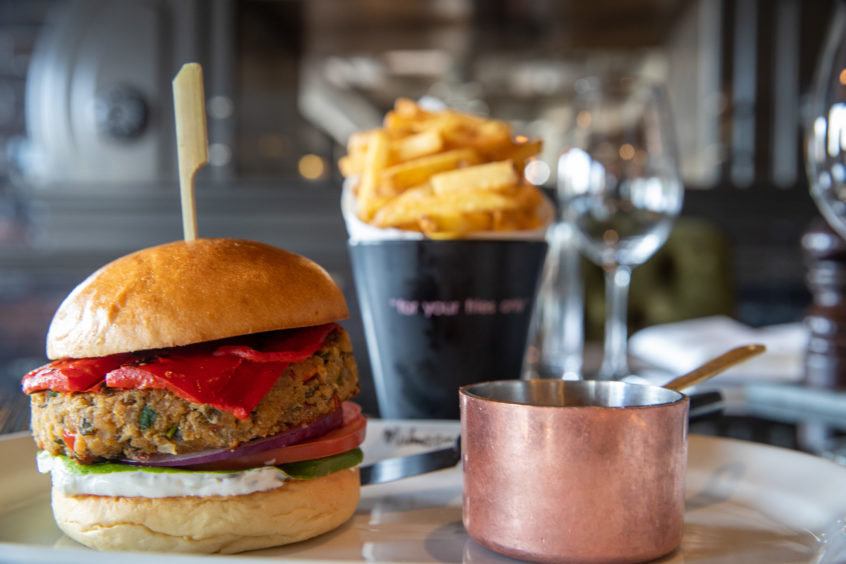 David's falafel burger (£14) was just horrid and perhaps never should have been offered or ordered; a grey mass of falafel mixture pressed into a burger, as clumpy and dry as congealed cat litter. The harissa mayo was unpleasant. He left almost the whole burger which was removed by the waiter with no comment, no offer to deduct it from the bill and no suggestions about ordering another main course. To engage in such dialogue might have betrayed an interest in the well-being of the customer but this was not to happen.
Next to us a table of 6 women seemed to wait ages for any food to appear – even longer than us. A mass order of chicken Kiev seemed to prompt a group hunt to find the garlic butter inside each dense portion of fowl.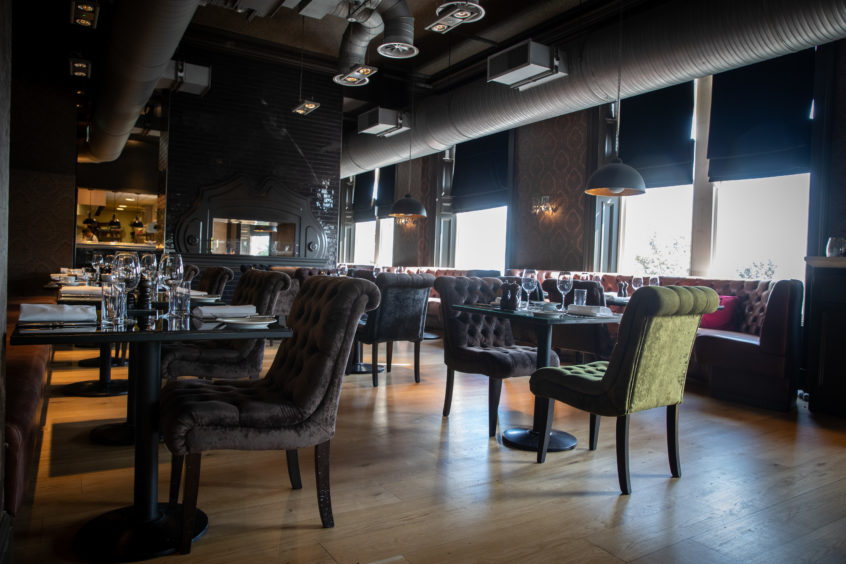 By now we were ready to leave. As desultory experiences go, it was pretty dispiriting – like a desolate battle of wills between people who wanted to have a great time (we and the women next to us all seemed to be trying to celebrate) and people who just wanted to wipe down the tables, clear the room and go home.
It struck me once again how much I hate being treated as a number, part of a transaction to be processed as quickly as possible. All of my favourite places in Dundee – from a cheap as chips egg and cheese roll at Fortes Café to a slap-up meal at the Tayberry – offer an experience which is beyond the food, good as that is in both.
When you get neither the experience of caring or the great food it's time to skip dessert and coffee and head home. Reasonable house red wine though…
Malmaison Dundee
44 Whitehall Crescent
Dundee
DD1 4AY
t: 01382 339715
Prices: nibbles from £3.50; starters from £5.50; mains from £12; desserts £6.50
Value: 4/10
Menu: 6/10
Atmosphere: 7/10
Service: 5/10
Food: 5/10
Total: 27/50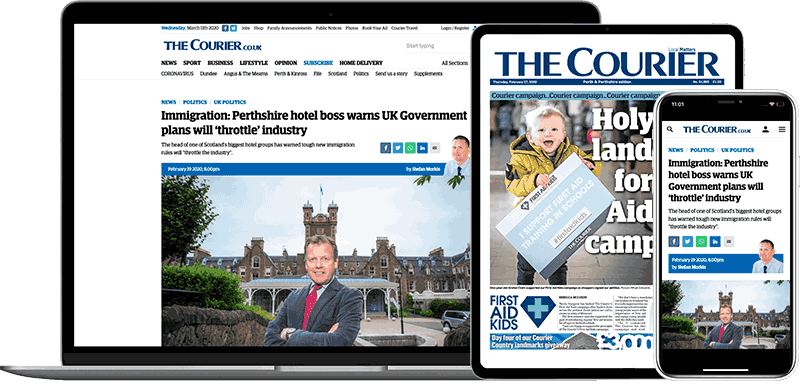 Help support quality local journalism … become a digital subscriber to The Courier
For as little as £5.99 a month you can access all of our content, including Premium articles.
Subscribe