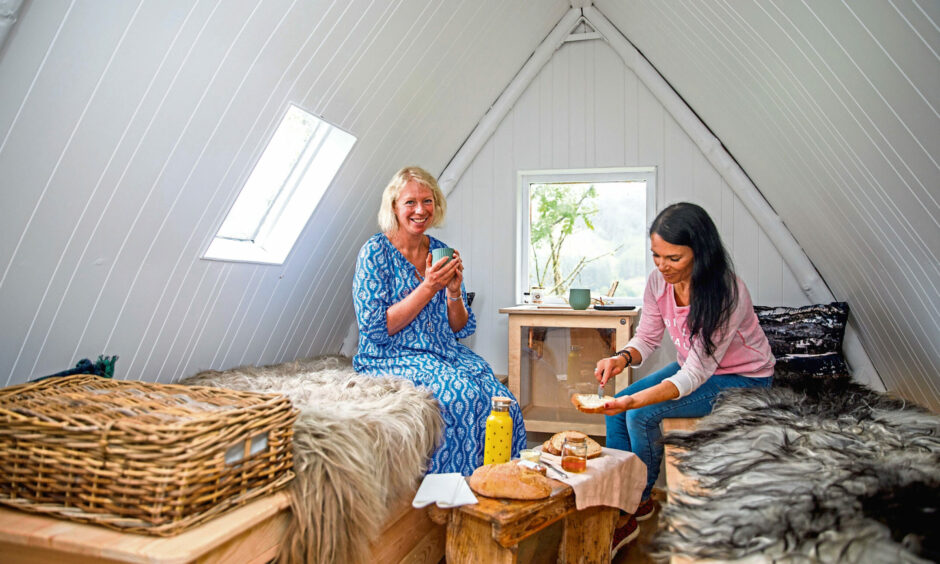 The UK's first 'bee therapy' retreat just launched in Perthshire, with sounds, vibrations and aromas to help visitors de-stress and chill out. I was buzzing to check it out. Here's how I got on.
Rarely have I felt so soothed, cocooned and utterly relaxed. Sounds like paradise? Well, it pretty much is – although it can be found quite easily, inside a dedicated 'apipod' nestled in woodland in Balquhidder Glen.
It's here that Charlotte Blackler has just launched the UK's very first 'bee therapy' centre, in tandem with boutique hotel Monachyle Mhor.
Charlotte, who's based in Glenalmond, tells me there are multiple benefits to be had, simply by listening to the gentle sounds and vibrations of bees buzzing, and inhaling the gorgeous scent of honey.
Lying here in the apipod, a specially designed wooden triangular structure hidden in a wooded glade, I have to agree.
So, how does it work?
Am I likely to get stung? Charlotte assures me not!
Essentially, six hives, each housing around 60,000 honey bees, have been placed in compartments underneath the pod.
While the bees come and go freely through their own entrance, mesh between the walls and hives ensures only the sounds, smells and vibrations infuse the pod's interior – there's no risk of them getting anywhere near me.
What do you do once you're inside? Absolutely nothing except lie on a cosy sheepskin-covered bed, and chill.
Meditative experience
It's raining outside as I lounge here, feeling more and more drowsy, the pitter-patter of water against the tiny windows enhancing the blissful, meditative experience.
The 45-minute session includes a hamper filled with goodies galore – fresh lemon balm tea, picked from the hotel's kitchen garden, raw honey, a loaf of artisan bread, and a baked oat cereal snack bar.
Both the bread and bar are from Charlotte's Mena range of menopause-friendly food products. Packed with plant oestrogens, she explains these can provide a natural hormone replacement therapy – as opposed to HRT – thanks to them boasting a similar chemical structure.
Bread and honey
I scoff a fair whack of bread and honey, plus most of the bar, and can confirm they're absolutely delicious.
As I'm munching away, Charlotte tells me how she got into beekeeping. "It started as a hobby 14 years ago. I thought it was going to be really easy – hives, bees, honey, Bob's your uncle!" she laughs.
"But it's really complicated! You can do a whole degree in apitherapy."
Disappointed with the lack of honey being produced, Charlotte began looking into other things she could do with bees.
Bringing bee therapy to Scotland
A trip to Slovenia, where apitherapy is a fast-growing trend, inspired her to introduce the concept to Scotland.
"There are lots of pods in Eastern Europe where people go in and breathe the air of the hives for medicinal purposes.
"And right here, where the bees collect pollen and nectar from heather and wildflowers on the hills, is the perfect place to do this."
Busy bees
Bees are busiest when the sun is out, but despite the rain, they're active during my visit.
"On a sunny day it's definitely louder!" beams Charlotte.
"The note they vibrate their wings at is apparently in the key of 'C' – and listening to a constant 'C' is said to help with PTSD and nervous disorders. The vibrations caused by bees' wings also have a positive energising effect which calms and relaxes.
"It's a sensory, therapeutic experience – a lot of it is about the smell.
"You de-stress listening to the bees going about their business, surrounded by the aromas of honey, propolis, nectar and pollen."
Product of the hive
For anyone not sure what propolis is, Charlotte explains it's a resin-like material, also known as 'bee glue', made by bees mixing saliva, beeswax and plant sap.
"It's a product of the hive," she notes. "But it has many healing properties. It helps fight bacteria, viruses and fungi and is anti-inflammatory and antiviral.
"Put it on a cut and it'll heal quickly, plus when it's warmed up by bees in the apipod, it's great for respiratory conditions."
Collaboration
Having worked closely with the Lewis family, who own Monachyle Mhor, raising her pigs in woodlands here, Charlotte knew the concept of bee therapy would be something they would love.
They'd already been looking at ways of boosting 'nature tourism', and this seemed the ideal collaboration.
When I catch up with chef patron Tom Lewis he says he says the apipod "fits perfectly", adding: "We offer guests great food, warm hospitality and unforgettable memories – and we're really open to new ideas."
Hay bathing
Tom's off to recce a retreat in Italy that offers hay bathing, a quirky wellness ritual that involves being covered in hay and wrapped in foil.
I can 100% see that being a thing here. He's also mulling over plans for a loch-side sauna.
Adventure
Getting to Monachyle Mhor is an adventure in itself. It's nine miles from Lochearnhead, but the last six are along a twisty single-track road, some stretches closely skirting the banks of Loch Voil.
While you're in the area you can take a dip in the loch, climb some Munros, or dander up Monachyle Glen with its tumbling waterfalls, rushing burns and wildflower meadows.
Pop into Monachyle Mhor for lunch – or splash out and stay the weekend – and truly immerse yourself in nature.
Open for bookings
The apipod is open for bookings until the end of September, reopening in spring.
"We're working with the seasons," says Charlotte. "So we'll keep it open as long as the bees are active."
Further down the line, she hopes to run workshops with natural practitioners, plus there's the possibility of "Bed and Bees" stays, offering visitors the chance to spend the night in the apipod.
"It's all about embracing nature," she adds. "Go for a hike, relax over lunch, then be lulled to sleep by the vibrations thousands of tiny wings as you're enveloped in the heavenly scent of warm honey from hives beneath you. Bliss!"
45 minute sessions in the apipod, including a refreshment hamper, start at £80. monachylemhor.net
Charlotte also runs food subscription business, Herb Majesty. This sells free-range turkey, pork, lamb and chicken raised and grazed on wild herbal pastures in Glenalmond. herbmajesty.co.uk