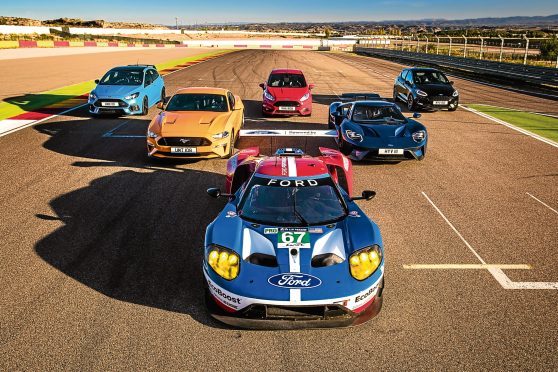 Ford has brought together eight of its fastest models and pitted them against each other on a racetrack.
The F-150 Raptor; Fiesta ST, all-new Fiesta ST, Focus RS, new Mustang GT, Mustang GT350R, Ford GT road car and Ford GT race car went head to head at the Motorland circuit near Barcelona.
A group of eight Ford Chip Ganassi racing team drivers tore round the 5.35km circuit.
Fastest was, unsurprisingly, the GT race car at 1 minute 40s, followed 10 seconds later by the GT road car. Then it was the two Mustangs, followed by the Focus RS at 2.11.
The new Fiesta ST pipped the outgoing model, while the F-150 Raptor came in last with a still very respectable time of 2.30.
The fast Ford shootout is available on Ford's YouTube channel.