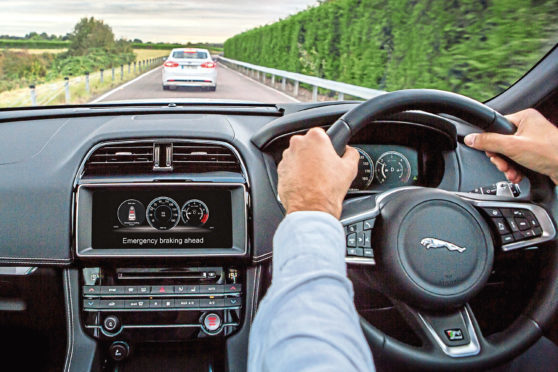 The European Commission has announced proposals to make 11 new car safety systems mandatory on all new vehicles by the year 2021, as part of a move to cut road deaths and serious injuries in half.
The 11 proposed systems are:
1. Advanced emergency braking – a system to automatically bring the car to a halt if it detects a crash is about to occur.
2. Alcohol interlock installation – the ability to place a breathalyser device in the car's ignition, preventing serial drink-drivers from getting behind the wheel.
3. Drowsiness and attention detection – detects when the driver's attention begins to waver and warns them to take a break.
4. Accident data recorder – much like an aircraft 'black box', this records data such as speed, GPS location and time in the event of a collision.
5. Emergency stop signal – automatically flashes the hazard warning lights in the event of an emergency stop.
6. Improved seatbelts.
7. A larger head impact zone with safety glass for greater cyclist and pedestrian protection in a crash.
8. Intelligent speed assistance – a system that can be overridden to limit speed based on traffic sign recognition.
9. Lane keeping assist – alerts the driver if they stray out of their lane.
10. Greater occupant protection in the side impact test.
11. Reversing camera or sensors.
Antonio Avenoso, executive director of the European Transport Safety Council, said: "Taken together, the announcement could represent the biggest step forward in road safety in Europe since the introduction of the seatbelt.
Road traffic injury is still the number one killer of young people across the continent, so these essential measures cannot come soon enough."
Avenoso also accused car manufacturers of attempting to slow progress in these areas, saying: "It is absolutely crucial that EU member states and the European Parliament give their backing to the plans and that they do not give in to pressure from car manufacturers, who are already attempting to weaken parts of the vehicle safety proposal."
The European Commission estimates that combined with proposals for better targeted investment in dangerous roads, the proposals could save up to 10,500 lives and avoid almost 60,000 injuries between 2020-2030.
Of course, Britain will no longer be in the EU by the time these measures become law. Hopefully, however, we will force car makers to adopt similar safety standards here.
The USA made reversing cameras mandatory on all new cars earlier this year. The cost to equip each new car was estimated at $40-$140 (£30-£105) but the move will tackle the estimated 200 people killed and 14,000 injured in so-called 'backover accidents' each year in the US.