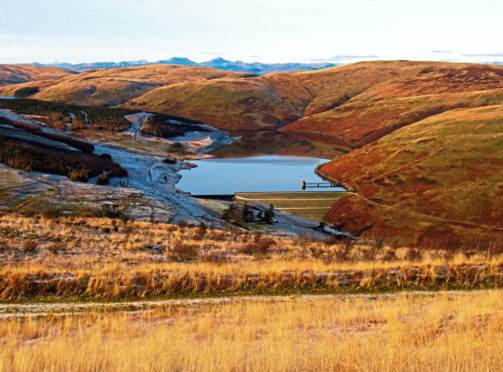 One of the wonders of winter for walkers is the difference a good hard frost can make to an otherwise soft and squelchy path, frozen ground underfoot aiding progress and keeping boots dry.
The Ben Shee loop in Glen Devon follows a generally pretty sound footing but, along the way, like a lot of paths, where rivulets of water trickle out across the trail, the terrain can become rather moist.
With the thermometer hovering just below zero, I prized myself out of a warm car, pulled on my boots, hat and down jacket and set off for the summit, passing information boards and a picnic bench.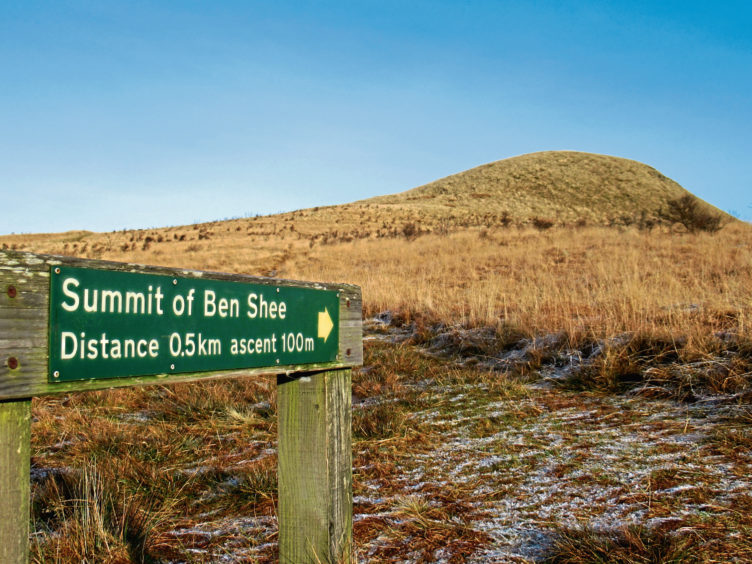 Ben Shee – the fairy hill – rises between Glen Devon, to the north, and Glen Sherup, to the south, in an enchanting landscape of hills and valleys, reservoirs and rivers and forestry plantations and native woodlands.
A waymarked route roams around the peak with a short, signed detour guiding walkers to the top, a great viewpoint with vistas stretching from the Lomond Hills in Fife north to the well-defined mountains of Schiehallion, Ben Vorlich and Ben More which punctuate the distant skyline.
Blocked by peaks closer to home, the sun had yet to permeate the valley, but the bitter cold was quickly forgotten as I hiked up through the sheltered confines of the conifers to Glensherup Reservoir, dark water concealed beneath a thick crust of ice.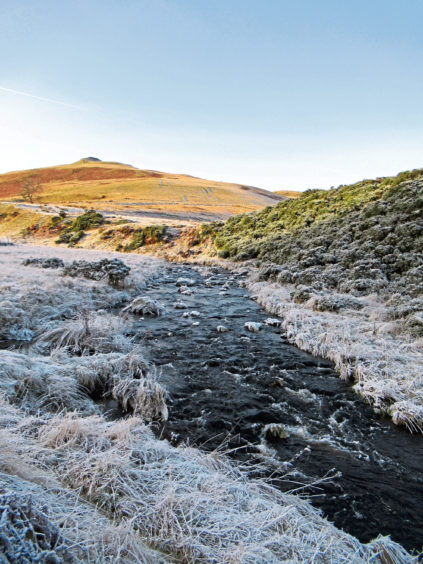 Across the dam, which was raised in the 1870s as part of a scheme to supply water to the people of Fife, a track strikes up the glen, past Glensherup Fishery, where there was little chance of the boats casting off, to a high metal gate and stile where I entered Glen Sherup Wood.
On barren hillsides once grazed by sheep, the Woodland Trust planted thousands of new trees, the mix of native birch, oak, alder, willow, rowan, hazel and aspen now well established and attracting wildlife.
Skirting below Ben Shee, the path, frosty and firm below my boots for the most part, rose gently at first but, after passing through a gap in a tumbledown stone wall, it curved right and adopted a more spirited approach to the slope.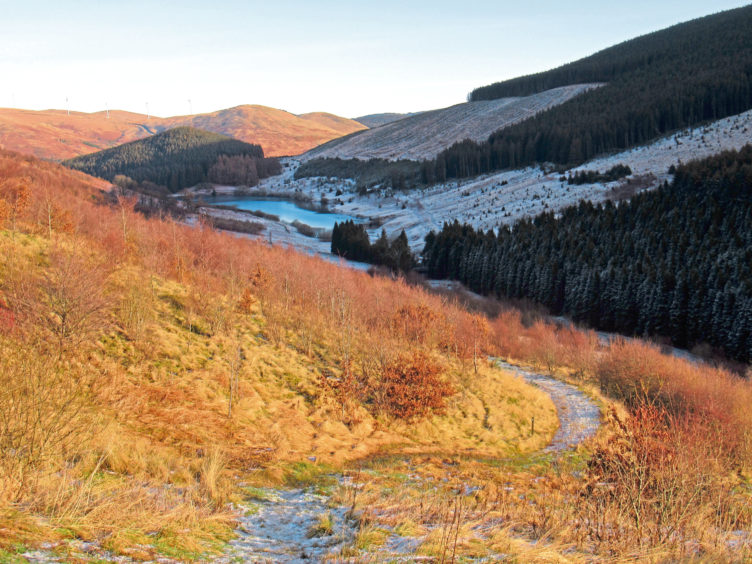 With the sun at last breaking cover from behind Innerdownie's forested flanks to the south, I crested the broad ridge and turned to confront Ben Shee's prominent dome, a sign indicating the onward route.
The one hundred or so metre ascent begins on a grassy track but, part way up, branches right, a distinct path completing the journey to the top, an exposed spot bereft of a cairn.
After pausing awhile to draw breath and savour a quick summit snack, I dropped down to re-join the waymarked trail, descending through woodland on the northern flank of the hill, the glistening water of Lower Glendevon Reservoir across the valley smooth as a pane of glass.
The River Devon bubbles out from below its dam and, breaking cover from the young trees, the trail soon meets up with it, following the flow downstream, past a fish farm and a pair of pipelines where I spotted a heron.
It did not hang about – quickly taking flight – and neither did I, hiking onward to Wester Glensherup where the reservoir road led me back to the dam and its still icy waters.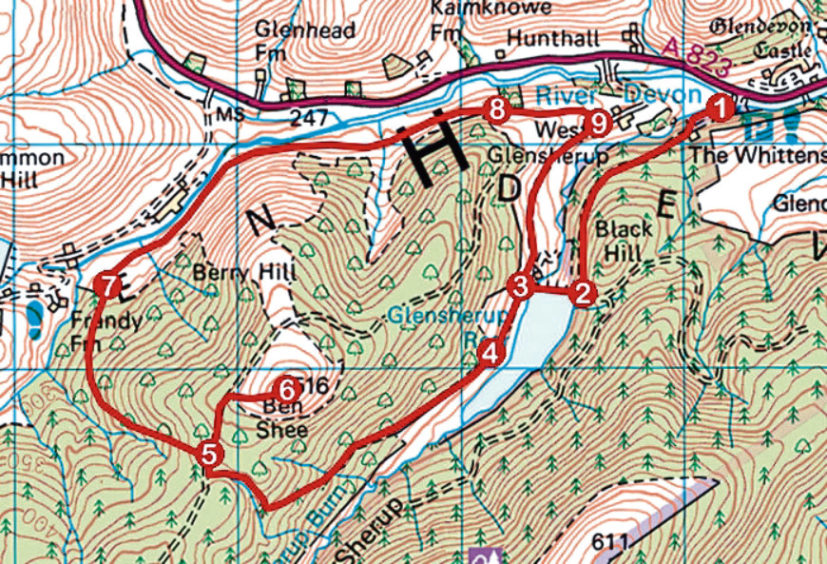 ROUTE
1. From information boards on edge of car park, ascend path (signed Ben Shee Loop) to track, turn right and follow track south-west for 1km.
2. Branch right (signed Lower Glendevon Reservoir) and descend path to gate. Cross dam and ascend past information board to meet track beyond gate.
3. Turn left and follow track past Glensherup Fishery to metal gate and stile.
4. Cross stile and follow path up to junction on ridge. Go right to junction with sign for Ben Shee summit.
5. Ascend grassy track, branching right on path to summit.
6. Return to point 5, turn right and descend path into Glen Devon.
7. At signed junction, continue ahead (signed Glendevon Loop Paths), following path down Glen Devon.
8. Cross stile by high gate and continue ahead over pasture on waymarked path to Wester Glensherup.
9. Turn right (signed Glensherup Reservoir) and follow track up valley to point 3. Cross dam and retrace steps to car park.
INFO
Distance: 10km/6¼ miles
Ascent: 400m/1320ft
Time: 3 hours
Grading: Moderate upland hike with well graded ascents, following good waymarked tracks and paths to exposed summit. Stout footwear recommended
Start/finish: Forestry Commission Glen Sherup car park, six miles south of Auchterarder on A823 Glen Devon road (Grid ref: NN 971051)
Map: Ordnance Survey 1:50,000 Landranger sheet 58; Ordnance Survey 1:25,000 Explorer sheet 366
Tourist Information: Perth iCentre, 45 High Street, Perth PH1 5TJ (Tel 01738 450600)
Public transport: None