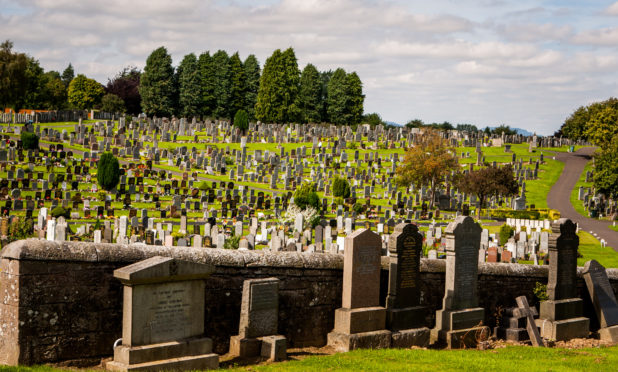 A prisoner who blamed himself for his brother's death attacked three custody officers at the funeral.
Michael McLellan was chaperoned to the service at Perth's Jeanfield Cemetery but broke strict rules on contact with his family members.
McLellan had cared for his brother and said his incarceration meant he could not nurse him to health before he died.
Despite being reminded several times he was not allowed to touch his family or accept items from them, he kissed his partner and then took a cigarette from another family member.
The custody officers decided to return him to their vehicle but 51-year-old McLellan began throwing punches in protest.
Depute fiscal Eilidh Robertson told Perth Sheriff Court: "The accused was on remand for an assault on his partner at the time.
"He was given permission to attend his brother's funeral and was escorted by three members of GeoAmey staff. It is their policy that he is not allowed to make contact or accept items from others.
"During the service his partner tried to take his hand and kiss him on the lips. After the service the officers tried to take him back to the vehicle. He took a cigarette from a family member and was reminded that this was not allowed."
Ms Robertson said McLellan then became agitated and punched one of the officers on the body. He then punched another member of staff, with a third officer getting caught in the middle.
Solicitor John McLaughlin told the court McLellan blamed himself for his brother's death.
He said: "Before his imprisonment his brother had been increasingly unwell. He looked after his brother for a sustained period and he was doing reasonably well.
"When he was remanded Mr McLellan became aware his brother's health had deteriorated. He felt that if he was out he could have saved his brother from his untimely death."
He added that McLellan had suffered a high number of personal bereavements in recent years and was frustrated that an application for bail had been refused.
"He accepts responsibility," said Mr McLaughlin, "but there was a lot going on at the time.
"He has nothing left – he gave up his flat to care for his brother, he really only has what he stands up in."
McLellan, a prisoner at Perth, admitted assaulting Mr Plenderleith, Mr Campbell and Ms Barrie at Jeanfield cemetery on July 4 this year.
Sheriff William Wood told McLellan, who is serving a sentence in relation to other matters, that he should have been well aware of the prison rules.
He sentenced him to 14 months, to be served concurrently to his current sentence.