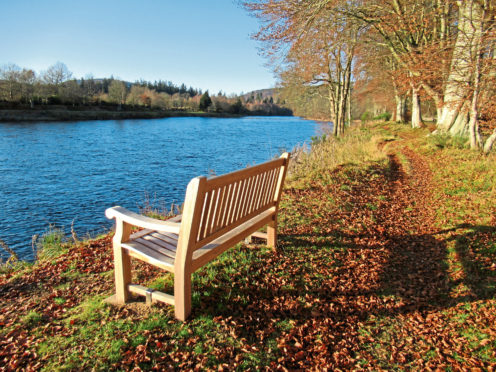 A varied mix of scenery and terrain – and a healthy dose of history – await the walker on this loop linking the pretty Perthshire villages of Caputh and Spittalfield.
Setting out from Caputh Village Hall, in the shadow of the 18th century parish church, good tracks and paths amble across agricultural land and weave through woodland before crossing higher ground to return by the banks of the River Tay.
I found space to leave the car behind the hall, which was built in 1909 in the arts and crafts style and later extended. Its blue and white colour scheme, the livery of the Glendelvine Estate, is evident too in neighbouring houses, the primary school, which sits on the road midway between the two communities, and many of the estate buildings encountered along the way.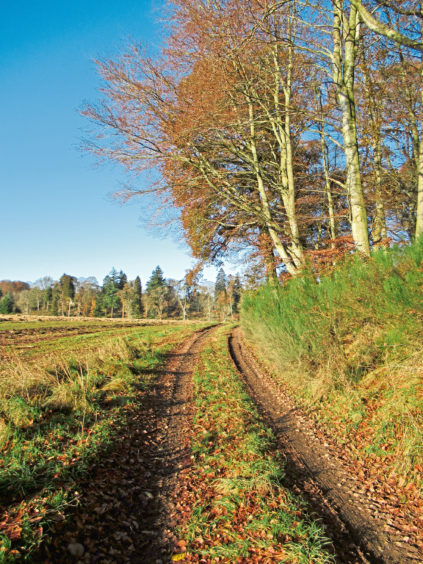 Across the road, adjacent to the church and war memorial, Manse Road descends sharply to Bridge Road where, by the bus stop, I branched left on to a farm track leading east, out of the village, towards the Tay.
It was but a brief dalliance with the river, for the way quickly turns inland, cutting between fields to the farm at Easter Caputh before making a beeline north to Spittalfield.
Laid out around a central green, the village was founded in 1766, the traditional stone cottages built to house weavers employed by a linen factory, known as the Muckle Hoose, located on the north side of the square.
It is a pleasant spot to pause and, after treating myself to coffee and cake at the wee café on the square, I wandered north along Millhole Road, skirting a band of woodland and passing Glendelvine House, concealed by trees, across the field to the west.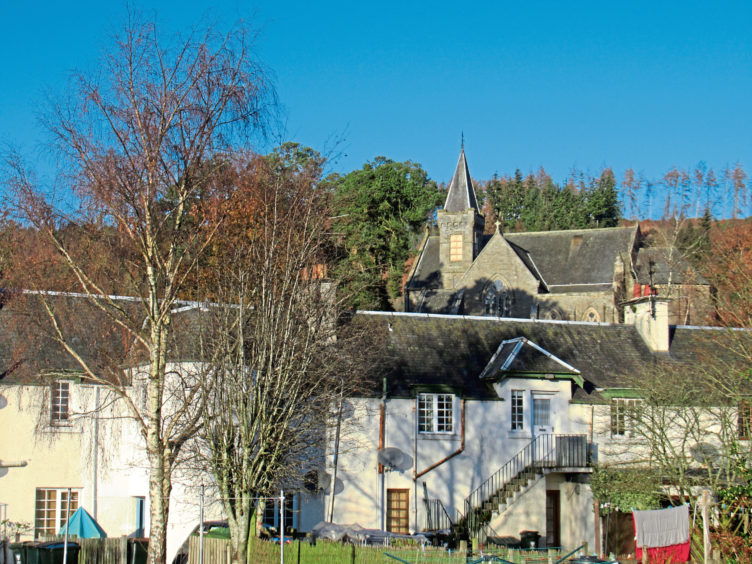 It sits at the heart of a traditional rural estate, deriving its income from farming, forestry and field sports, such as fishing and shooting. Older industries, weaving and milling among them, have been consigned to the history books.
There is evidence, however, of their passing. At Millhole, the track fords a stream (there is a bridge for walkers), before rising past a well-preserved range of buildings including a 19th century grain mill (powered by a pond upstream), the miller's cottage and a steading.
Here the way turns west, crossing a country lane beyond the farm at Culthill, before embarking upon a steady but none too demanding ascent through arable land and pasture towards the wooded slopes of Caputh Hill.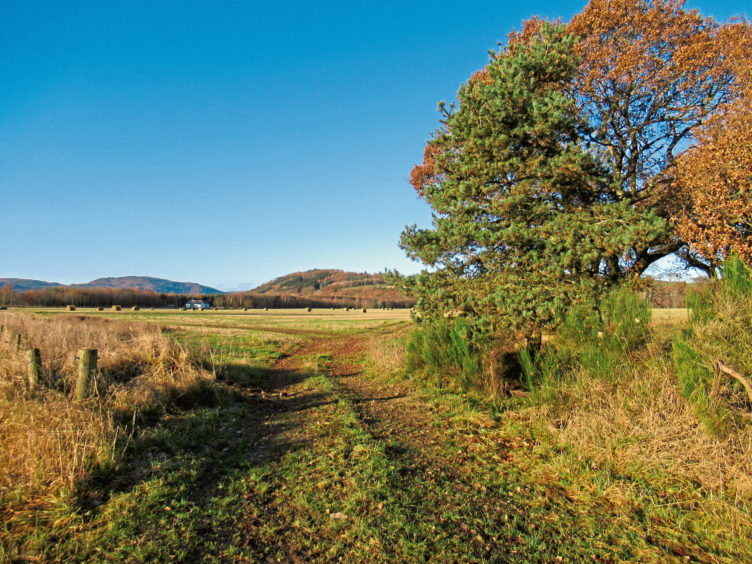 At the junction beyond the steading at Locholly, a track branching left to the farm at Stralochy offers a shortcut back to Caputh, crossing the eastern flank of Caputh Hill.
However, looking forward to some time by the river, I decided to push on ahead, following the track up, past outlying estate cottages at Whirley and Whins of Fordie, before descending over rough pasture and through deciduous woodland to meet the A984 at Stenton.
A short tramp along the road is unavoidable here but it is not a particularly busy highway, there is a decent stretch of verge for most of the way and it is not long before a path appears, branching right over grassland to the river.
It is a very pleasant hike downstream, a bench sheltered by mature beech trees offering a fine spot to rest by the river before wandering on towards Caputh Bridge.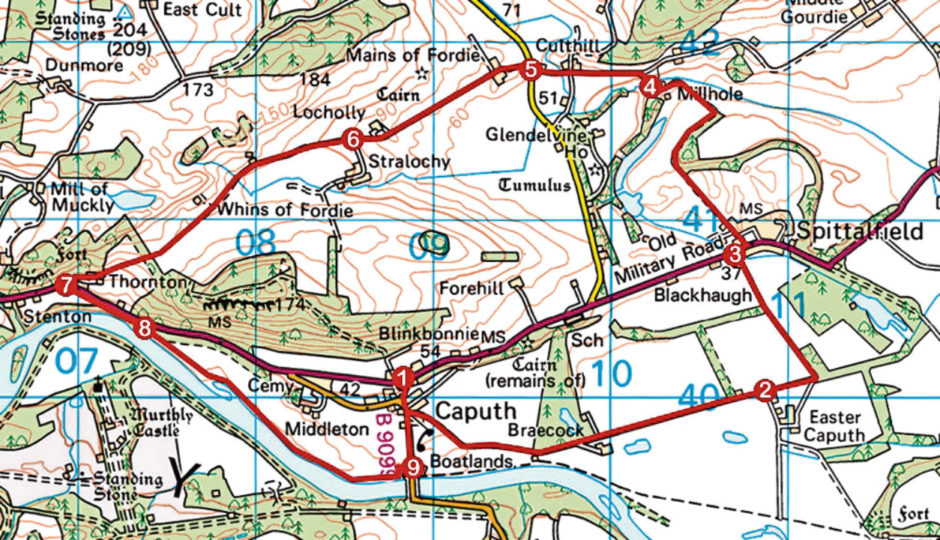 ROUTE
1. Cross A984, go left to war memorial, descend Manse Road and bear left along Bridge Road to bus shelter. Turn left (signed Spittalfield) and follow track 2km east to Easter Caputh.
2. Continue ahead then swing left, following track north to Spittalfield.
3. Cross A984, bear right to telephone box then go left (signed Culthill) along edge of village square. Bear left at Rose Cottage and follow track north to Millhole.
4. Cross stream by bridge, pass steading and ascend track to junction. Go left (signed Caputh) to Culthill.
5. Cross road and ascend track to Mains of Fordie. Bear right between farm sheds and continue up track to signed junction beyond Locholly.
6. Continue straight ahead up track, passing Whins of Fordie before descending to meet A984 at Stenton.
7. Turn left and walk 500m east along A984.
8. Branch right (signed Caputh) on to riverside path leading to Caputh Bridge.
9. Follow B9099 north to Caputh.
Distance: 11.5km/7 miles
Ascent: 200m/660ft
Time: 3 hours
Grading: Moderate route following good, well-signed tracks and paths through farmland with a short section of road walking and some well-graded ascent. Keep dogs under close control due to the presence of livestock and game birds
Start/finish: Caputh Village Hall, opposite Caputh Parish Church on the A984, Caputh (Grid ref: NO 088401). Parking to rear of building
Map: Ordnance Survey 1:50,000 Landranger sheet 53; Ordnance Survey 1:25,000 Explorer sheet 379
Tourist Information: Perth iCentre, 45 High Street, Perth PH1 5TJ (Tel 01738 450600)
Public transport: Stagecoach bus service 34 from Perth to Caputh