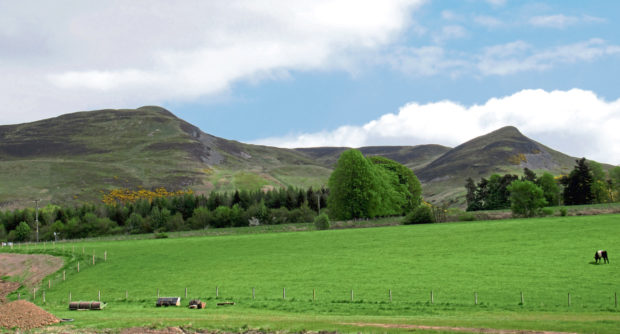 ***CORONAVIRUS: Please adhere to government guidelines in all outdoor activities***
Craig Rossie is one of the most prominent peaks in the Ochil Hills, its steep, craggy flanks grabbing the attention of motorists as they thunder by on the A9.
I have driven past numerous times, always making a mental note to pull off the highway one day to climb this shapely wee hill and its offshoot Ben Effrey. But, until now, I have been deterred by the lack of parking at the base.
A track affording access to Craig Rossie leaves the Dunning road by Pairney Farm, but there is nowhere to leave a car either here or close by, so I decided the best bet was to tramp a bit of tarmac and start in nearby Auchterarder.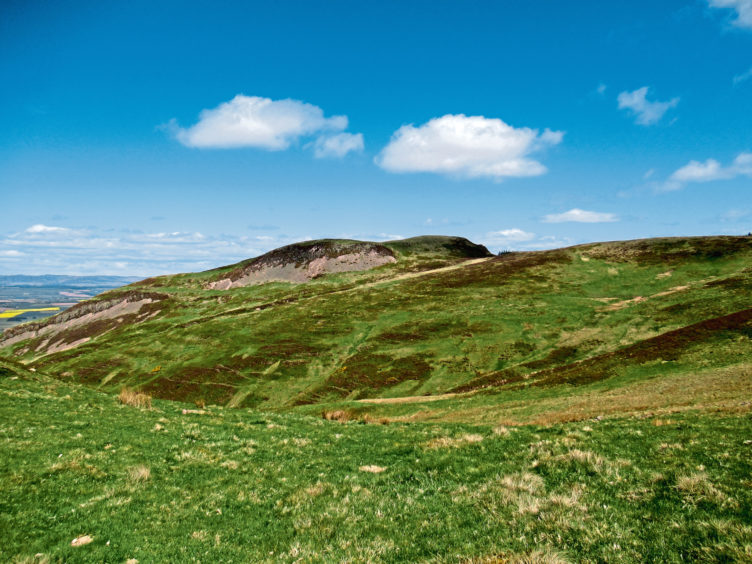 This adds a couple of miles to the opening leg, but the roads are quiet enough and the initial stretch out of town follows a pleasant path and lane through a band of woodland flanking Ruthven Water.
Craig Rossie, which sits on the northern edge of the Ochils, takes centre stage when viewed from the A9 but, approaching from Auchterarder by the back roads, the protruding dome of Ben Effrey shares the limelight.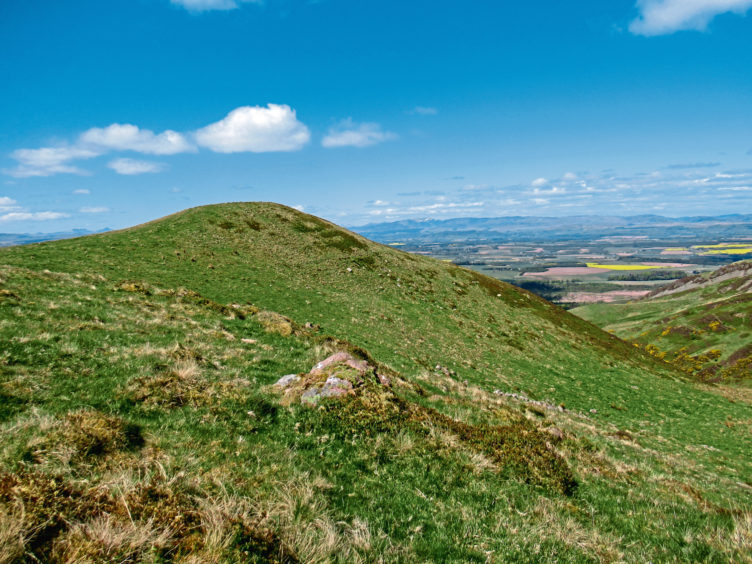 Accompanied by the languid Pairney Burn, patches of bluebells adding colour to the sheltered banks, I soon arrived at Pairney Farm, turning off the road on a track that curves clockwise round the back of the paddocks and sheds.
A path strikes south for the summit from here, but, while it may be direct, it is a steep, unrelenting ascent. Stick with the track and it offers a longer but better graded route to the top, revealing the lie of the land a little at a time.
It curves up through a cleft between the vertiginous cliffs of a former quarry and the rocky knoll of Castle Craig, site of an ancient hill fort, before rising through Heuch of Coul, a wooded stream valley, where views open out over the green fields of Strath Allan.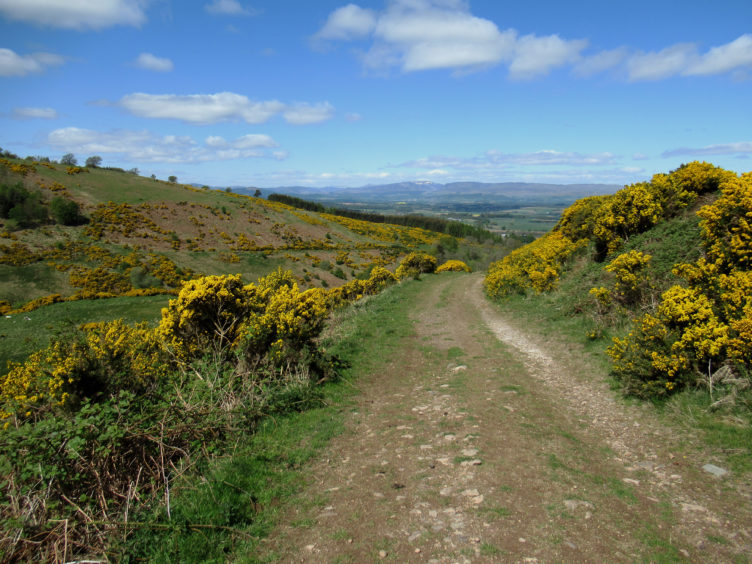 Blooming yellow gorse lines the way as the track climbs in fits and starts above Pairney Burn, skirting below the summit of Ben Effrey, up to the left, another former hill fort location.
With Steele's Knowe (the hill bristling with wind turbines) visible to the south, the way curves left below Beld Hill, the track ending at a junction by a gate. From here, a grassy trail, indistinct in places, heads up through the valley, topping out in a shallow col between Beld Hill and Ben Effrey.
A short detour to the summit of the latter is well worth making – the first hump is the higher of the pair although the cairn sits on the second, the site, boasting natural defences on three sides, colonised by our ancestors.
Back at the col, a grassy track rises east towards an unnamed top bordering forestry but, part way up, a well-walked path forks left, contouring round the slope, through heather, to meet a fence leading north towards the obvious summit of Craig Rossie.
Beyond a peaty dip, stay with the fence for a short but steep climb to the trig point, although, if legs are weary, a less demanding path that cuts diagonally across the slope might be more appealing.
Tables turned, I was now looking down upon the A9 from Craig Rossie, rather than vice versa, a very satisfactory and long overdue outcome.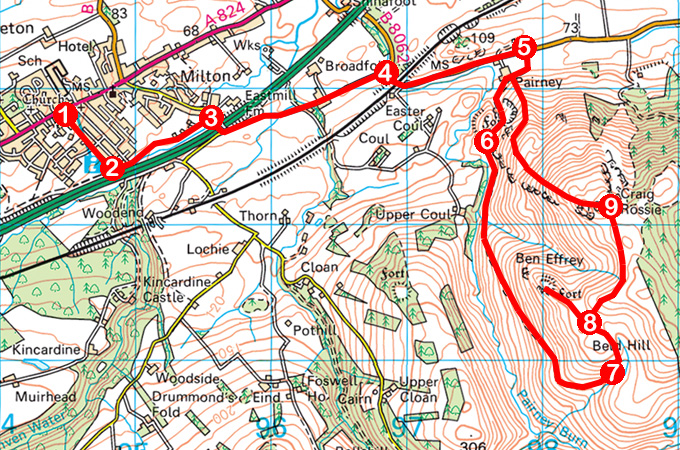 ROUTE
1. Descend Crown Inn Wynd, surfaced path then grassy path towards A9.
2. At foot of slope, go left along surfaced path to Ruthven Street. Cross and, bearing left of stream, follow path then lane to Abbey Road.
3. Turn right, cross bridge over A9, then turn left (signed Dunning) and follow minor road 1.3km east to B8062.
4. Go right, passing under railway, then left, following B8062 east to Pairney Farm. Proceed 200m beyond farm entrance to track end on right.
5. Turn right, pass through gate, and follow track around rear of farm then up, bearing left past old quarry.
6. Bear left at waymarker post, pass through gate, and ascend track to its end.
7. Fork left and ascend grassy track, curving left up to col.
8. Detour north-west to Ben Effrey summit, return to col then follow path east then north by fence to summit of Craig Rossie.
9. Descend west, following path down to metal pedestrian gate. Go through, turn right, following fence line, and descend path to Pairney Farm. Retrace steps to Auchterarder.
INFORMATION
Distance: 15km/9¼ miles
Ascent: 515m/1700ft
Time: 4 hours
Grading: Moderately challenging hill walk following minor roads, tracks and paths with some strenuous and prolonged ascent to exposed summits and steep descent. Keep dogs under close control as the route crosses land where sheep and cattle graze
Start/finish: Crown Inn Wynd car park, off High Street, in the centre of Auchterarder (Grid ref: NN 944128)
Map: Ordnance Survey 1:50,000 Landranger sheet 58; Ordnance Survey 1:25,000 Explorer sheet 369 and OL47
Tourist Information: Perth iCentre, 45 High Street, Perth PH1 5TJ (Tel 01738 450600)
Public transport: Stagecoach bus service 17 from Perth and Docherty's Midland Coaches services 19 from Perth and 20 from Stirling or by rail to Gleneagles Station
---
Please adhere to government guidelines on exercising outside.