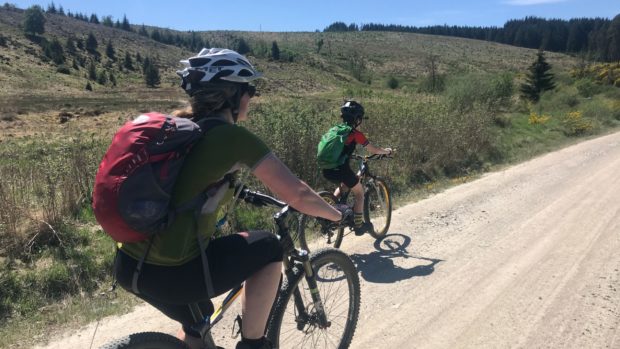 As lockdown eased, I hatched an ambitious plan for a family cycle of the 64-mile route of the Cateran Trail that ranges through the glens and hillsides of Perthshire and Angus.
The look of contempt on my teenage daughter's face declared her obstinate stance, and it was only my wife and son who were up for a stravaig into the glens.
The initial plan was to ride the full route in one day, but our usual pre-trip faffing meant a late start from Blairgowrie and it was clear from the outset that the ride was going to be tougher than I had envisioned. The climb up from the River Ericht was tough, and the heat of the day meant we made slow progress.
Numerous gates also hindered our progress with some of them unsuitable for pushing bikes through, so lifted bikes over fences at various points. At the highest point the moor opened out, and we were rewarded with fine views to the north.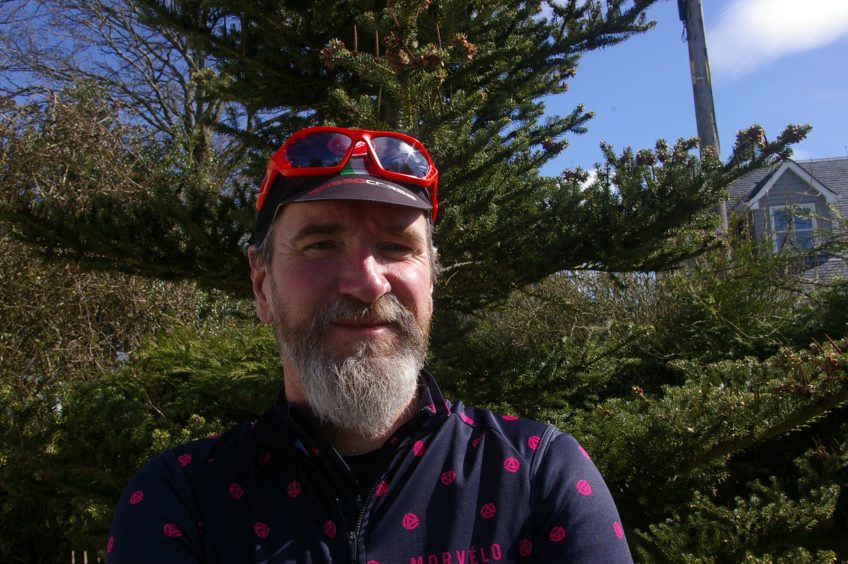 We then followed a fast and technical descent down towards Bridge of Cally, dodging rutted sections of the track as dust streamed from our wheels. In wetter conditions, I could see that this section would have been very boggy and we would have emerged at the foot of the descent very muddy.
At the bottom we stopped and reassessed our options over a sandwich and flask of coffee. My knee was starting to really hurt, a legacy of a ruptured ligament from a skiing accident in February. It was the first real test it had been subjected to since the injury and I knew carrying on further would be foolish, so we decided to loop back to Blairgowrie, linking onto the end section of the Cateran Trail.
Our second adventure on the Cateran Trail was in very different weather. We set off in drizzle, that soon turned to heavy rain, but it was not the weather that was to curtail our journey this time, nor was it my knee.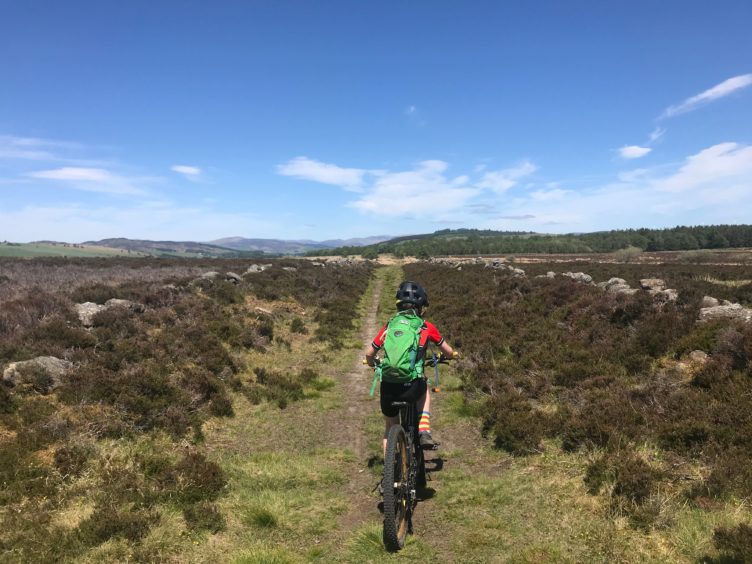 My son had decided the previous evening, that, despite our pleas to go to sleep, he would stay awake until late, meaning the next day we had an exhausted and grumpy wee boy. Again, gates had slowed our progress, but this time they were bike-friendly and easily negotiated.
We had tracked west, contouring along the hillside, along small paths and wider tracks through forest and farmland along Strathardle. We made it to Kirkmichael for a well-deserved hot chocolate, and again we stopped to look at our options.
To continue would mean heading up to the highest point of the trail above the Spittal of Glenshee. To carry on would mean committing to a challenging ascent and it was obvious we would not make it safely, so we retreated gracefully back down Strathardle with plans to return another day.
That "other day" still hasn't happened yet. Various commitments have hampered our plans, but I am determined that we complete the route before the end of the summer holidays. The section from Enochdhu to the Spittal of Glenshee is my most anticipated section, heading to the highest point of the route at just over 2000ft.
At the Spittal of Glenshee we will have completed around one third of the distance with Glen Shee and Glen Isla still ahead of us. My aim is to try to complete this in one last ride, but based on our previous form we may split it over two days with a promising looking circular route from Glenshee back over to Kirkmichael via Ashintully Castle on the first day.
Despite the extended duration of our adventure, we have been treated to some great and challenging riding. For years I have passed "Cateran Trail" way-markers and put the route on my "to-do" list.
It has been fun riding in familiar areas, but on new routes and getting fresh views of hills from different vantage points. One day I will go back and ride the route in full in , but for now the pleasure of exploration has been enough.
Where to ride: The Cateran Trail – Perthshire and Angus
Start: The trail can be started at any point, but our route began in the centre of Blairgowrie
Details: Full route descriptions, distances and maps can be found at pkct.org/cateran-trail