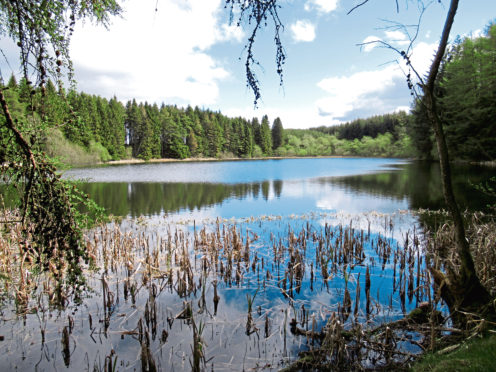 The Sidlaw Hills sit right on my back doorstep and, from an early age, I have enjoyed many happy days roaming the range.
As boys, we cycled out from Dundee, pitched camp in the lea of larch and pine woods on the heathery lower slopes and mounted expeditions to the summits of what were for us mountains.
Viewed through adult eyes, none of the peaks are quite so lofty but back then they were highly prized, both as a playground and a place where outdoor skills were honed.
Despite a certain familiarity with the Sidlaws, there are still plenty of corners left for me to explore, among them the Braes of the Carse.
Dotted with small farms, this upland country is less well walked than other parts of the range, although the presence of core paths and decent signage may encourage more folk to venture into this patchwork of low hills, rough grazing, moor and woodland overlooking the River Tay.
Setting out from the hamlet of Kirkton of Collace, I had Dunsinane Hill in my sights for starters and, cutting across fields to the neighbouring community of Collace, my ascent began at an information board posted on a bend in the road.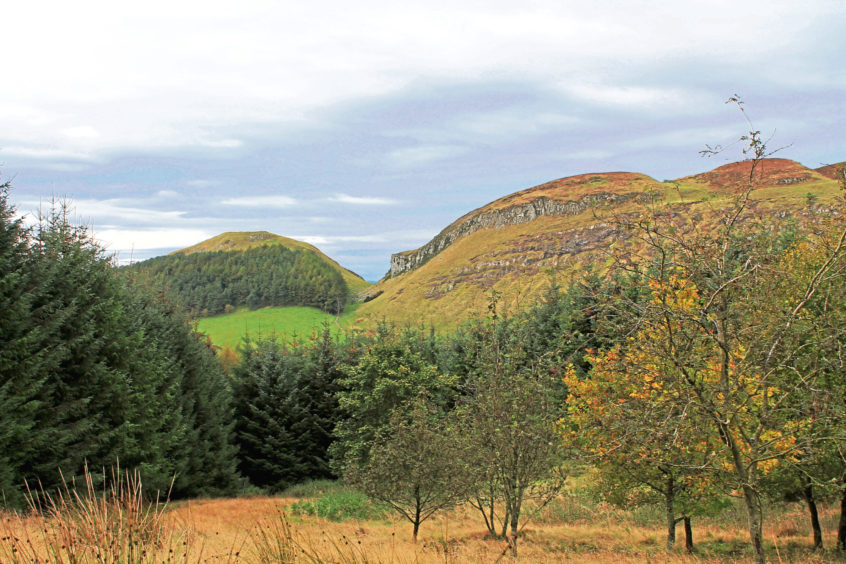 It is a direct and rather unrelenting climb to the top, the path rising steeply by woodland then over heather to a grassy oval plateau, site of an Iron Age hill fort and fictional setting for MacBeth's castle in Shakespeare's 'Scottish play'.
It is an exceptionally good viewpoint and my eyes were immediately drawn east towards King's Seat and the more distant Craigowl Hill, the highest of the Sidlaws.
Closer to hand, Pitmiddle Wood beckoned and, descending carefully through a dramatic rocky cleft separating Dunsinane Hill and Black Hill, I cut diagonally across the field below, following a rough trail and overhead power line to meet the B953 at a stile, the forest entrance a short hike west.
Initially hemmed in by dense spruce, the track loops up to Seamaw Loch, a sheltered anglers' pool, before emerging into an airy plantation of tall pines where I spotted roe deer and a buzzard.
From the established woodland, a track weaves across felled and replanted ground to a gate on the southern edge of the plantation, a wee path offering the connection I needed to Woodburnhead, a ruined steading flanked by old deciduous trees.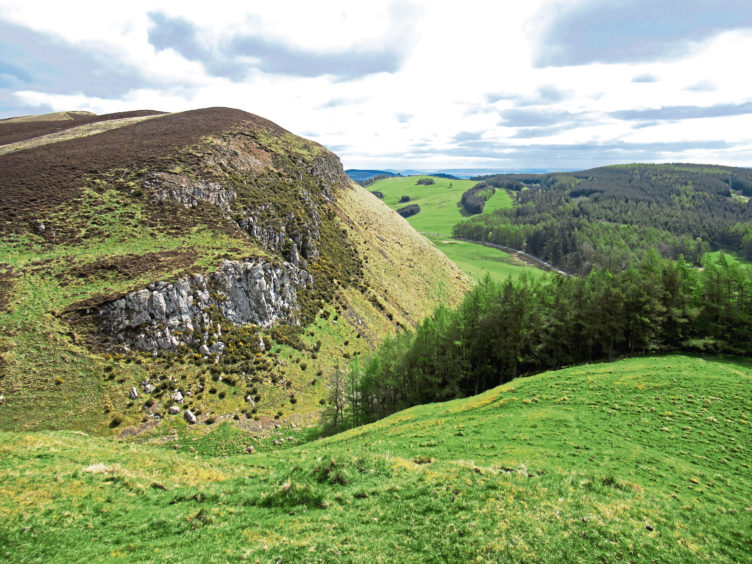 With crops growing by the abandoned house, I wandered down the right-hand side of the field, picking up a track that leads west across the Braes.
After a steady climb over grazing land to a remote barn, the way dips leisurely to Franklyden Farm, the view ahead stretching along the spine of the Sidlaws towards Perth, and then Southtown of Bandirran Farm.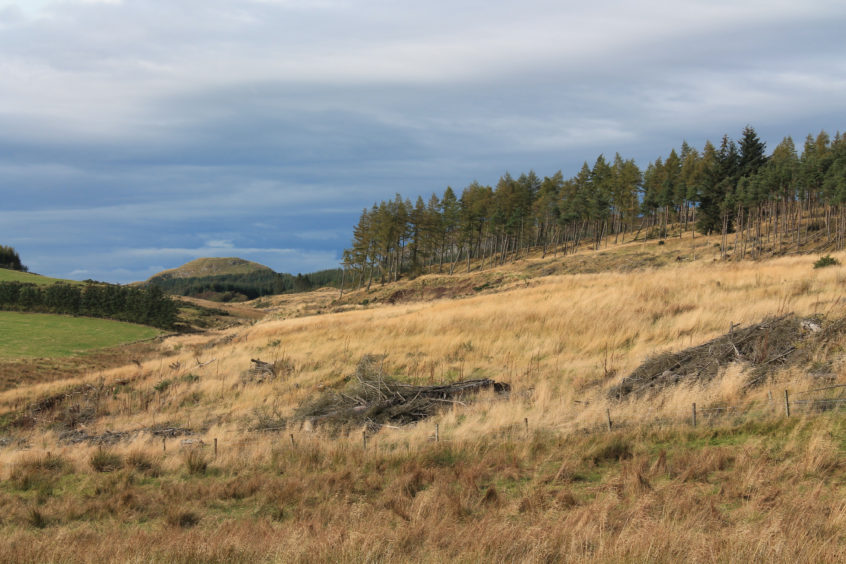 Negotiating the farmyard, I emerged on to the road once again and paused to consider my onward path. The most direct route back to Kirkton of Collace from here is over Bandirran Hill but a recce revealed the way beset with gorse higher up so, perturbed by this potentially prickly passage, I opted for a longer, low-level route around the western flank of the hill.
This entailed some road walking but, beyond the junction at Bowbridge, I found a track back, ending a day out that had evoked a plethora of happy boyhood memories.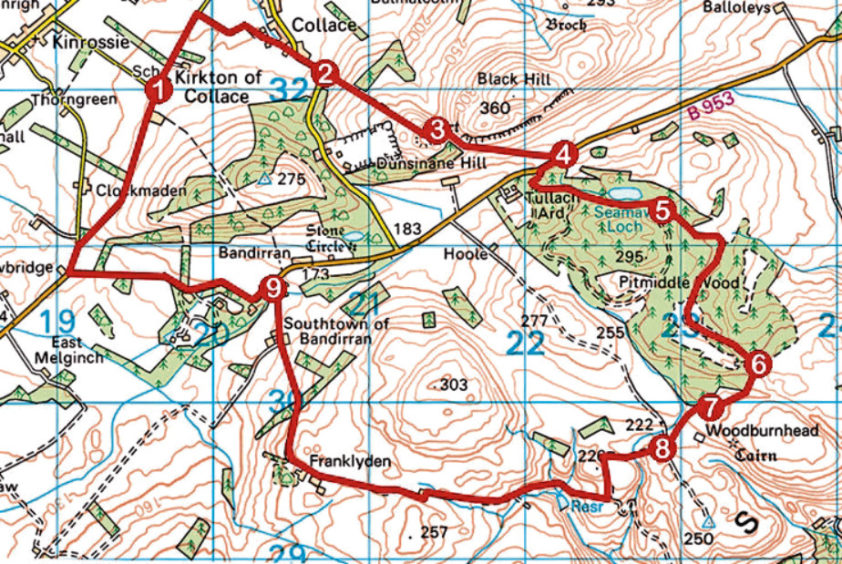 ROUTE
1. Walk 500m north along road, go right along track (signed Collace) to Collace and bear right, ascending road to bend.
2. Leave road, go through gate and ascend path (signed Dunsinane Hill).
3. Descend north-east into col, cross old wall, then bear right, descending south-east through col and over field to B953.
4. Go right, along B953, and, in 250m, enter Pitmiddle Wood. Ascend track, passing Seamaw Loch, and continue ahead through high gate to junction.
5. Continue ahead, following track to low metal gate on southern edge of plantation.
6. Bear left through gate and descend right by fence. Cross stream and bear right to enter field at gate.
7. Go diagonally left across field and descend right-hand side of field. Ignore gate on right by stream and continue to next gate and junction beyond.
8. Proceed ahead, following track west to Franklyden Farm, then descend north through Southtown of Bandirran Farm to B953.
9. Go left along B953 to Bowbridge, right for 200m up minor road (signed Kinrossie) and fork right on track to Kirkton of Collace.
INFO
Distance: 14km/8¾ miles
Ascent: 380m/1250ft
Time: 4 hours
Grading: Moderate route following generally good tracks, paths and minor roads through farmland and woodland with strenuous ascent to summit of Dunsinane Hill. No dogs between points 2 and 4 (detour via road) and under close control over farmland and through farms
Start/finish: Church in Kirkton of Collace, 10 miles north-east of Perth (Grid ref: NO 196320)
Map: Ordnance Survey 1:50,000 Landranger sheet 53; Ordnance Survey 1:25,000 Explorer sheet 380
Tourist Information: Perth iCentre, 45 High Street, Perth PH1 5TJ (Tel 01738 450600)
Public transport: None