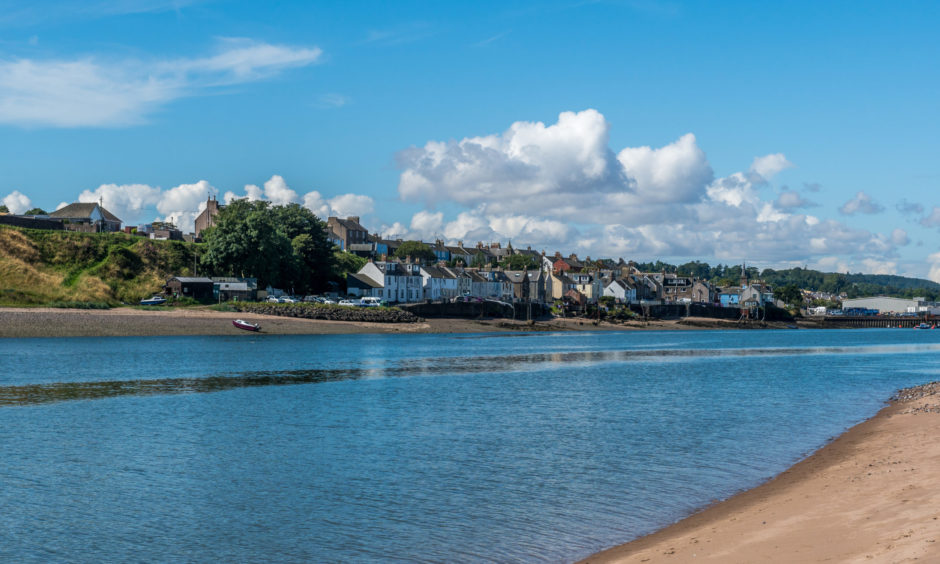 Driving into Montrose on a sunny Saturday it's impossible not to be struck by the quiet grandeur of the town.
Approaching from Dundee, the journey becomes exhilarating when you catch extended glimpses of that vast expanse of the North Sea, today shimmering majestically in the late summer sun.
By the time you reach Montrose Basin you're completely enraptured and, for me, my mind instantly flooded with so many wonderful images painted by the town's adopted son James Morrison, who moved there in 1965 and who died recently.
I've been to Montrose many times because Taylor's Auctions is a labyrinth of local treasures and you can combine a frenzied bidding war there with a spot of more conventional commerce at the fantastic Montrose Bag Company a few minutes away.
Whether you're a worker on the oil rigs or a fashion beast navigating the turbulent seas of trend forecasts, these brilliantly coloured, highly functional bags deserve a much wider audience.
Records
This time, however, we were there to buy records at the fantastic Mo Fidelity Records and to eat at the best place in town, the Pavilion Café, which is now back serving food inside and in their beautiful garden.
The link between the two businesses is perhaps stronger than you might initially think, apart from the fact that Mo Fidelity is run by Neil McLeod with his encyclopaedic knowledge of music whilst the Pavilion is run by Rosie Farquhar who has a similarly expansive knowledge of food.
However, Rosie's past is much closer to rock n roll than you might imagine, because her previous job was as caterer to the stars.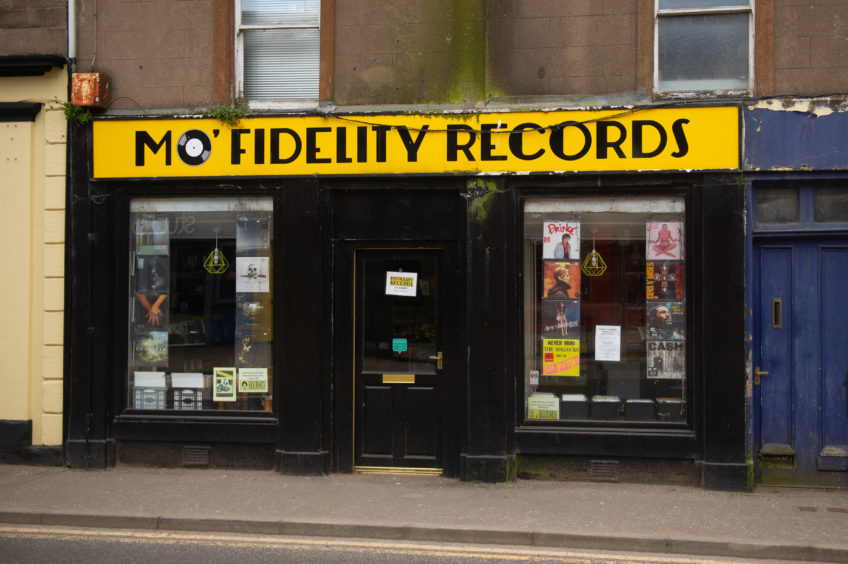 As such she toured with superstars including The Rolling Stones, Michael Jackson, REM and Paul McCartney before calling time during her final encore (an REM show in Dublin) and decamping back to her home in Montrose.
Rock 'n roll's loss is our gain though because this unassuming cook produces some of the best food in the area – and all without skipping a beat, hitting a bum note or introducing any discordant elements to her repertoire.
Simple perfection
The Pavilion is simple perfection. Firstly, it's housed in an area of Montrose that is just bursting with discretely wonderful Victorian squares, a tennis court straight out of an Eric Ravilious painting, Montrose Academy and many other buildings of architectural merit.
In Melville Gardens itself, right opposite the Pavilion, there is the most magnificent Victorian house that I would happily end my days in. The beach and sand dunes are minutes away and, today, the sun and the surf made it feel like California.
I've been coming to the Pavilion regularly since it opened in the summer of 2015. The building itself is beautiful, a sympathetically restored old bowling pavilion which harks back to the soft 1920s bucolic beauty captured so brilliantly by artist Edward Bawden, the master Ravilious, and Dundee's beloved James McIntosh Patrick.
That it exists in such a pure form in these troubled times is immensely pleasing – and that's before you get to the food.
I've never had a bad meal here, whether it be the best breakfast or the most exquisitely simple lunch. If anything I think the whole experience is even better post-lockdown; this time the menu was concise, brilliantly focused and cooked to perfection.
From the regular menu I could have easily feasted on the chilli cheese on sourdough toast (£6.50) or the bruschetta with tomato, red onion and rocket, with garlic, parmesan and parma ham (£9.50).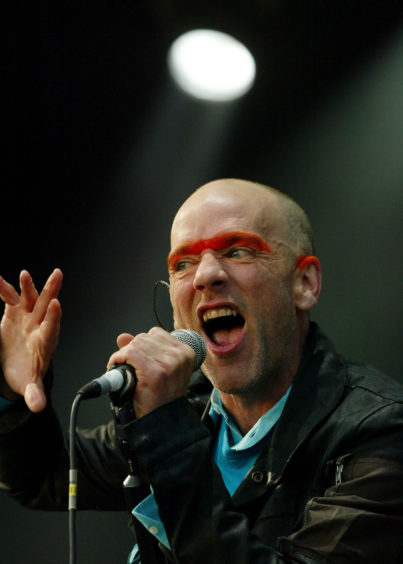 Instead we shared a plate of very good olives, homemade hummus and pitta bread, which also came with an excellent tapenade (£6.50) whilst my main course special was some wonderfully moist fishcakes served with spinach, tomato and hollandaise (£10) A perfectly poached egg sat atop this simple delight, ready to anoint the fishcakes with a golden glaze of unctuous yoke.
It's worth stating that the fishcakes themselves were demonstrably good and featured no less than four different varieties of fish – cod, salmon, smoked haddock and hot smoked salmon.
David's cheese and leek quiche (£8.50) was such a huge hunk of sublime richness that he took half of it home; served with fresh mixed salad, coleslaw and potato salad, this was a textbook simple lunch which relied on the integrity of the ingredients and cooking and neither disappointed.
Three cakes to take home, some great coffee and a soft drink brought the bill to £36 which, for cooking of this quality is a good deal, especially considering the portion sizes were so huge that David got a second meal from his quiche – and I didn't need dinner that night at all.
Former lives
It turns out that Rosie and I had probably met in passing in our former lives touring with musicians because she had been a part of Eat Your Hearts Out, the most successful on the road catering company of the time.
Rosie had been living happily in France when she met the owner of Eat Your Hearts Out, who quickly saw potential in this great cook and asked her to come to London to work with her. When Rosie arrived the first thing she was told was that she was heading out on tour with Guns N' Roses.
Rosie then embarked on a 17-year adventure that would change her life and introduce her to incredibly famous musicians, posh hotels and huge catering budgets.
Initially thinking that rock musicians like Guns N' Roses would want burgers and chips she was swiftly proved wrong.
"It blew my mind when I saw the quality of food that was served to everyone on the tour, including the whole crew," she said.
"The budgets were incredible. I quickly found that I'd never worked so hard in my life but the days off and the beautiful hotels just made it all a whirlwind.
Learning
"There was some learning to do though. I mean, this was 1986 and on the last night of the tour I was asked to get some basil and, even though it's hilarious to think of it now, I didn't know what basil was then!
"I also had some mishaps including slicing through a nerve in my hand while I was stoning avocados, and so I ended up in hospital.
"I was working 16 hours a day and came back from the tour thinking I didn't really want to do it any more. Next thing though I was on tour with Michael Jackson, catering for his personal dressing room.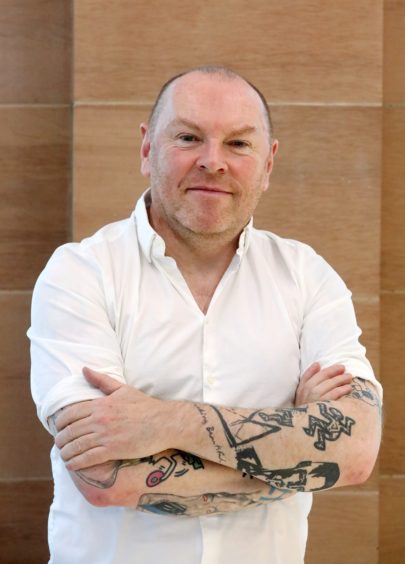 "My job was to set up Michael's dressing room and to make sure there was the correct food on the tour buses. It's like a military operation on tour. When you arrive at the venue the catering equipment gets unloaded first.
"We then had to build a kitchen and a dining room in every venue of the tour. Often we had to have breakfast ready within an hour.
"We'd go shopping every day for food and sometimes you'd be in a local supermarket with 20 trolleys of food. Sometimes the artist would ask for something that we just didn't have and it was our job to make sure they got it.
"I always remember when we did the MTV Awards in Stockholm and we had a huge budget so had prepared the most beautiful hand-made sushi and a vast assortment of other special food. But one artist only wanted a bagel with cream cheese and we didn't have any.
So in the middle of serving this banquet of great food one of us had to run out and get a pack of bagels and cream cheese to keep this artist happy. The whole thing probably took two hours but it's just part of the job".
Did Rosie become friendly with any of the artists?
"Well, I always had a soft spot for Michael Stipe from REM. He's just such a nice person. My last night ever of touring, before I quit to return to Montrose, was with REM in Dublin and I have a photo of Michael and I saying goodbye to each other.
"It's a lovely photo. Michael included it in a book of photos about the band so there's all these pictures of musicians and supermodels and then me, from Montrose".
Asked if being Scottish helped in dealing with the famously volatile artistic temperaments of some artists, Rose replies in the affirmative; "Yes, being Scottish definitely helped keep it real. I mean my nickname on tour was The Jockweiler! It also helped that I didn't get phased by famous people because I often didn't recognise them.
First tour
"On my first tour I didn't know what Axl Rose from Guns N' Roses looked like and one day he came into catering and I sat with him and offered him a biscuit and people afterwards couldn't believe I didn't recognise him".
After 17 years Rosie decided she wanted to move back to her house in Montrose permanently. "My last three tours were Paul McCartney, Neil Finn and REM. It was a great way to end. I had a blast, met some fantastic people, went all over the world, stayed in fantastic hotels and had a ball".
After running a café in Brechin, Rosie one day noticed that a 1921 bowling club building she had admired since childhood in Montrose had become available. She opened the Pavilion in 2015 and found instant success. It's been full ever since.
Now operating with 50% less tables inside, Rosie feels liberated. "I can produce better food now because I'm not rushing about so much.
"Our ethos is the same – great food, quality ingredients cooked well, good ambience and friendly service. Soon we will be opening a small gift shop area inside. I'm loving it."
Pavilion Café, Melville Gardens, Montrose DD10 8HG. Tel 01674 958188
Mo Fidelity Records, 126 Murray St, Montrose DD10 8JG. Tel 01674 675379
Taylors Auctions: taylors-auctions.com
Montrose Bag Company: montrosebag.com
Read more in this series…
MURRAY CHALMERS: Eat the seasons to enjoy produce at its best
MURRAY CHALMERS: Remembering friends, food and a house in France