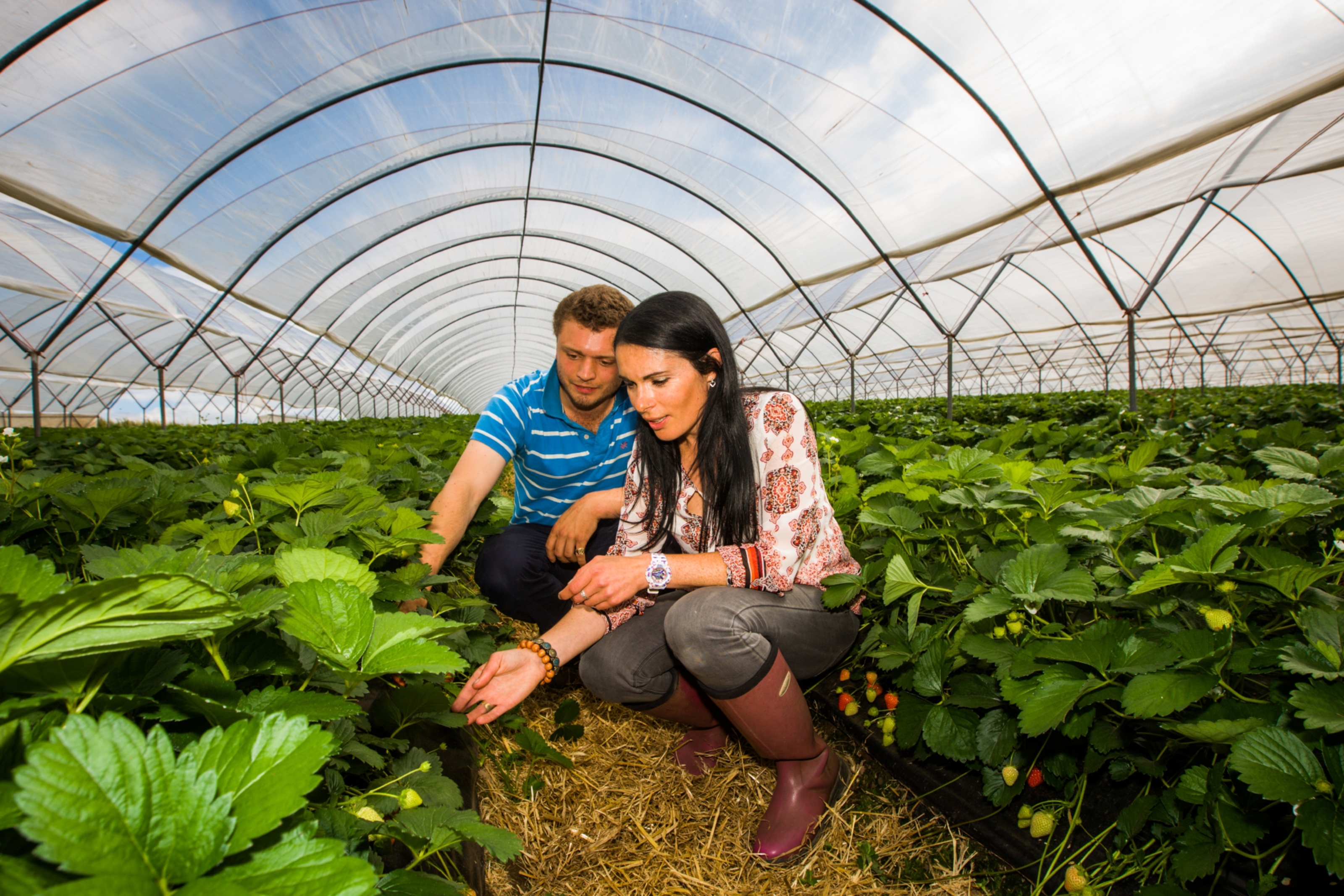 The Scottish berry season is in full swing. We go behind the scenes at Bruce Farms in Perthshire – one of the UK's bigger berry producers and exclusive grower for Scotty Brand
Rows and rows of juicy strawberries and raspberries line the polytunnels which dominate the Perthshire landscape.
It's a sight which makes my mouth water every time I drive along the A94 between Meigle and Coupar Angus during summer.
Today, however, I'm at the heart of the soft fruit operation, meeting some of the people at Bruce Farms who make it happen and, most importantly, getting to eat some berries.
Field manager Charles Beamish has been up since the ungodly hour of 5.30am organising picking teams.
There are 260 workers here at the peak of the season, and they hail from across the globe.
"It's like a little community, with workers of all different nationalities returning here year after year," says Charles.
"There are people from Poland, Australia, Slovakia, Bulgaria, Romania and some from the UK. Many are students and some are teachers from abroad who work here during school holidays."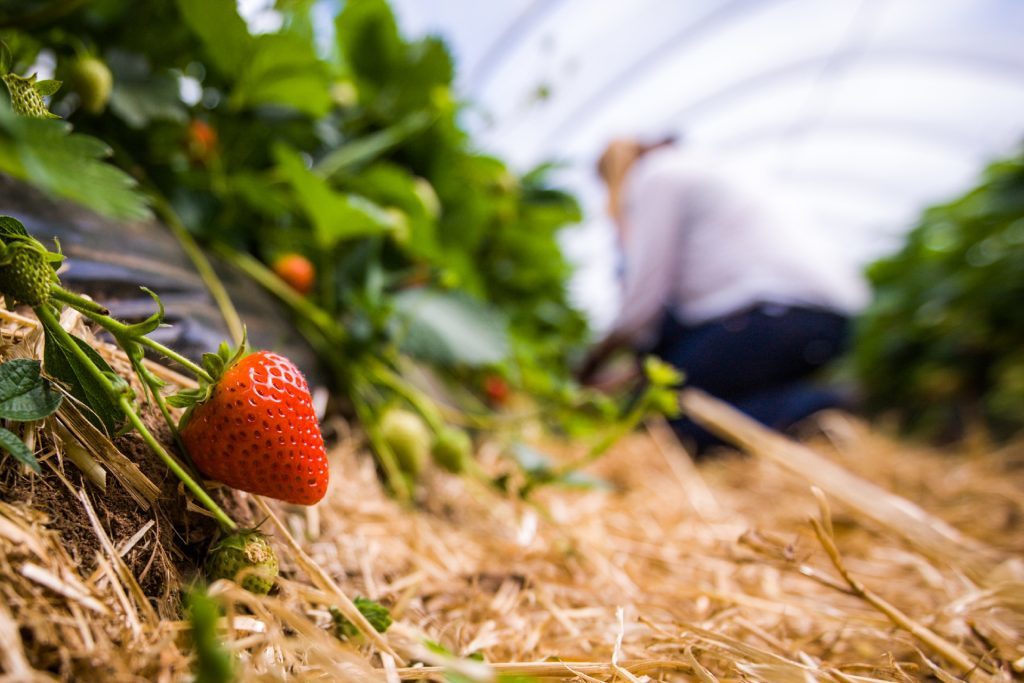 If it's a warm day, the heat inside the polytunnels is intensified – hence the early start. I experience this as we venture inside the giant polythene tents: I'm sweating within seconds.
However, the temptation to stuff handfuls of plump strawberries into my mouth is overwhelming.
"Feel free," says Charles, pointing to a bright red, juicy beast.
Under his instruction, I grasp the stem between forefinger and thumb and pull with a twisting motion, and then eat the berry.
It smells deliciously aromatic and tastes utterly divine – the epitome of summer.
That's a result of being grown in Perthshire, which boasts a wonderfully temperate climate of soft rain, cool nights and warm summers . It's this weather, combined with the light, free-draining and fertile soil, that makes the tasty, fresh strawberries and raspberries keep for longer.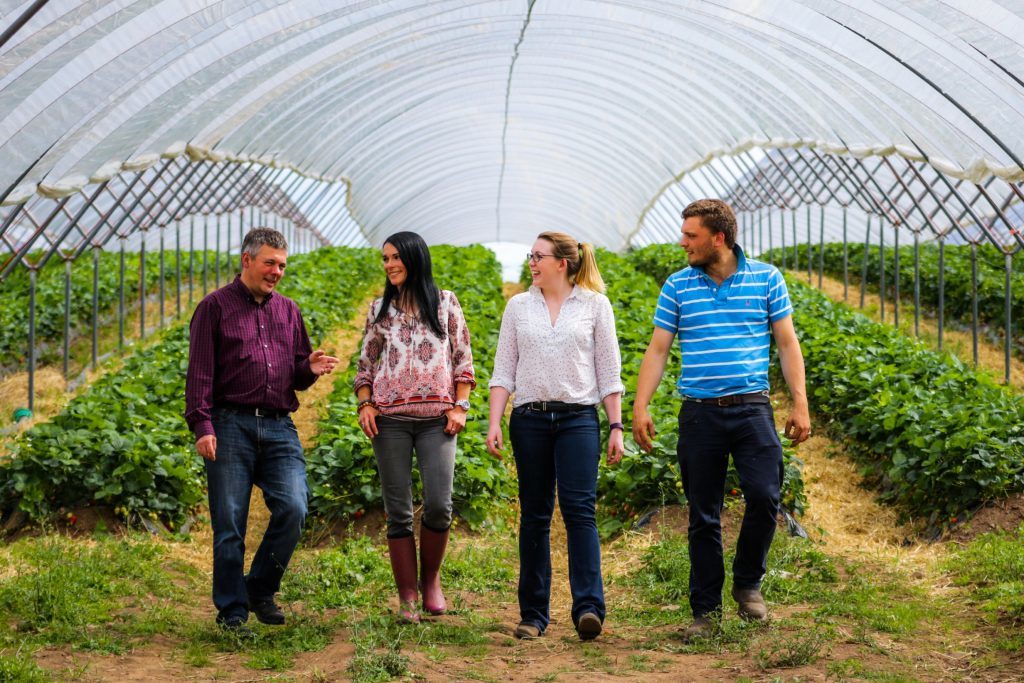 Geoff Bruce, director of Bruce Farms, says long daylight hours and moderate temperatures mean slower ripening, hence sweeter and juicier berries.
"They're planted in the field and picked the moment they're ripe," he says. "They're rapidly taken to the store so that customers can get a fresh tasting strawberry back home. They are only sold in season, which is around five months compared with five weeks around 20 years ago. That's because we grow different varieties and use different growing techniques."
With the UK leaving the EU, are there fears that workers from Europe will be less inclined to return here?
Charles doesn't think so. "I don't think free movement of labour will stop overnight," he says. "It's the ideal summer job for many people, whether students or families coming here from overseas."
The job of a picker is open to anyone…unless they're colour blind, says packing hall manager Gemma Rae.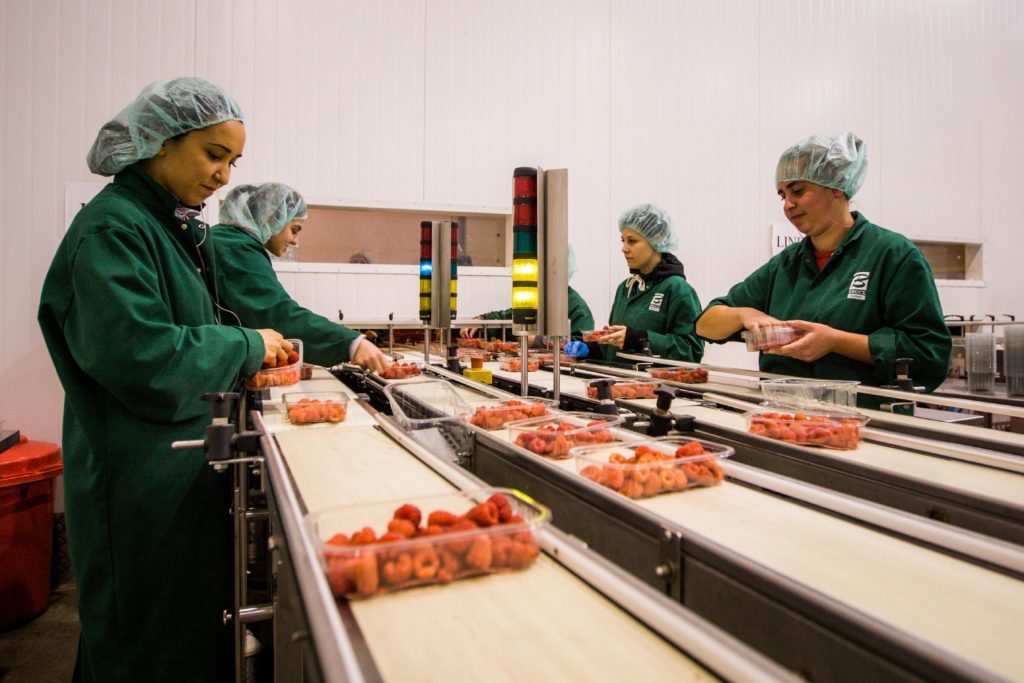 Hygiene is paramount, and washing stations are located around the farm and within the packing hall.
Once I've scrubbed my hands thoroughly, I don white overalls and a somewhat unflattering green hair net and head inside.
It's a veritable Charlie's Chocolate Factory of berries, with conveyer belts of ripe strawberries and raspberries being packed and loaded into punnets by workers.
I get to work helping to move the fruit but to be honest, I think I just got in the way.
As the punnets are stacked into boxes, Gemma reels off a few stats: "We process between 35 and 55,000 punnets a day and while all the berries are different sizes, we try to pack them so they all look roughly the same in each punnet. We grow around 700 tonnes of strawberries and 65 tonnes of raspberries each season."
With the berry season running until the end of September, there's plenty of time to enjoy these succulent fruits, whether in a cheesecake or smoothie, slathered in cream, or (best of all) on their own. Simply scrumptious.
info
Scotty Brand berries are grown, picked to order and packed at Bruce Farms' HQ at Balmyle Farm near Meigle.
The Bruce family has been farming since 1898 and in 1948, potato giant Albert Bartlett launched Scotty Brand which asked the Bruces to grow strawberries and raspberries to a calibre that stood out from the norm.
Strawberries can help whiten your teeth – the acids in the fruit help remove stains. A 100g serving contains just 28 calories and no fat.
Scotty Brand's summer range includes: strawberries, raspberries, potatoes, and three crisp lettuce varieties. scottybrand.com