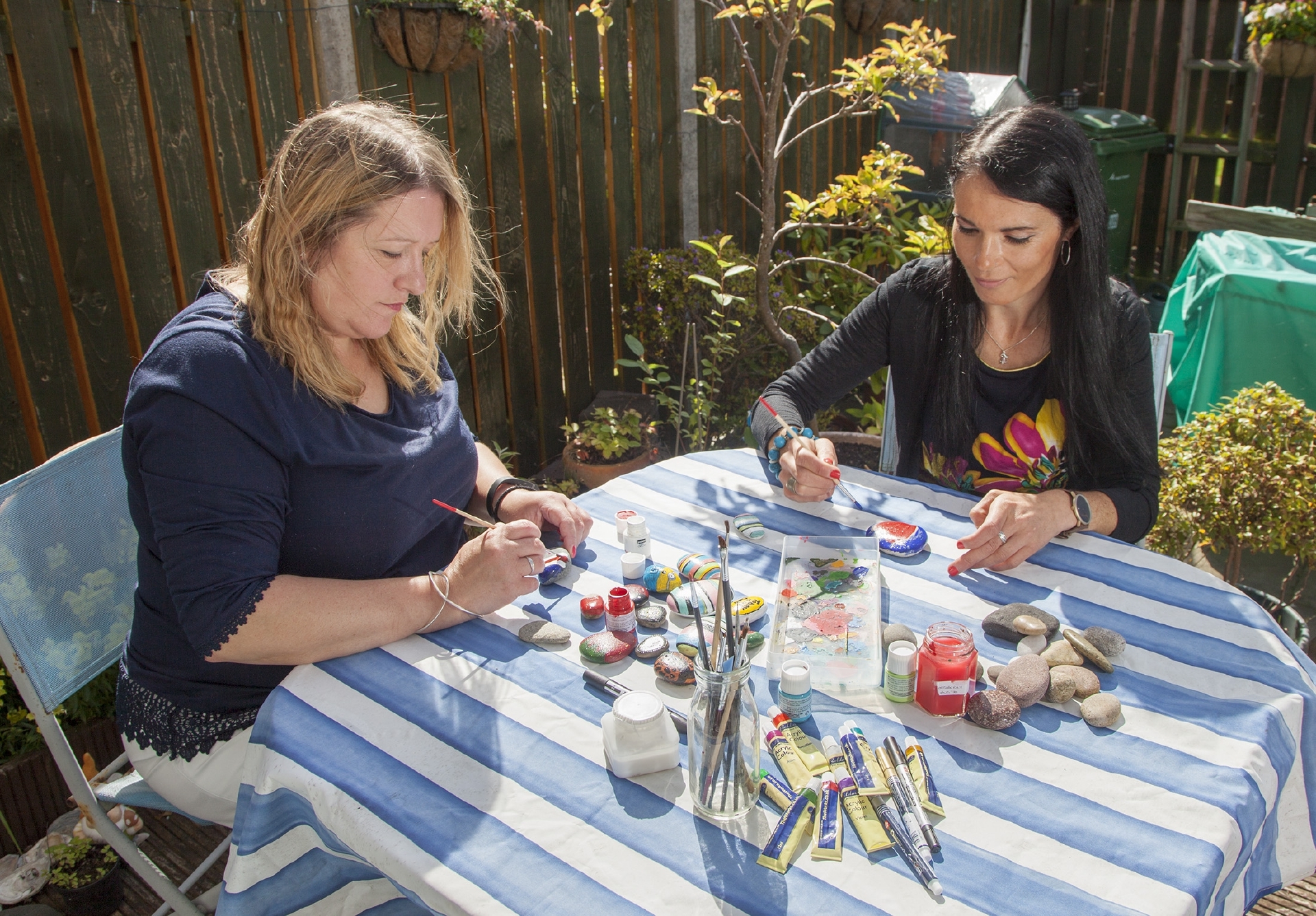 An art project-cum-treasure hunt that launched in Carnoustie last month has gone global. Gayle gets involved
A rock painted in Carnoustie as a penguin lands up more than 1,400 miles away, in Salou.
A lady from Galway discovers it, takes it home and hides it, where it now awaits fresh discovery.
Unless you've been living under a rock (pardon the rubbish pun), you'll know I'm talking about Carnoustie Rocks, an online phenomenon born in Angus that's sweeping Courier Country – and beyond – by storm.
The project's Facebook page – launched in mid-July – has already amassed more than 800 followers, with budding rock artists sharing quirky designs for people to track down.
The brainchild of Emma Allan, 43, the craze involves painting, hiding and hunting for rocks which, when found, are photographed and posted on Facebook.
You can keep the rock, hide it elsewhere or leave a rock of your own in its place.
"It's about painting rocks, creating smiles and making people happy," says Emma, when we meet in Carnoustie.
"It's a fun way to get crafty and expressive and it's a great way to get the family outside for exercise. It also helps create a sense of community."
Emma, who works for Discovery Credit Union in Dundee, started the venture after learning how popular similar projects were in New Zealand, Australia and North America.
"I painted some rocks with my 11-year-old son, James, and one sunny day, he suggested I hide them," she says.
Bringing out a collection of colourful rocks she's created, I have to say, I'm most impressed. The cute VW Camper Van and ladybird designs are my favourite.
There are also really cool designs with dots, stripes, mandalas, and fruits, including watermelons and strawberries.
"Why don't you have a go?" suggests Emma. When I reveal I'm pretty rubbish at art, she is undeterred.
"Ah, it doesn't matter," she beams. "Someone is sure to love your design."
Selecting a decent sized rock from Emma's collection, I rack my brains for inspiration. The first thing that springs to mind? A blue dog, of course.
Picking up a brush, I attempt to paint the outline of the animal, but very soon realise that it's never going to happen. Too complex (for me, at any rate).
Hence, the dog has to become something else.
I try to fashion the strange blob into a heart, and colour it in red, but it takes on the form of a wonky (and very surreal strawberry).
"What a disaster!" I exclaim, but very kindly, Emma claims she loves it.
"As long as you enjoy doing it, you're doing it right," she adds. "There's no right or wrong with art; everybody likes different things."
Once I've finished my (tragic) design, Emma recommends applying liquid varnish to seal it and stop the paint from running.
I also need to write a wee note on the back with a pen, telling people what to do if they find it.
The next step is where to put it.
I'm a tad pushed for time, so I head to Carnoustie Beach and place it on a big piece of driftwood, much to the amusement of a little dog who runs up and sniffs it.
Surprisingly, I'm quite reluctant to leave the rock sitting there. It looks so lonely and, well, not that I'm proud, but I painted it…
I pull myself together and walk away, wondering what indeed will become of my hallucinogenic blue and red strawberry heart.
I find out a few days later, when someone posts a picture of it on the Facebook site! What a fantastic surprise!
Who knows where it is now, but I can only hope it enjoys a happy life and maybe turns up on a beach in Bali, or on top of a Munro.
"The penguin rock travelled from Carnoustie to Spain and a woman from Carnoustie is taking one with her on an Antarctic expedition," Emma reminds me.
"There's no reason why yours won't end up somewhere strange."
And that's exactly what's so great about this project. It's fun, arty, outdoorsy, and there's a huge element of surprise.
info
While Emma uses rocks she finds in her garden, from craft shops, or has collected on holiday, she stresses that you shouldn't take them from beaches.
If using glitter and stickers, they need to be very well sealed so that they don't come off.
If using acrylic poster paint, use a sealer to make sure it stays on. Clear nail polish, spray-on sealant or polyurethane can be bought at hardware stores.
Ensure you hide your rocks where they won't be in the way, or prove a hazard to council mowers. Always think safety first and stick to established tracks.
For more tips and to get involved, check out www.facebook.com/carnoustierocks/