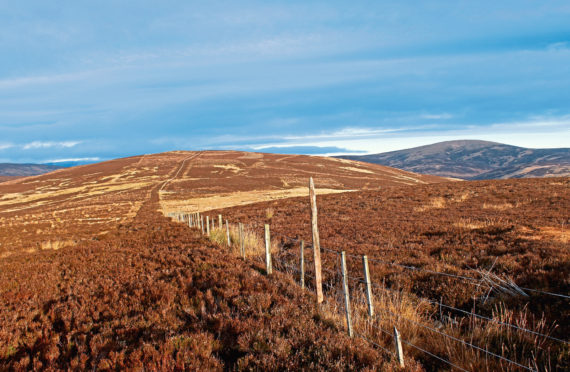 The twin peaks of Creigh Hill, above Backwater Reservoir, in Glen Isla, were, in prehistoric times, home to two great burial cairns.
Constructed during the Neolithic or Bronze ages as part of traditional funeral rituals to honour dead chieftains, Cairn Motherie and Cairn Plew would doubtless have dominated the skyline.
While the cairns in which the rulers were laid to rest no longer stand proud – much of the stone has been pilfered over the years to build walls and shooting butts – their outlines remain as scheduled ancient monuments atop the exposed summits.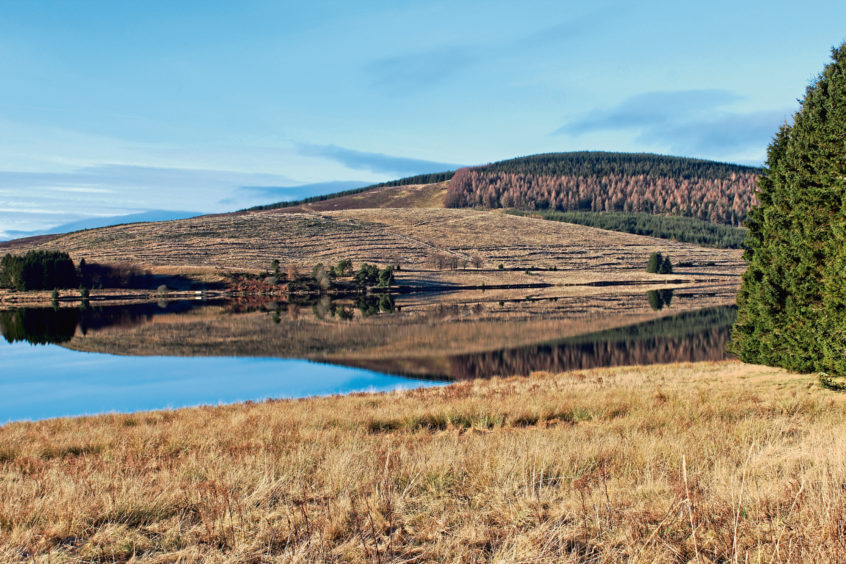 The first time I climbed Creigh Hill, I set out from the east, approaching from brooding Balintore Castle via Glen Quharity and the narrow rocky defile known as Craig of Balloch, which lies at the northern end of the ridge.
This route, however, begins on the shoreline of Backwater Reservoir, climbing over pasture and heather slopes, and, while there is no path as such for much of the way, it makes good use of rough vehicle tracks, fence lines aiding navigation.
The trail leaves the reservoir road at a metal gate a couple of kilometres north of the dam and rises along the edge of grassy fields where sheep graze, passing above animal pens flanking the ruins of an old shed at Ley.
Crossing coarser terrain beyond, a distinct path leads through the base of the valley, weaving towards a stream crossing at the foot of Shoulder of Badagee, where the ascent begins in earnest.
Fording the reedy flow, a path of sorts sets off up the hill, but its origins probably owe more to the passage of deer and sheep than human feet, and I soon veered off up the slope, cutting my own line through the heather to the fence line atop the shoulder.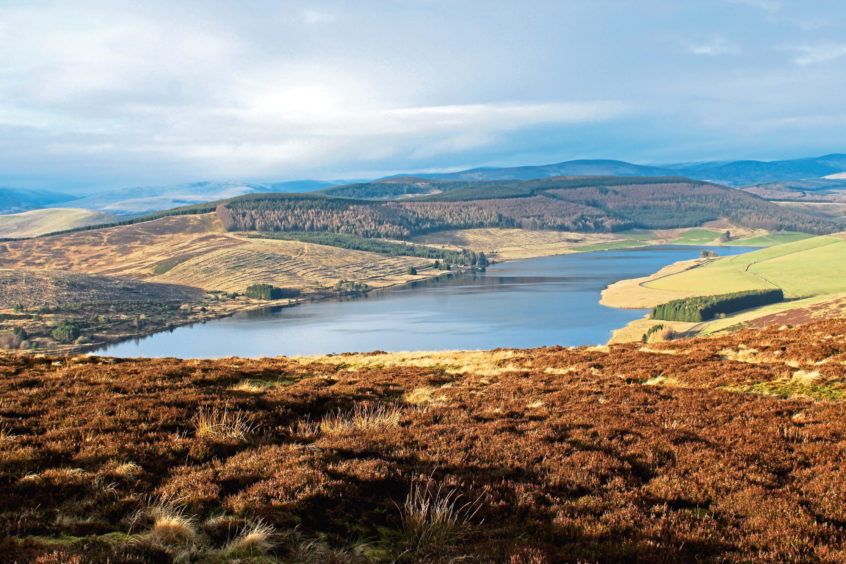 The walking is easiest on the other side of the wire, at least as far as the next fence junction, where, to avoid a strand of barbed wire, I crossed back over and continued to a gate close to the unmarked summit of Macritch Hill.
Onward from here, I stayed with the fence, a parallel path crossing the col and curving up on to the summit of Creigh Hill where, after enjoying views east over Backwater Reservoir and west to Cat Law, I hunkered down for a breather.
Sitting amid the skeletal stone remains of Cairn Motherie, it was strange and slightly unsettling to think that venerable human remains were interred here thousands of years ago and then, in more recent times, the grave was slowly picked apart.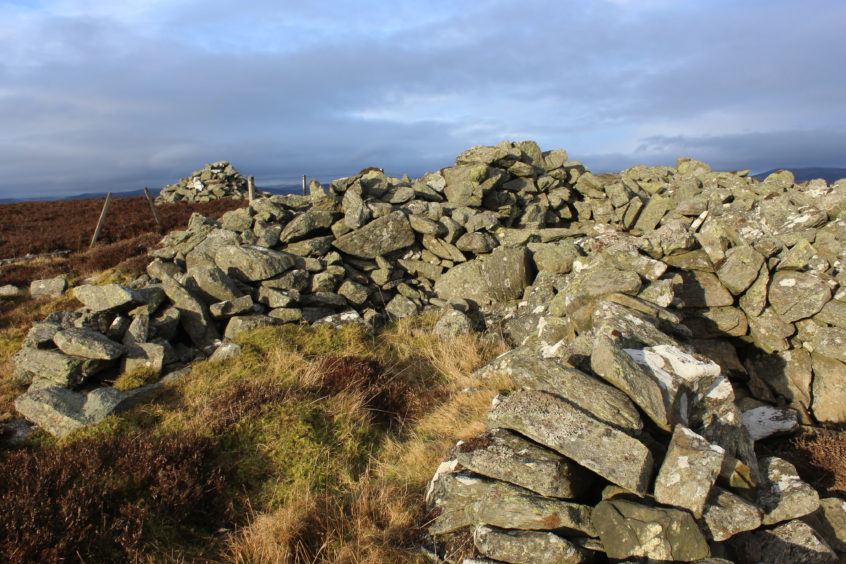 By just a metre, Cairn Motherie sits on the higher of Creigh Hill's two tops and while there is around a kilometre of walking between the pair the descent across the shallow col and the final climb are both leisurely enough.
Clambering over a wooden gate, a narrow trail guided me the last few metres up through the heather to Cairn Plew, the ring of stone now divided into a series of windbreak shelters with a vista south over Loch of Lintrathen.
Aiming for Backwater, I crossed back over the fence to a smaller cairn and tramped west through heather and grass, a house across the water in my line of sight initially and then, as I lost height, the dam itself drawing me down the slope.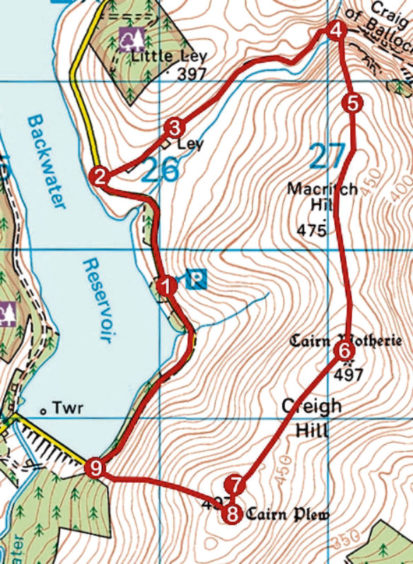 ROUTE
1. Walk 800m north along road, crossing stream.
2. Go right, through metal gate, and ascend field edge to gate. Go through and continue along field edge, passing above ruin at Ley.
3. Pass through higher of two gates, fork right and follow grassy path for 800m up valley to gate. Go through and, staying on valley floor, continue along path to cross stream in 350m.
4. Bear right, ascending rough trail up northern shoulder of Macritch Hill. Where trail peters out, continue up slope to meet fence on ridge.
5. Follow fence line south to gate on Macritch Hill. Go through and continue south along fence line, crossing col and ascending to Cairn Motherie.
6. Descend fence line through col and ascend to pair of gates.
7. Go left over gate and follow narrow trail by fence to Cairn Plew.
8. Cross fence and, from summit cairn, descend pathless slope west to dam.
9. Turn right and follow road north back to car park.
INFORMATION:
Distance: 8km/5 miles
Ascent: 300m/990ft
Time: 3 hours
Grading: Moderately challenging upland route following minor road, rough tracks and paths in part and crossing pathless ground, suitable for fit, experienced hillwalkers. Keep dogs under close control where livestock is encountered
Start/finish: Car park on east side of Backwater Reservoir, a mile north of dam (Grid ref: NO 260597)
Map: Ordnance Survey 1:50,000 Landranger sheet 44 and 53; Ordnance Survey 1:25,000 Explorer sheet 381 and OL53
Tourist Information: Dundee iCentre, 16 City Square, Dundee DD1 3BG (Tel 01382 527527)
Public transport: None