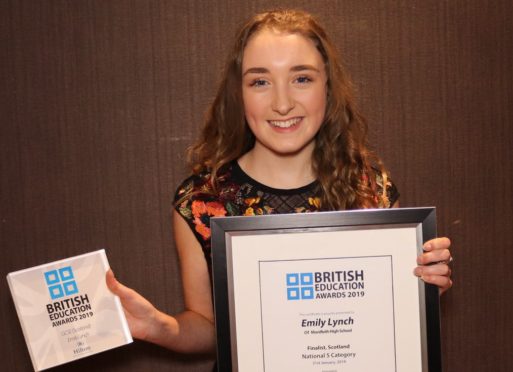 A talented teenager proved to be best in class after she scooped a top national education award.
Emily Lynch, 16, of Monifieth High School, won the Scottish National Five category of the British Education Awards 2019.
The youngster collected a certificate and glass trophy when she was named the winner at an awards night in Manchester on Thursday.
She won by excelling in the classroom alongside volunteering with a broad range of outside groups.
Emily, of Buddon Drive, Dundee, said: "It was a shock to win but I am very proud.
"I was up against two other girls in the final and they had worked as equally as hard as me.
"It's nice to be recognised and I am thankful for the support and for the school for nominating me."
Emily achieved six A grades in her Scottish National Five exams at the high school.
She is also a leader at the 2nd Monifieth Girl Guides and the 1st Monifieth Brownies and volunteers at other groups.
Her volunteering gained Emily a Saltire Award, a School Citizenship Award and the title of Young Achiever of the Year in 2017.
This is the third year of the awards which celebrate the academic and extracurricular achievements of students.
Awards are presented in four categories across five regions with two given in England and one each in Scotland, Wales and Northern Ireland.
M-C McInally, headteacher of Monifieth High School, nominated Emily for the award.
She said: "We are very proud of her and we are delighted for Emily.
"Emily seems to manage to devote time to her studies but also balance this with her many extra-curricular activities.
"She is a dedicated member of our school and the wider community."
Amin Chowdhury, awards organiser, said: "We are extremely proud to be able to honour them.
"We hope that, as award ambassadors, their example will encourage others."