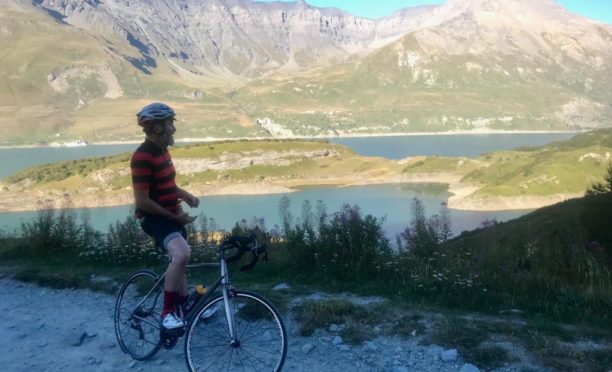 Over the years of guiding and working with cyclists, I have noticed typical traits that manifest in a rider's behaviour.
Interestingly, these characteristics are not discipline-specific, so cannot be attributed to something only a mountain-biker may do or the way a road racer might act, although there are distinct tendencies that are seen as clichés of a particular section of the sport.
For example, number-crunchers might be more drawn towards time-trialling, where that specific practice of riding a set distance against the clock holds a certain penchant for those enthralled by the world of numbers.
For me, I think I am the complete opposite to the number-crunchers. I have never liked numbers. They confuse and scare me in equal measure and I have often thought I have a form of numerical dyslexia. So adding numbers to an activity I love is often a distraction to my real reason for riding a bike.
A few weeks ago, when I was working in the Alps with a group of 20 riders, we tackled cols such as the Galibier, the l'Iseran and the Madeleine. I initially met the group at Geneva airport and I clocked the number-cruncher straight away as he already had his notes out and was chatting to a fellow client about gradient percentages.
Unsurprisingly in the van, as we drove to Albertville, he told me of the "numbers" his recent FTP had thrown up. FTP stands for Functional Threshold Power which is the is the highest amount of power, in watts, a rider can pedal for an hour. It's a measure that can be useful in training and making you a better rider, and ensuring that your training efforts are consistent. I have never bothered with power and heart rate numbers and, perhaps as a result, I have never been the fastest rider in town.
By the time we arrived in Albertville I knew my client's resting and maximum heart rate, his FTP figure, the gear ratio on his bike and how that, all combined with riding up 20km long slopes at an average of 8% gradient, would be a perfect combination.
Only it didn't turn out to be that way. It turned out that his heart rate wasn't responding the way he hoped it would. Could it be the altitude, jet-lag from his flight from the US, or the fact he had never ridden such long distances on successive days in the mountains? I suggested a combination of all three. He wasn't convinced and his power-output readings suggested that something else was amiss.
Perhaps the average gradient signs, set every kilometre up each climb, were giving him duff information. Instead of 7%, he was sure that last kilometre on the Col de l'Iseran was nearer 10% – his computer had told him so. I shrugged and asked what he had thought of the stunning view back down to Val-d'Isère. He grimaced at me as if my question was an inconvenience and then announced that his problem was his gearing. His 34×28 gear ratio should actually have been a 34×30 and, boy, was he annoyed with himself for making such an error.
He asked if there was a bike shop nearby so he could buy the requisite rear cassette needed to vanquish all his demons. I told him there was and he vanished over the summit, descending without even stopping to look at the view.
The next rider to arrive at the summit did so, red-faced and drenched in sweat, but grinning from ear to ear.
He was 75 years old and apologised for holding me up (he was far from being the last to the summit), but had stopped several times on the way up to enjoy the spectacle and take photographs. His attitude was refreshing. There is nothing wrong with crunching numbers, but sometimes it's easy to get drawn into a labyrinth of facts and figures and forget to sit up, look around and realise that not every ride needs to be about numbers.
Where to Ride: Mountain biking around Atholl Estate
Location: OS Landranger 1:50,000 Map 43
Start at Old Bridge of Tilt Car Park
NN 875 655
Distance: 16 miles
Details: Although primarily on land-rover track, this trip should not be underestimated and should be prepared for a high level, exposed mountain ride and be experienced with such riding.
Starting at the Car Park at Old Bridge of Tilt head North towards Glen Tilt, before ascending via the Alt Slanaidh burn. Contour around Beinn a' Chait before descending down towards the Allt Sheicheachan bothy. The best return route is to head uphill again towards Meall Dubh and follow the track south west to Glen Banvie.