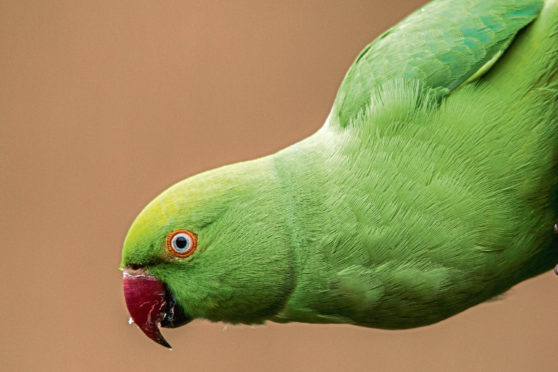 The difference could hardly have been starker; on my local river in Strathdevon moorhens are the shyest of birds, lurking close beside the lush bankside margins and disappearing like magic at the first whiff of an approaching person.
But here by the Serpentine on the edge of Hyde Park in London the moorhens were tame and confiding, and easy to approach close. Indeed, so was all the other wildlife on this peaceful stretch of water in the heart of the city, including herons and tufted ducks.
A work trip had brought me to London, and with time to spare, I sought some green space as a sanctuary from the hustle of city life. Hyde Park fitted the bill perfectly, and like a soothing balm, I was soon engrossed by the variety of creatures that call this place home.
As I watched a grey squirrel busily collecting horse chestnuts, an unusual high-pitched screeching pierced the air. What on earth was that?
A flash of green zipped into a tree, followed by two more – ring-necked parakeets! In fact, there was rather a lot of them in the tree and they cried excitedly as they bickered amongst each other. There is no denying that they are most beautiful birds, but they don't belong here and are native to parts of Asia and Africa.
There is an interesting tale that the many thousands of parakeets now roaming this part of the country originate from the set of African Queen during filming at the Shepperton Studios in the 1950s where some birds may have escaped. It is, however, more likely that their true origin is as escapees or deliberate releases from aviaries.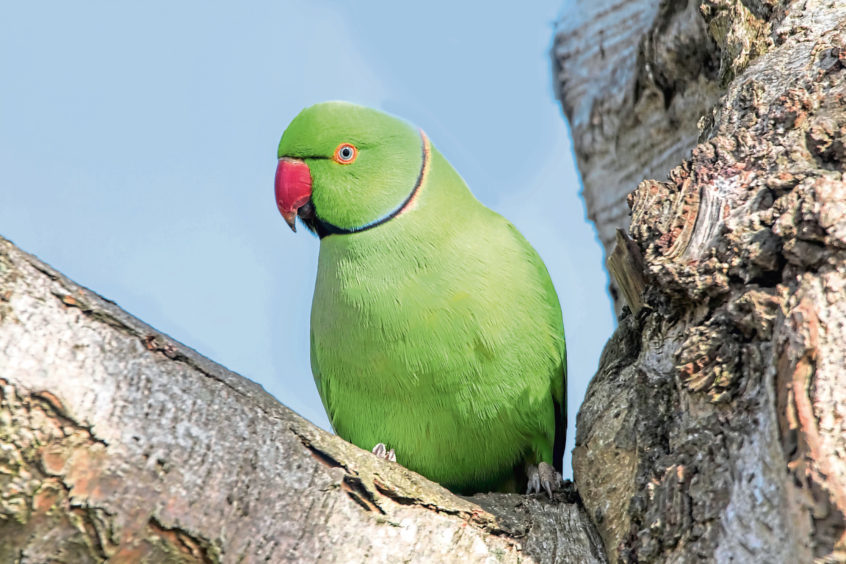 Whatever the case, they are now thriving in south-east England and many other parts of the country, finding good feeding in suburban parks and orchards where they forage for a wide variety of fruit, nuts and seeds, with garden bird feeders helping to sustain them in winter.
I posted a photo of one of these London parakeets on my Twitter feed, posing the question about the negative impact they may have on native wildlife by being a competitor for both food and nesting holes.
Plenty of ring-necked parakeets about in the parks of central London today; stunning birds but you do wonder about the impact they have on native wildlife pic.twitter.com/vuDMDVvJ7k

— Keith Broomfield (@BroomfieldKeith) September 25, 2018
The tweet sparked much reaction, both for and against the parakeets, and among those who responded was Dr Hazel Jackson, a parakeet expert. Her research has shown that while there have been little negative impacts in the UK so far, it is a different story in parts of Europe where they have wreaked damage on agricultural crops, as well as competing with native species such as bats, nuthatches and owls. Parakeets are spreading fast and now even breed in Scotland.
Thus, it is entirely likely that in the years to come parakeets will become a familiar feature of the parks and gardens of Dundee, Perth, Kirkcaldy and elsewhere. I fear this will inevitably prove bad news for our indigenous wildlife – a colourful arrival, but one with the potential to cause great harm.
Info
There are an estimated 80,000 ring-necked parakeets across Europe. One reason for their success is the lack of predators, but peregrines in London are now preying upon them and this could become a widespread future trend.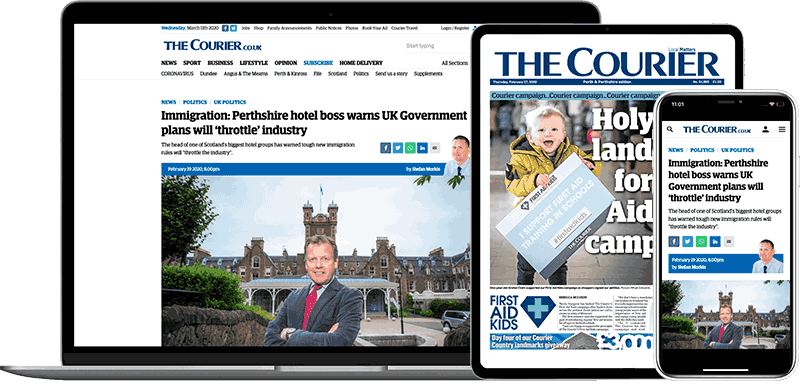 Help support quality local journalism … become a digital subscriber to The Courier
For as little as £5.99 a month you can access all of our content, including Premium articles.
Subscribe