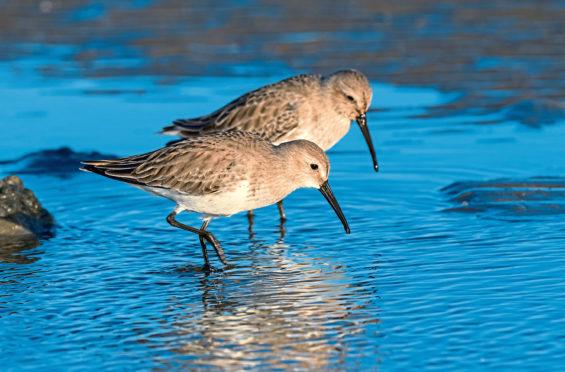 Climate change is causing other impacts upon our seas, including changes in fish distribution, with species like cod moving further northwards, and warmer water fish such as red mullet moving in from the south.
The contrast could hardly have been greater; earlier in the week I had been up in Peterhead where storm-tossed seas lashed the harbour wall, but now, only a few days later, I was down on the shore at Elie in Fife and the water was calm and gentle.
As I made my way along this Fife beach, a small group of mallards drifted across a mirror-like lagoon and dunlins picked their way along the water's edge, rushing this way and that, so full of boundless energy.
However, it was apparent that Elie had endured the same storm as had hit Peterhead earlier in the week, for the strand line was covered in mounds of kelp that had recently broken free from their holdfasts in the churning seas.
I stop to examine the kelp, wondering how our coastal wildlife is able to cope with such dramatic changes in conditions; calm and benign one day, ferocious winds and tumultuous seas the next.
Certainly, persistent gales can be a real killer and good numbers of seabirds will succumb in winter from torrid conditions, although most seem able to ride out the bad weather, either through sheer grit or by seeking out calmer waters. Indeed, when I was in Peterhead there were numerous grey seals and eider ducks in the harbour basin sheltering from the worst of the weather.
Scientists predict that climate change will increase the regularity and severity of storms around Scottish coasts, which inevitably will impact upon our marine life.
But storms also bring opportunity, and here at Elie rock pipits flitted in amongst the wave-tossed kelp as they searched for small invertebrates to feast upon. These pipits are such charismatic little song birds, constantly on the move, and so tied to the shore that they rarely venture more than a hundred yards or so from the water's edge.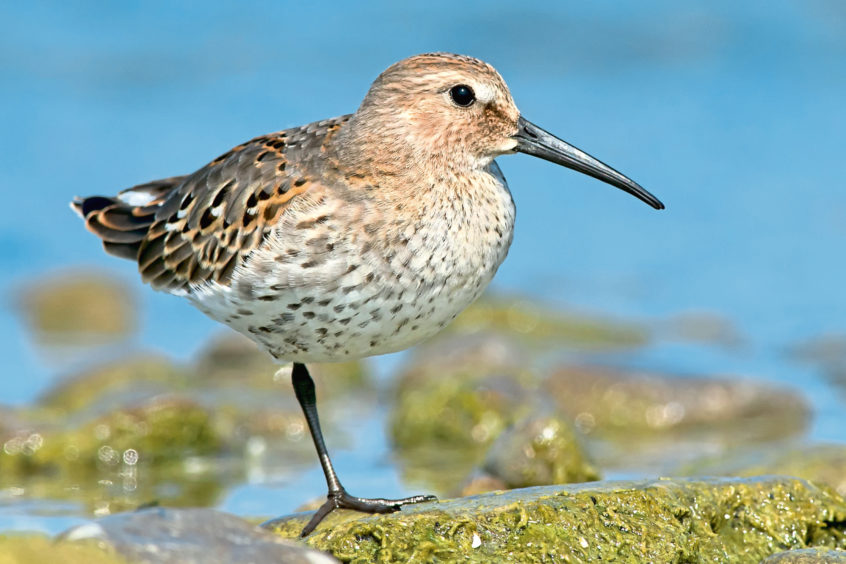 In the Northern Isles rock pipits were once known as 'tangle sparrows', a name I find appealing, for it reflects well their habit of foraging in amongst twisted fronds of seaweed.
I turned my binoculars back onto the dunlins. There were five of these diminutive waders by the water's edge, their curved bills well adapted for probing in amongst the rocks and sand for food. Dunlins are under-stated little birds, the grey-brown winter plumage unremarkable at first glance, but when seen up close, the intricate patterning on the feathers is most eye-catching.
As I watched them, some more waders wheeled-in and alighted on the shore. They were ringed plovers, so distinctive with their prominent black markings on head and face. These plovers mingled happily with the dunlins, both species relaxed in each other's company, and along with the lapping water, it was a scene of nature at ease with itself.
But far out to the west in the distant Atlantic a low pressure system was developing; it was early days yet, but it looked like another storm was brewing and heading this way.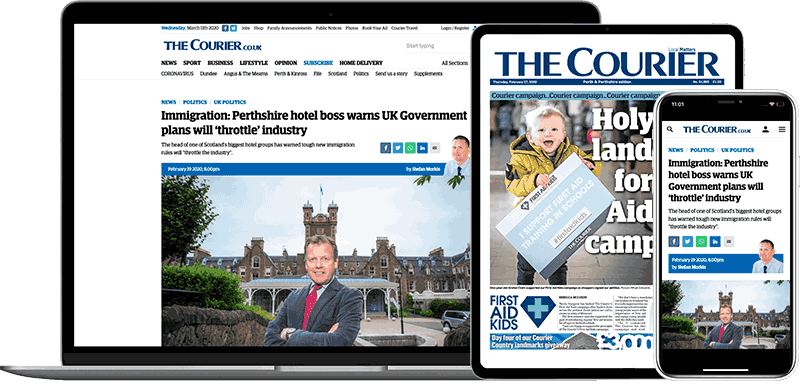 Help support quality local journalism … become a digital subscriber to The Courier
For as little as £5.99 a month you can access all of our content, including Premium articles.
Subscribe