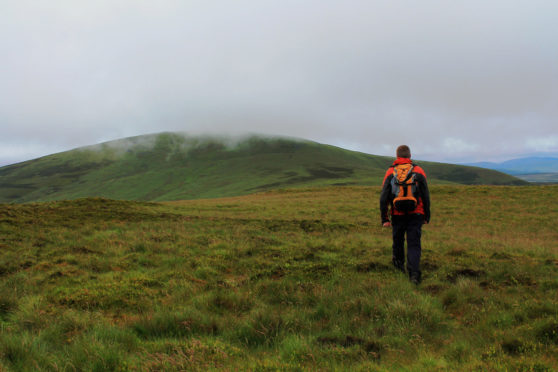 ***CORONAVIRUS: Please adhere to government guidelines in all outdoor activities***
Unlikely bedfellows they may be, but a cat and a goat join forces to create this upland outing in the Angus Glens.
Cat Law is a hill I have climbed before from Balintore, but this trip approaches the summit by another route, pairing it with neighbour Long Goat.
Lying at the southern end of Glen Prosen, Cat Law perches on the periphery of the Braes of Angus, the last outpost of high ground before slopes dip to Strathmore, while Long Goat rests on the cat's shoulder, breaking what would otherwise be a stiff and unrelenting ascent.
It remains a spirited enough haul, but rough tracks, hill paths and a fence line aid navigation while a ring of shelter cairns on the top affords rudimentary refuge from the elements.
There is no car park at the start, but there is a generous amount of wide and flat grassy verge to leave vehicles on and, across the road, a metal gate accesses the heathery hillside.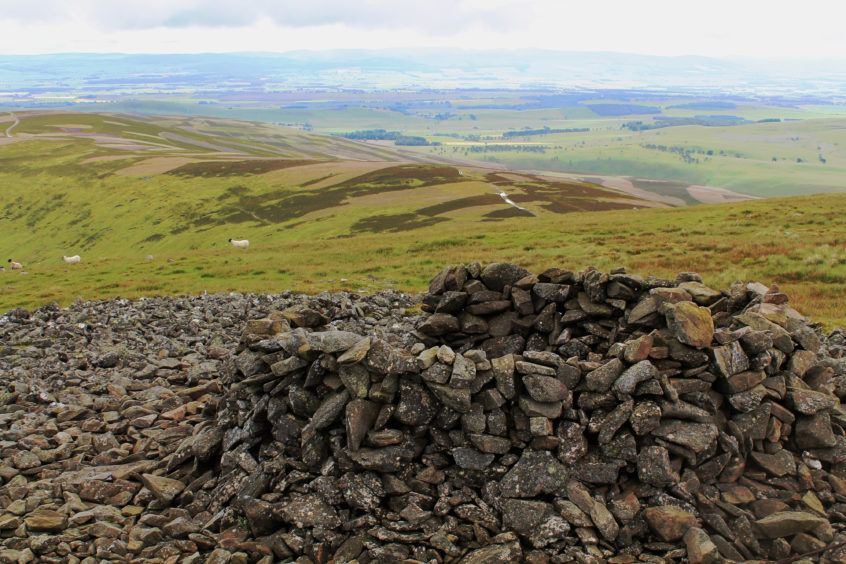 From here a distinct and initially reedy track rises by Turf Hill to a second metal gate and, after dipping through softer, often boggy, ground, finds firmer terrain and a fence to follow up the eastern shoulder of Long Goat.
The incline is arduous but the gradient eases as height is gained, the track narrowing to a path that leads on to the top. There is no summit cairn here but, adjacent to a wooden gate, there is a small square stone – an estate boundary marker and one of a number found on the route.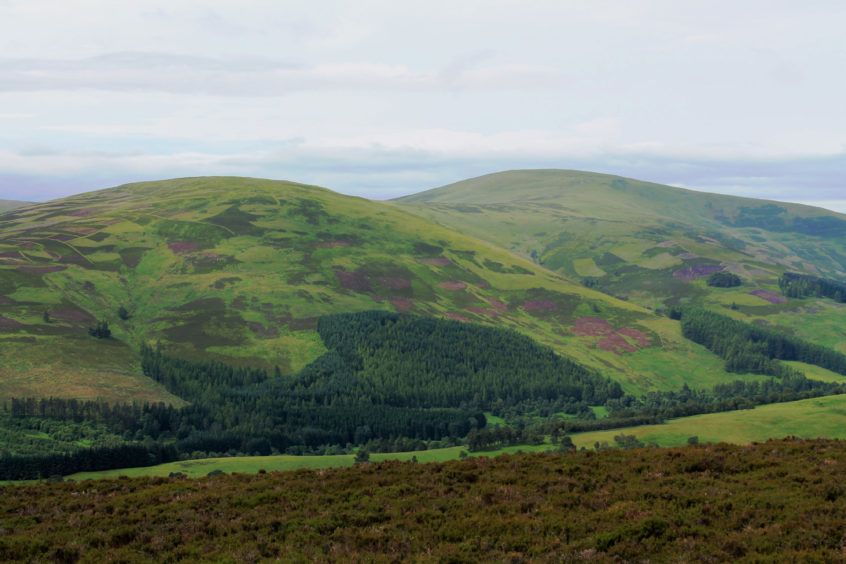 The day's second goal – Cat Law – lies to the west and, after a long and gradual descent into the shallow col, the track rises past a wooden gate and, with fence still in tow, begins to climb once again.
On the lower portion of the slope, the route crosses patches of marshy hillside, sphagnum moss indicating soft ground where it is worth veering a little to the left to find firmer footing under heather.
Higher up, above banks of exposed peat, the route passes a stone shelter on the right. Constructed on a scraping of rock, it has no roof but affords protection from the wind and is a good place to pause for a rest or refreshment.
A cairn of white stones above signals the impending arrival of the summit of Cat Law, the high point close to a junction of fences where there is a gate and another boundary stone.
The trig point sits to the south, close to a trio of rundown cairns offering reasonable shelter from the elements. Under clear skies, there are excellent panoramas, Airlie Monument, to the east, Loch of Lintrathen, to the south-west, and the town of Kirriemuir to the south-east among prominent landmarks.
After enjoying the views, and with a descent into Glen Uig on the cards, I wandered down the cat's north-west shoulder, meeting up with an estate track beyond a fence (there is a gate over to the left) in the col below.
This guided me down over grouse moor, through larch and pine and then a more regimented spruce plantation before heading out across pasture to Wester Lednathie Farm from where track and minor road lead to Easter Lednathie and a short but, towards the end, steep hike back to the start.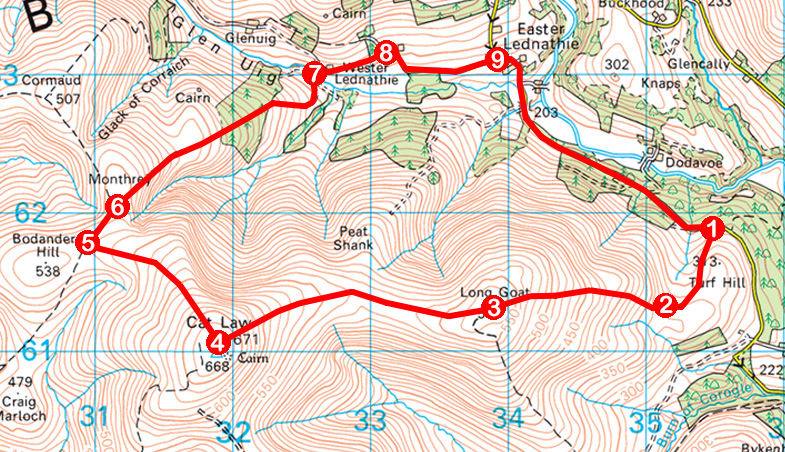 ROUTE
1. Go through metal gate and ascend track, passing below overhead cables, to second gate.
2. Go through gate, bear right through dip, ascend to meet fence and follow track then path running parallel to fence to summit of Long Goat.
3. Remaining with fence, descend west into and across shallow col and ascend eastern shoulder of Cat Law to junction of fences and gate on summit.
4. Go left to trig point and shelter cairns before returning to junction of fences. Descend north-east, following intermittent track running alongside fence to meet estate track.
5. Turn right and follow track 200m to junction.
6. Bear right through gate and descend track to plantation. Go through gate and descend through plantation. Exit at gate, descend by wall then swing left to Wester Lednathie Farm.
7. Cross bridge, bear right through farmyard and continue east along track.
8. Bear right and continue along roadway to junction at Easter Lednathie.
9. Continue straight ahead initially before curving right to follow road back to start.
INFO
Distance: 11.3km/7 miles
Ascent: 550m/1815ft
Time: 3-4 hours
Grading: A moderately challenging upland hike with strenuous and prolonged ascent, the route follows tracks and paths for the most part. Suitable for fit, experienced, well-equipped hillwalkers. Keep dogs under close control to protect livestock and ground nesting birds
Start/finish: Track end below Turf Hill, 2km south-east of Easter Lednathie, Glen Prosen (Grid ref: NO 354 618). Roadside parking in grassy verge
Map: Ordnance Survey 1:50,000 Landranger sheet 44; Ordnance Survey 1:25,000 Explorer sheet OL53
Tourist Information: Dundee iCentre, 16 City Square, Dundee DD1 3BG (Tel 01382 527527)
Public transport: None
---
Please observe government guidelines on exercising and social distancing.