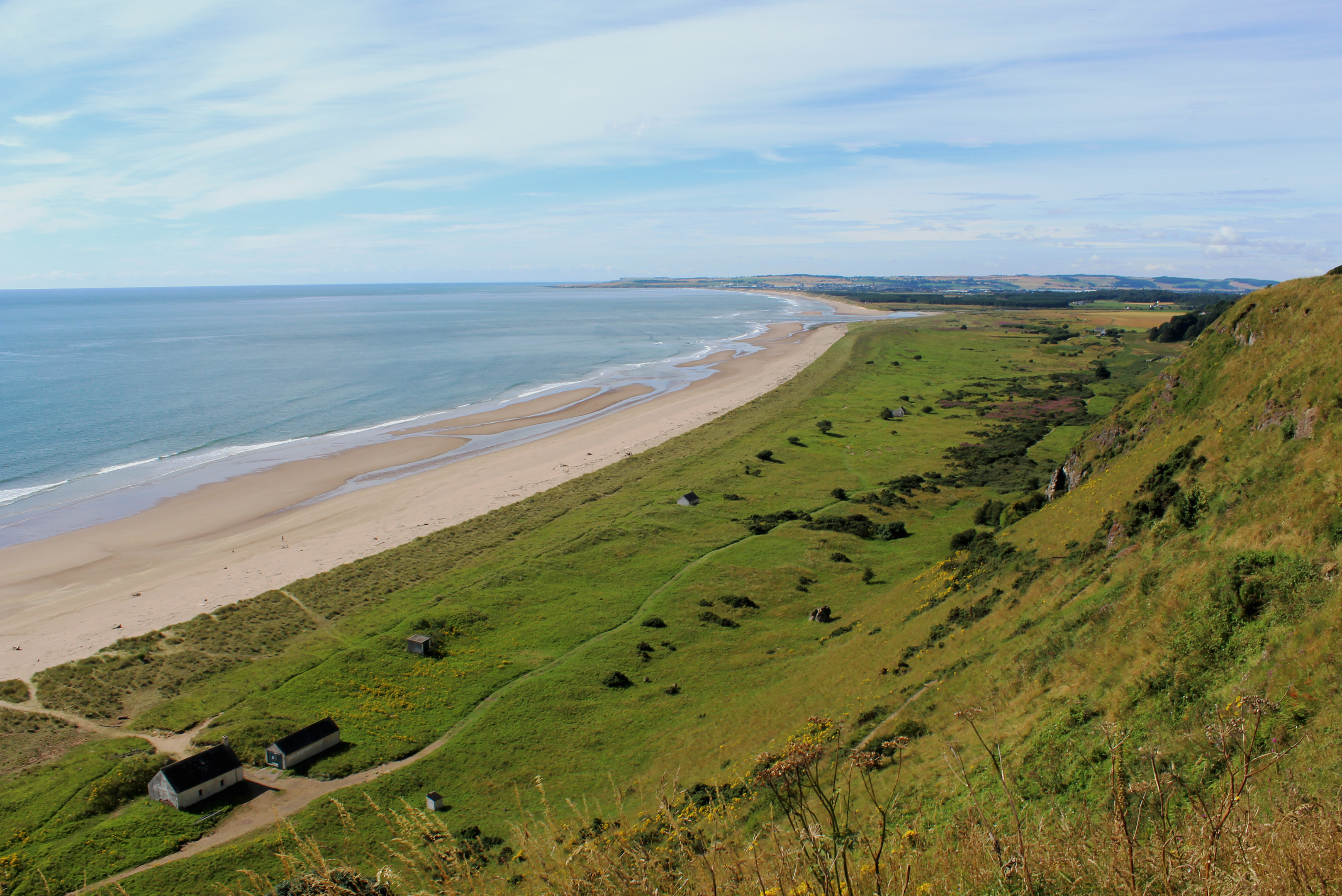 Sands of St Cyrus, Aberdeenshire
Caught between the North Sea and a dramatic backdrop of towering cliffs and crumbling crags, St Cyrus National Nature Reserve is a truly magical place where exquisite coastal scenery, bracing marine air and a proliferation of birds, insects and wild flowers await the walker.
This route is not a long one, but it packs plenty in. Paths through rustling dunes and sheltered grassland probe deep into the heart of wildlife country, while the Sands of St Cyrus are perfect for a relaxing seafront stroll, rocky outcrops and a cave adding scope for more adventurous exploration.
Perched atop the cliffs just beyond St Cyrus Parish Church, the car park at the end of Beach Road is an excellent starting point, the vista over the bay a tantalising aerial snapshot of the way ahead.
A grassy high level path led me from here to the former Woodston Fishing Station, once part of a thriving local salmon and sea trout fishing industry dating back to the 13th century, a theme that endures throughout the walk. Set into the slope below the house and outbuildings, there is a well preserved 18th century store and ice-house.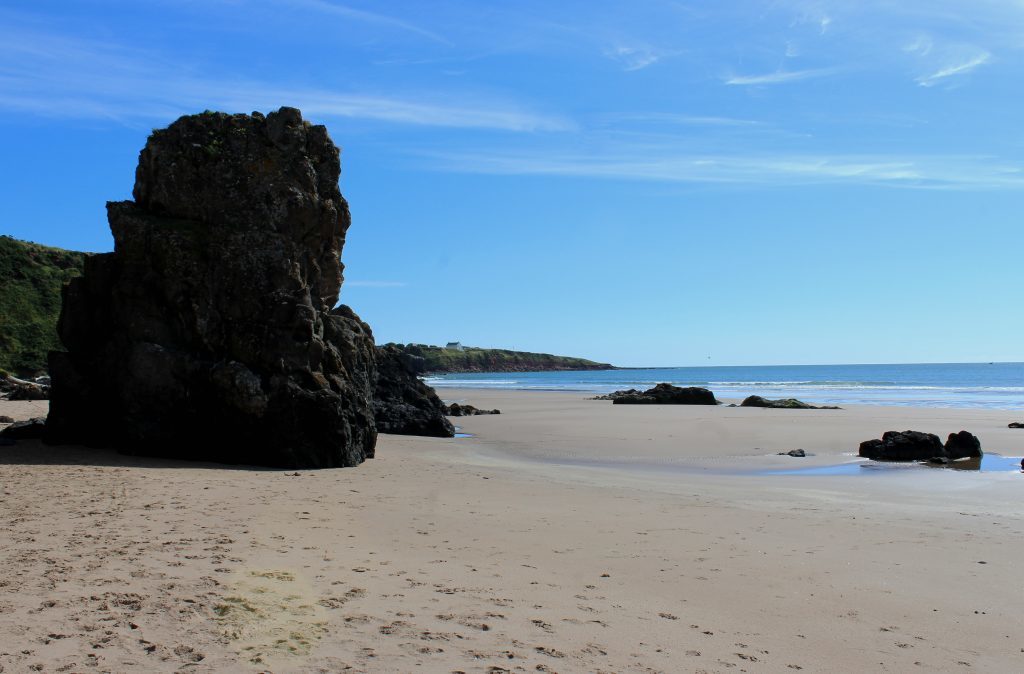 The path descends steeply from Woodston to the northern end of the beach where the sand is dotted with jagged barnacle-encrusted rocks, known locally as the hens' teeth. Close by there is a cave.
The tide out, I detoured around the headland to the next cove where a waterfall cascades down the cliffs and the remains of a 15th century tower, part of Kaim of Mathers Castle, cling precariously to the rock, before striding south.
Sun seekers and dog walkers were out in force but, with the sea retreating, they were but distant figures on this vast swathe of gloriously golden sand, so wide I could wander at will.
Washed by the waters of Montrose Bay, the sand stretches all the way to the estuary of the River South Esk. However, I revelled in it only as far as the outflow of the River North Esk, heading inland over dunes and saltmarsh to the reserve visitor centre, housed in a former lifeboat shed at Kirkside.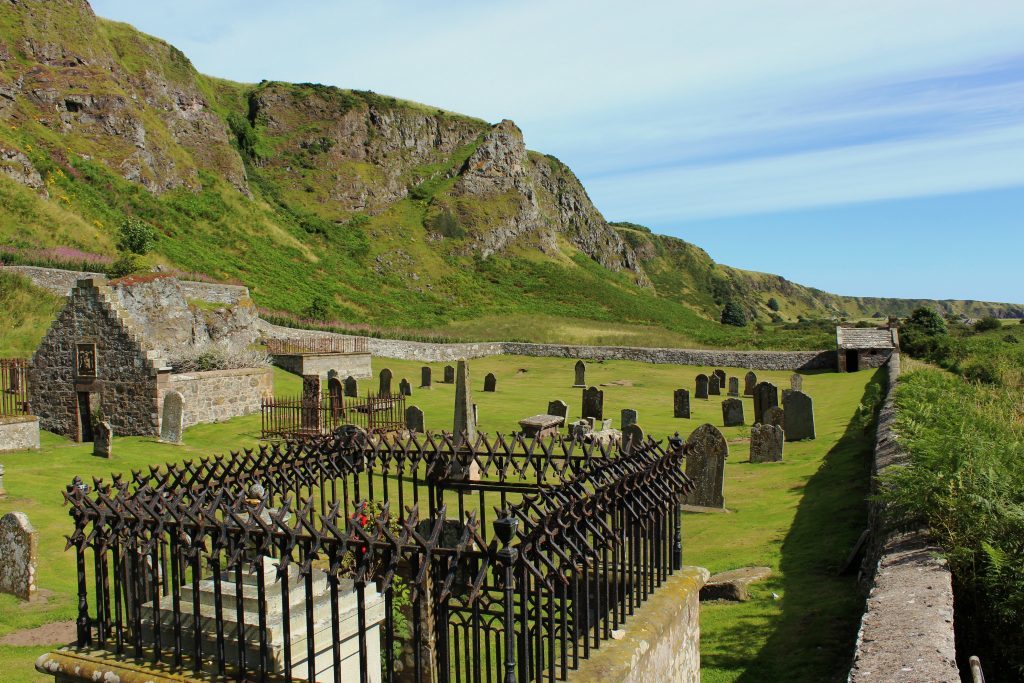 It is worth popping in for there is lots of information on the coastline, its geology and maritime heritage and, of course, the wildlife and plants that inhabit this shoreline strip.
Heading back up the coast, I passed another former salmon fishery at Kirkside, where the ice-house has been transformed into an eye-catching subterranean self-catering let, on my way to Nether Kirkyard, a peaceful cemetery full of fascinating headstones.
Wandering through grassland dotted with thorny thickets of gorse, butterflies and moths flitting back and forth across the trail, I spotted, with the aid of my binoculars, a buzzard and a peregrine falcon soaring over the cliffs above me. In the spring and summer fulmars nest here too.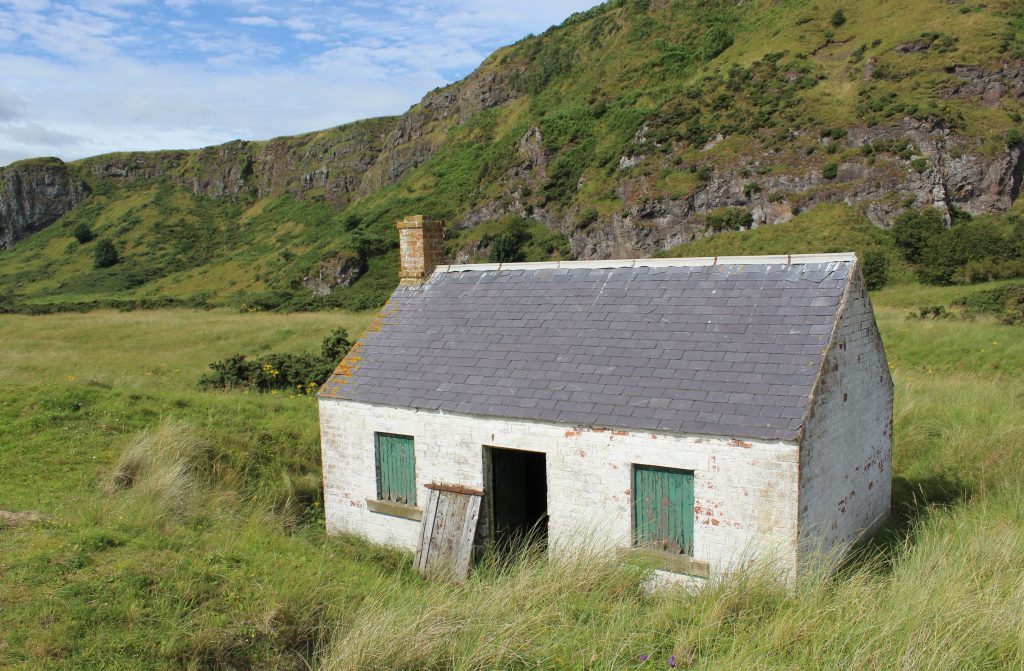 Indeed, nature is all around and it is slowly erasing the influence of man on the landscape, particularly the traditional salmon fishing industry. Gone are the stake nets once common on the beach, their remains consumed by sea and sand, while the dunes are slowly encroaching upon the whitewashed salmon bothies that sit by the path.
Commercial fishing ended at St Cyrus in 2007 and the derelict bothies have since been reeled in by swallows and house martins.
ROUTE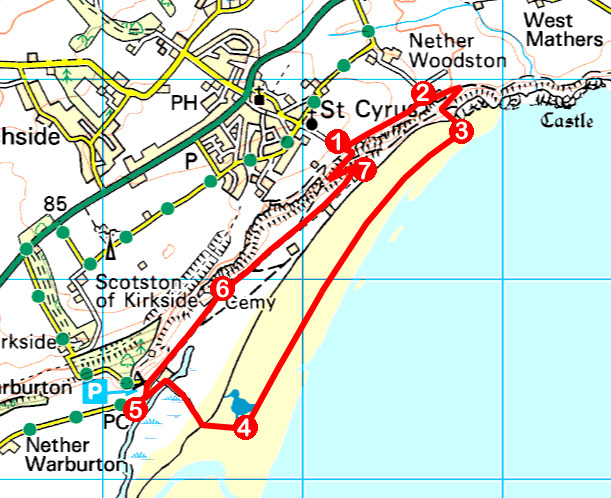 Walk east along grassy cliff top path, ignoring path descending right, to meet track at Woodston.
Turn right and follow gravel track past Woodston Villa. Pass around metal gate and curve left on track to join path beyond former fishing station buildings. Swing right at information board and descend path below ice-house to beach.
Bear right and walk south-west along beach.
Head inland on sandy path that rises through dunes before descending to cross wooden bridge. Go left to visitor centre.
Return along path to Kirkside Fishing Station then go left up road. Turn right on track, signed for St Cyrus, and follow it to Nether Kirkyard.
Go around gate beyond graveyard and continue north-east along nature reserve path, passing former salmon bothies.
Turn left and ascend path and steps to car park.
INFORMATION
Distance: 5.6km/3½ miles
Ascent: 120m/400ft
Time: 2 hours
Grading: Easy, low level coastal route walking on good paths and sandy beach with some strenuous ascent at the end. Keep dogs under close control in the nature reserve to protect wildlife
Start/finish: Cliff top car park at end of Beach Road, St Cyrus (Grid ref: NO 751646)
Map: Ordnance Survey 1:50,000 Landranger sheet 45; Ordnance Survey 1:25,000 Explorer sheet 382
Tourist Information: Stonehaven Information Centre, 66 Allardice Street, Stonehaven AB39 2AA (Tel 01569 762806)
Public transport: Stagecoach bus services 107 and X7, linking Montrose and Aberdeen, stop in St Cyrus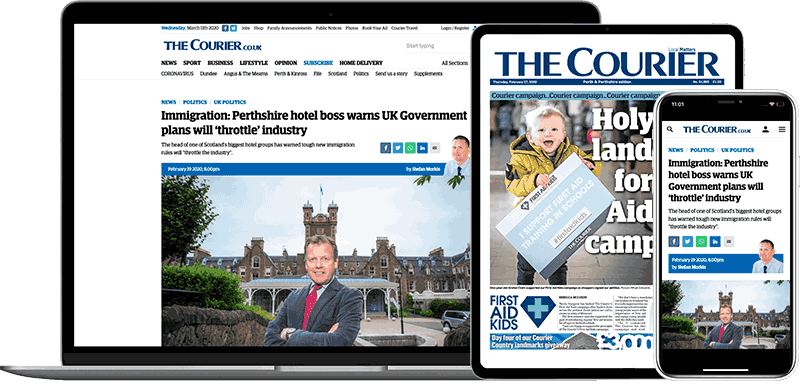 Help support quality local journalism … become a digital subscriber to The Courier
For as little as £5.99 a month you can access all of our content, including Premium articles.
Subscribe