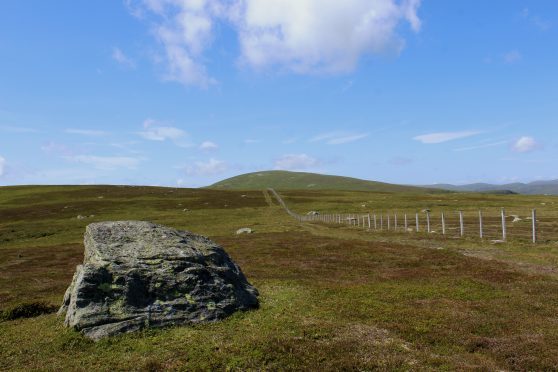 Hill of Strone, Glen Prosen, Angus
There are two Hill of Strones in Glen Prosen, one a low hump on the south side of the valley, and the other – the one I was setting out to climb – a significantly more challenging undertaking on the north side of the glen.
Rubbing shoulders with Driesh, a Munro, my target for the day occupies the high ground between Glen Prosen and Glen Clova, offering (under clear skies) vistas akin to those enjoyed by the raptors and crows that soar through the air above.
Beginning at the end of the slender road through the Angus glen, limited parking can be found either below Glenprosen Lodge, by the bridge spanning Prosen Water, or at the forest track-end just above the lodge.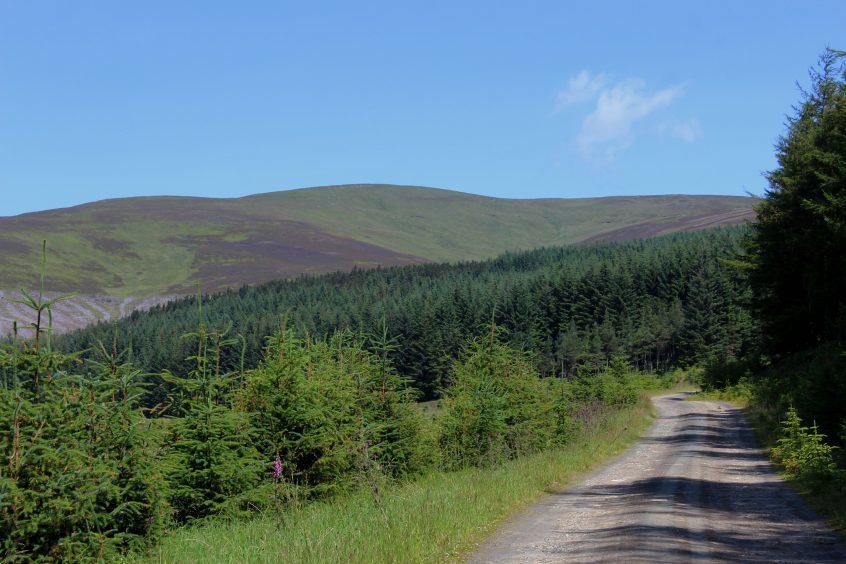 Here, beyond a gate, the route enters Glenclova Forest, an odd and unexplained choice of name given the wood lies entirely in Glen Prosen. Whatever the reason, a wide track climbs steadily through the Forestry Commission plantation, curving north to skirt along the lower edge of densely packed spruce and pine.
Open ground to the left alleviates the claustrophobia many woodland routes impose upon the walker while, ahead, Hill of Strone stands proud above a rapidly diminishing treeline.
As the track progresses, it curves left, continuing north-west up the glen to cross Burn of Farchal. This is a pleasant spot to rest and refresh oneself ahead of the beckoning ascent.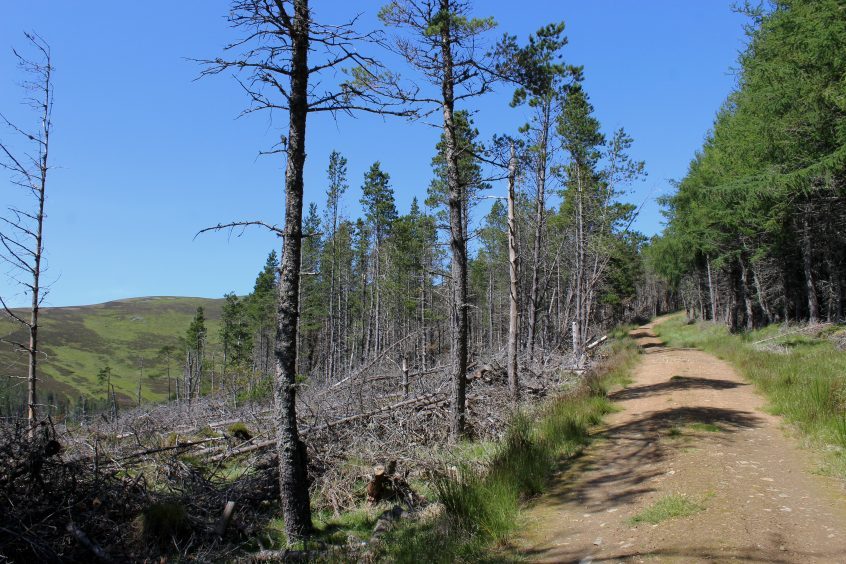 The hillside above has recently been felled and what was a pleasant wee forest path rising to a gate and ladder stile on the northern edge of the plantation is now a broad, dusty track crossing a scarred slope of dead stumps and discarded branches.
Swiftly putting that scene behind me, I hauled myself over the stile, joining an initially rough and peaty trail rising steeply through the heather and blaeberry bushes carpeting the sturdy yet shapely southern flank of Hill of Strone.
Passing a line of grouse butts (shooting takes place on Glenprosen Estate between August and the end of October), there is little respite for the knees, the path climbing all the way to a small cairn hunkered down at the heart of a broad and, at times, windswept, summit plateau.
The name 'strone' is thought to come from the Gaelic word 'sron', meaning promontory or nose and the contours of the shoulder I had puffed and snorted my way up do indeed conspire to resemble the bridge of a giant snout.
The peak is well placed to offer grandstand views across the glens of Prosen and Clova. The most striking features of the surrounding landscape are the deep, glacial corries of Loch Brandy and Loch Wharral to the north while the dome-like top of Driesh dominates the outlook to the west.
Turning east, I met and followed a fence cresting the ridge, parallel vehicle tracks dipping through a peaty col before climbing towards Cairn Inks. The route of descent branches south ahead of this outlier but the short detour to the top is worth making, just for a stunning aerial shot of Glen Clova.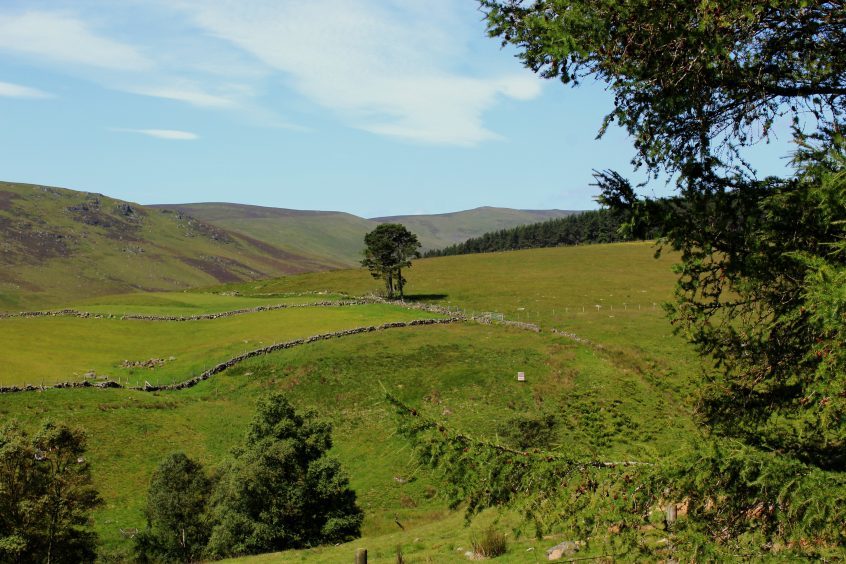 Back on track, I headed down over moorland and, re-entering Glenclova Forest at a ladder stile, enjoyed a pleasant dander through larch, emerging above felled slopes where, casting eyes back, I bid Hill of Strone farewell and dropped into the glen.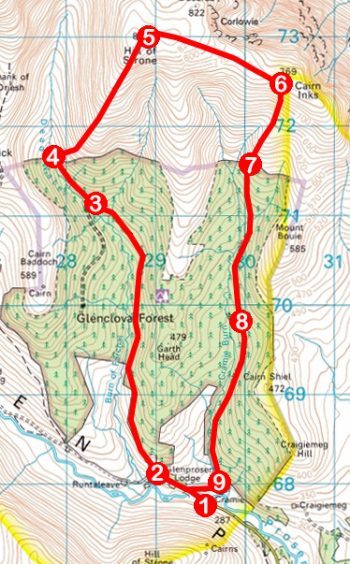 ROUTE
1. Cross bridge over Prosen Water and follow road up past Glenprosen Lodge, ignoring track branching right to Cramie Farm.
2. Fork right, passing through metal gate, and ascend forest track, following it north then north-west through Glenclova Forest.
3. Cross stream and, in 150m, branch right on track running north-west to edge of plantation.
4. Cross ladder stile by high gate and bear right, ascending rough track to small cairn marking summit of Hill of Strone.
5. Continue north-east on slim path to fence and bear right, following track running parallel with fence east along ridge.
6. At track junction ahead of Cairn Inks turn right and descend track to top of plantation.
7. Cross ladder stile by gate and descend forest track south.
8. Ignore track branching right and continue south towards Cramie Farm.
9. Ignore track branching left, proceed through metal gate, over bridge and bear right past farm to road.
INFORMATION
Distance: 13.2km/8½ miles
Ascent: 575m/1900ft
Time: 4-5 hours
Grading: A challenging hill walk with a strenuous ascent, the route follows forest tracks and paths over exposed hillside. Suitable for fit, experienced hill walkers. Go equipped for all conditions and keep dogs under close control over open hillside
Start/finish: Small parking area by bridge over Prosen Water, below Glenprosen Lodge, Glen Prosen (Grid ref: NO 294678)
Map: Ordnance Survey 1:50,000 Landranger sheet 44; Ordnance Survey 1:25,000 Explorer sheet OL53
Tourist Information: Gateway to the Glens Museum, 32 High Street, Kirriemuir DD8 4BB (Tel 01575 575479)
Public transport: None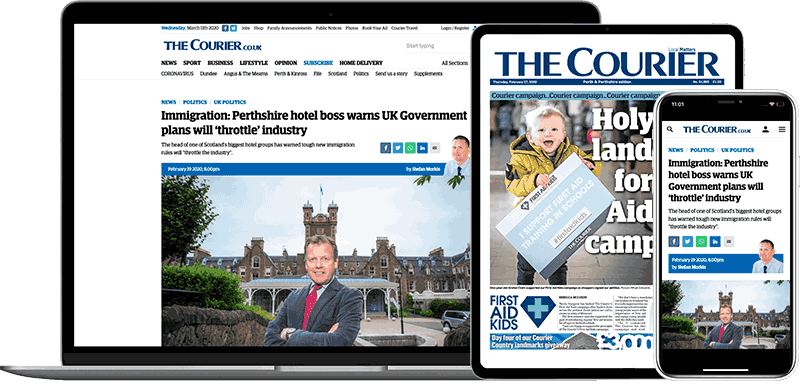 Help support quality local journalism … become a digital subscriber to The Courier
For as little as £5.99 a month you can access all of our content, including Premium articles.
Subscribe