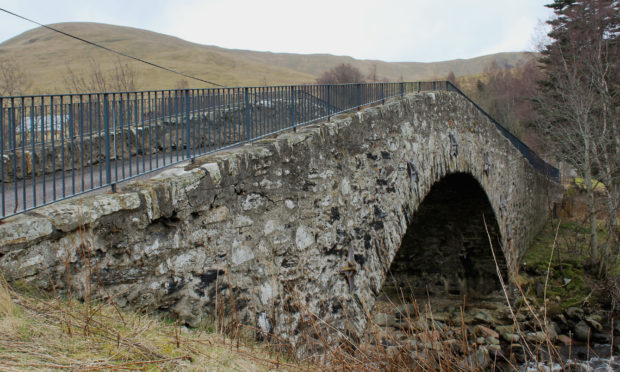 Exploring the great outdoors is an activity enjoyed – or, sometimes, endured – at the mercy of the elements, as anyone caught in a heavy downpour knows only too well.
While rain and wind can put a real dampener on a day out, there are occasions when it can have a longer-term impact on the countryside and the tracks and trails we walkers tend to take for granted.
A couple of years ago, I set off into the upper reaches of Glen Shee looking forward to a valley circuit exploring Gleann Taitneach before crossing the river and returning via Dalmunzie Castle Hotel.
I knew there was a bridge spanning the Allt Ghlinn Thaitneich at the midpoint, but expectation quickly turned to disappointment when I arrived only to find that, during the preceding winter, the water had swelled and washed it out. With the river too wide and fast flowing to ford, I was forced to retreat and retrace my steps home.
News that the Invercauld Estate had recently reinstated the link prompted my return to Spittal of Glenshee where, in the shadow of Ben Gulabin, I set off with a spring in my step from Glenshee Parish Church.
Built in 1831, the tiny place of worship occupies the site of an earlier chapel and, on a mound behind it, the ancient Parliament Stone is said to have been a meeting place where Scotland's kings held court during hunting trips.
From a rough parking area adjacent to the church, a good track strikes up the glen, crossing fields of pasture and passing a couple of small copses of larch and pine.
Following Shee Water upstream, stepping stones ford a stream running off the lower slopes of Ben Gulabin before the way passes the scattered remnant of small farming settlements, their tenants evicted in the latter years of the 18th Century when the land was cleared for sheep. The most obvious of these is the ruins of Sheanval, which sit opposite Dalmunzie Castle, just visible through the trees on the other side of the river.
Here the track curves north into Gleann Taitneach, a long, lonely valley flanked by the Munros of Glas Tulaichean, to the west, and Carn a'Gheoidh, to the east, its western top, Carn Bhinnein, a prominent rocky cone.
There is scope for further exploration of Gleann Taitneach but, reaching the bridge and finding it intact and bolstered by sturdy metal cables, I crossed the cascade of water below.
From a small stone memorial, a path runs south along the riverbank, crossing the grazing land of Glenlochsie Farm to join, at a white metal gate, a track leading to Dalmunzie Castle Hotel.
The secluded mansion with its turrets and castellated gables dates from the 1920s when jute baron Sir Archibald Birkmyre bought the estate, enlarging the existing Victorian shooting lodge and adding a golf course and narrow-gauge railway.
The main driveway led me back to Spittal of Glenshee where, joining the old road through the hamlet, I crossed Shee Water by the 18th Century military road bridge.
Built in 1749 by Major William Caulfield – successor to General George Wade – on a lengthy Highland highway linking Coupar Angus with Fort George, near Inverness, it is a bridge that has stood the test of time, sturdily shrugging off everything the elements can throw at it.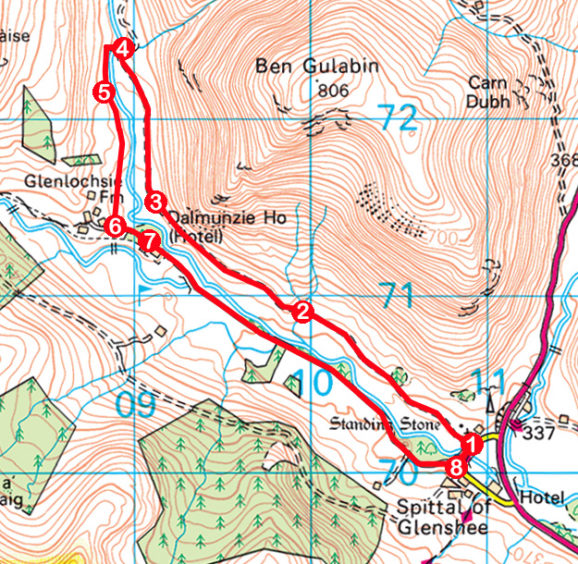 ROUTE
1. Join track leaving road between church and military road bridge and follow it north-west through Glen Shee, crossing grazing land.
2. Cross stream and continue north-west along track.
3. Pass ruins of Sheanval and continue north along track, entering Gleann Taitneach.
4. Bear left off glen track, cross bridge and go left, following riverside path south to wooden gate.
5. Cross gate and follow riverside path then grassy track south to white metal gate.
6. Go through gate and turn left, following track into woodland.
7. Pass to left of hotel and continue south-east along driveway to Spittal of Glenshee.
8. Turn left by gate lodge and follow road over bridge to church.
INFORMATION
Distance: 6.8km/4¼ miles
Ascent: 110m/360ft
Time: 2 hours
Grading: Easy, low-level route following good tracks and paths through glen. Keep dogs on lead over sheep grazing land
Start/finish: Glenshee Parish Church, Spittal of Glenshee (Grid ref: NO 109701)
Map: Ordnance Survey 1:50,000 Landranger sheet 43; Ordnance Survey 1:25,000 Explorer sheet OL52
Tourist Information: Perth iCentre, 45 High Street, Perth PH1 5TJ (Tel 01738 450600)
Public transport: Stagecoach bus service 71 offers a limited service from Blairgowrie to Spittal of Glenshee (no Sunday service)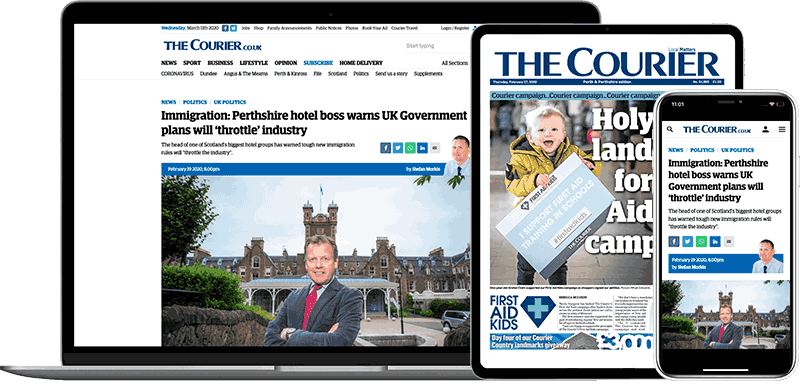 Help support quality local journalism … become a digital subscriber to The Courier
For as little as £5.99 a month you can access all of our content, including Premium articles.
Subscribe