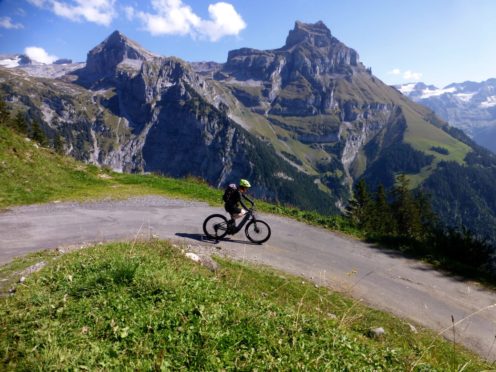 Ice cool air, sunshine, glaciers and white Toblerone peaks – Nancy Nicolson is in heaven on an e-cycling trip to Switzerland
You'll feel as if you could climb every mountain​
I boarded a plane to Basle clutching a new pair of padded cycling shorts and a gel bike seat cover, decidedly uncertain about my imminent rendezvous with a bunch of macho mountain bikers in the Alps. My attitude towards bikes is permanently coloured – and not in a rose-tinted way – by a daily post-school Tour de France slog up our steep farm track, and I've barely been on one since my teens. There was also the matter of mountains. Much as I love climbing hills, I'm not so keen on the sharp pointy ones with precipitous drops, and there are a few of those in Switzerland.
In short I had absolutely no desire to pant my way up one, never mind wobble along any narrow tracks near the top. Yet here I was, about to pedal on paths at an airy 6,000ft in the company of a group of fanatical strangers, easily identified by their fit, lycra-clad physiques.
We landed in a country that conformed to every Swiss stereotype: distant jagged mountaintops; effortlessly efficient train and bus connections; brown cows grazing on tiny, sloped farms; and chocolate. I munched the first creamy bar as the Swiss Travel System swept us swiftly past Lucerne and tried to close my ears to the competitive chat about mountain biking circuit times and specialist pedals with studded shoes. Who knew?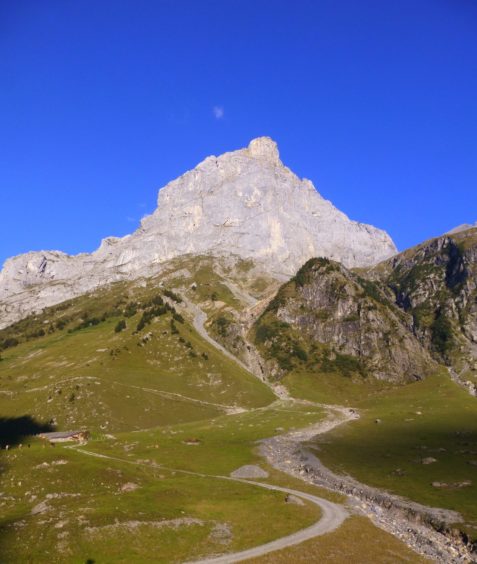 On arrival at Stockalp the cable car lifted us unfeasibly higher to the alpine meadows of the Melchsee lake where we were deposited at the very doorstep of the Hotel Frutt Lodge and Spa, which, at 1920m, boasts of being Europe's highest-altitude superior hotel.
And it was indeed incongruously sleek and luxurious in such a remote, rugged place, its views of the surrounding mountains framed by picture windows.
We checked out the swimming pool, had an afternoon snooze and rounded off the day in the hotel's sophisticated fine dining restaurant, while a more relaxed sister lodge – linked by a tunnel for comfort during the freezing winter months – provided more family-friendly living and dining.
Like the first British tourists who travelled to central Switzerland 200 years ago, I woke next morning to crisp air, sunshine and a panorama of glaciers and white Toblerone peaks that stretched in the distance to the mighty Mount Titlis.
Winter skiing and summer walking have been the economic lifeblood of Switzerland's high places over the last couple of centuries, and I could happily have stayed here and followed in the wake of the Victorian explorers by foot before returning to the luxury of the lodge and its pool each night.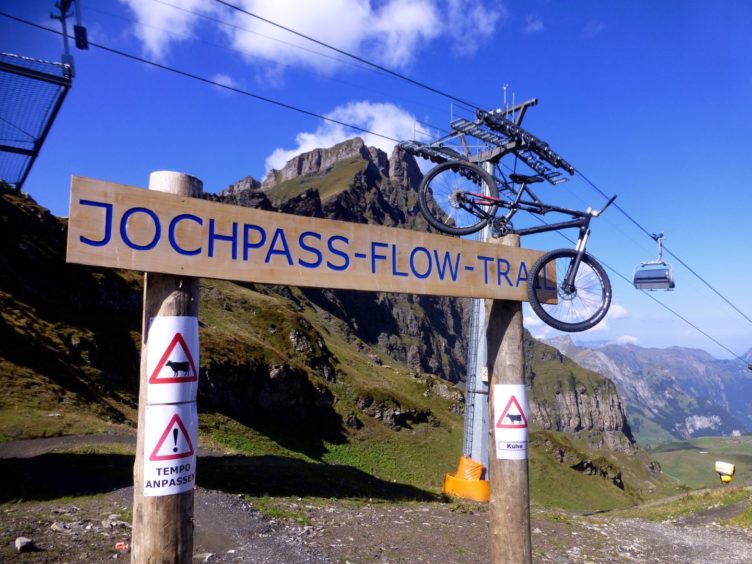 However the hard-core cyclists were already kitted out in serious gear and itching to discover the tracks, so we left our luggage to be transferred to our next destination and were led outside to the hotel's rental fleet of e-mountain bikes.
Ah yes, it was the promise of battery-assisted cycling that had swung my decision to return to the saddle.
Memories of the bad old days when bikes had three gears and (if you were lucky) brakes front and back, rapidly faded as I was presented with the latest beefy electronic upgrade. I strapped on my helmet, fitted the gel seat, pressed the "boost" button on the handlebar, whirred my way around the hotel – and was instantly smitten.
Five minutes later the flick of a switch saw me flying along the mountain paths of the Four Lakes Trail, past shepherding huts and a tiny chapel, to arrive at the rich blue Tannen Lake where we met André, our guide. His first move was to lead us to a satisfying lunch of local venison stew and as I sat savouring the food, a beer and the views high up here in the Uri Alps, I barely listened to his briefing about the next stage of our journey.
The enthusiastic pedalers meanwhile were lapping up the news "we" would be tackling the new Jochpass Flow Trail as soon as we'd finished eating. I figured – just in time – he intended that from our current 2,207m height we were about to plunge headlong 440m down a tight zig-zag, five-kilometer-long series of bumps, rollers and curves. I peeped over the precipice to consider my options.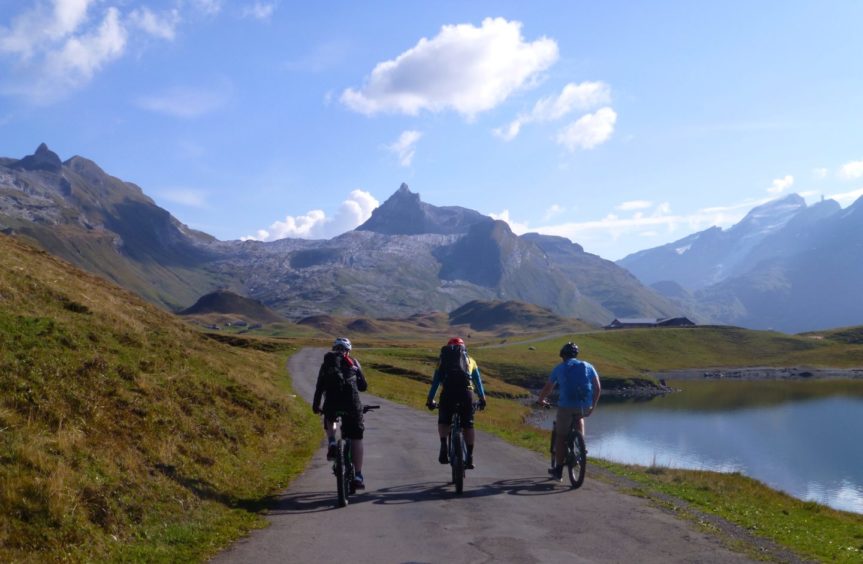 It was no consolation to hear that a cycling monk from the local monastery had blessed the trail last summer, so while the Danny Macaskills of the group tightened the straps below their chins and disappeared over the edge, I discreetly hitched my bike to the chairlift and descended at a more sedate and safer speed. From my birds-eye vantage point I watched as they twisted, turned and revelled in the challenge and speed of the trail – for them a highlight of the trip – and we all reached the pretty village of Trubsee in one piece. From here it was steeply but manageably down hill all the way to the busy mountain resort of Engleberg and a two-night stay in the Hotel Crystal. There's a concerted campaign by tourism operators to open up new e-mountain bike opportunities in the valley to take advantage of the existing trails that have been used by farmers and walkers for generations.
Several shops in the town offer bike hire so it's possible to enjoy an adventure for as little as a few hours before committing to a multi-day trip.
Next day the powerful Bosch batteries helped buzz us up the Brunni mountain road for lunch. I was into the swing of e-cycling by now – albeit wearing a crepe bandage on my leg after letting the heavy machine fall on it – but effort is still required so it was a relief to eventually reach the high café and relaxation area. Here socks and shoes came off for a barefoot hiking trail which winds in and out of the small lake.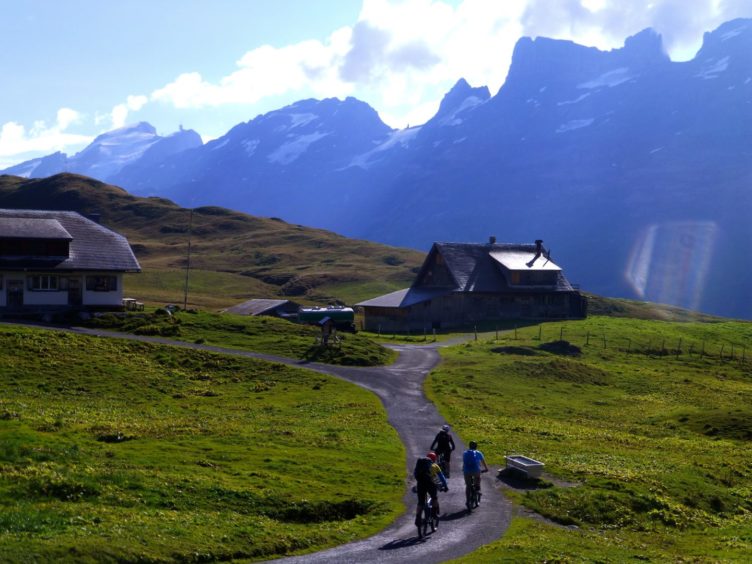 The hard-core adventurers in search of a bigger adrenalin rush lunged valley wards down alternative tracks through the woods while I sailed along on gravel and tarmac, valleywards past clanking wooden cow bells on mountain meadows and men raking minute patchworks of hay with toy-sized machines. It was great, glorious, beautiful fun. An e-bike is, without doubt, a game changer. Sure, you still need to pedal, but for the first time in my life I started to look forward to inclines. So I'm a convert: to Switzerland, to e-bikes, to the Alps. And those lycra-clad strangers turned out to be the best company too.
info
Rates at the Frutt Lodge and Spa or Frutt Family Lodge start at £183 per double room (including breakfast and use of the spa). A double room at Hotel Crystal costs around £120-£150. Both hotels are part of the Swiss Bike Hotels network. Titlis Sport in Engelberg with prices from £41 per day for an Ebike: titlis-sport.ch/en/stores-en/titlis-sport-en/rent-en/reservation-pricelist The Swiss Travel Pass offers unlimited travel on consecutive days throughout the rail, bus and boat on the Swiss Travel System network. This pass also covers scenic routes and local trams and buses in around 90 towns and cities. Prices start from £171 in second class.
 Nancy Nicolson travelled as a guest of Switzerland Tourism.