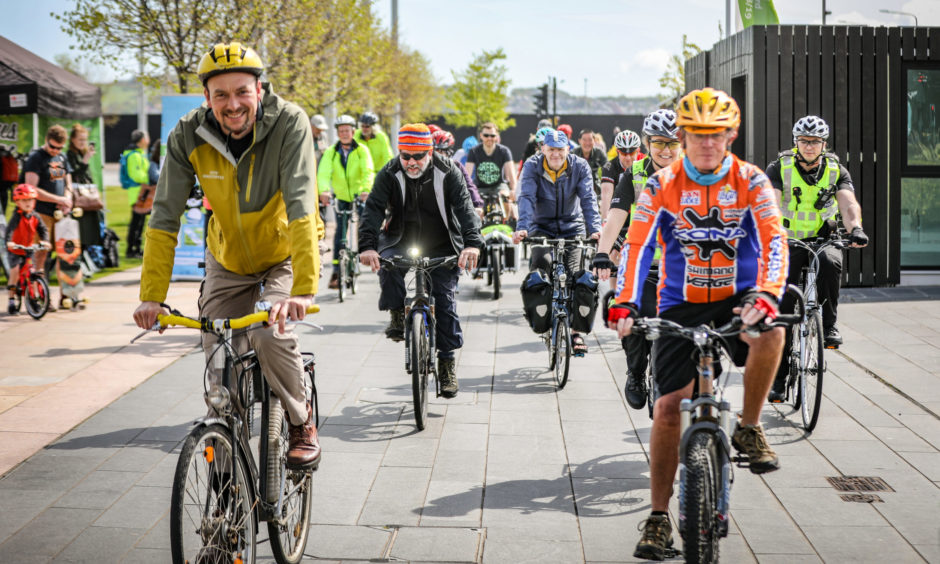 In our Pandemic Pedal Power series we have sought the views of local, national and international experts on why our transport system needs to be redesigned as lockdown eases – but who knows about cycling in Dundee better than those who do it every day? Today, we speak to a cohort of everyday pedal-pushers to find out what works, what doesn't, and what they want to see in the future in the local area.
Dundee is not a bad city to cycle in. Those who cycle in it agree.
Drivers are courteous most of the time, the backstreets and residential areas are typically quiet, and the city's Green Circular is, generally, well maintained.
So Dundee is not a bad city to cycle in – but with one significant catch. It's fine, so long as you're brave enough to take on the traffic.
Veteran cyclists say they find Dundee accessible on two wheels, but only because they have been doing it for a very long time, and have incurred bumps and bruises of experience along the way.
But for those who are taking those first tentative steps into pedal-pushing while the roads are quiet it's an entirely different story. Even the most confident cyclists agree that it needs to be made easier – not for them, but for everybody else.
'It has to be a priority'
Frank Carey, a pathologist at Ninewells Hospital, is among those who have noticed an uptick in cycling since lockdown began.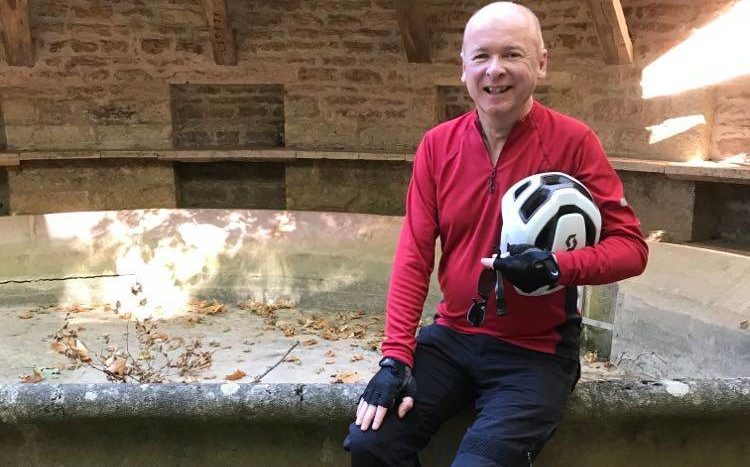 A commuting cyclist who has pedalled the nine miles from his home in Fife to Dundee – and back – for 20 years, Carey believes every effort should be made to encourage even the wariest of people on to their bikes.
"As a doctor I'm very concerned with the health effects and benefits of cycling – I feel very strongly that it can contribute to good health, and there's the huge issue of the carbon footprint too. Most of Dundee doesn't have access to a car and there's health problems in the population too.
"In Dundee there are roads that are quite quiet but the city centre isn't very good at all. It's a shame what they've designed around the V&A. I would hope that could be rectified."
The 58-year-old says Dundee has a one-off opportunity to rethink its roads before traffic returns to pre-lockdown levels.
We have to look at the long term and put resource in place for cycling – it has to be a priority."

Frank Carey
"With the corona situation we have, we're going to have to restart things in a different way. We have to reframe cycling as a practical everyday mode of transport but I am concerned the infrastructure isn't great.
"We have to look at the long term and put resource in place for cycling – it has to be a priority.
"It's a practical solution to congestion as well. Most of the cars I see in the evenings have one person in them.
"People are pushing electric cars and that's fine but they are expensive and won't be a solution for very many people.
"It's a difficult thing to do, because the percentage of people that use a bike every day is quite small, but if the infrastructure is put in place then people will use it. Dundee has a real opportunity."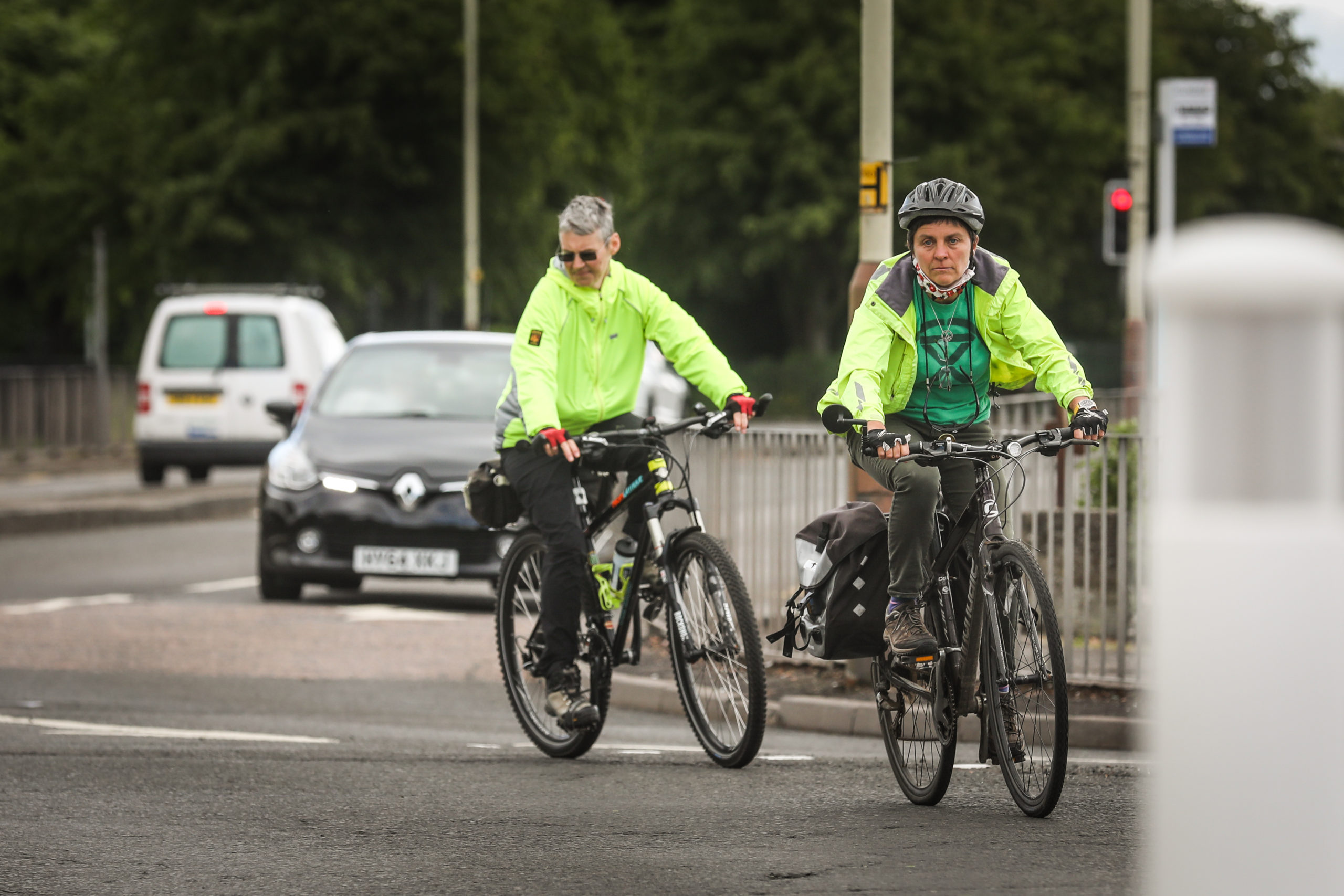 'You wonder why we're not doing more'
Gill Town, who lives in the Hilltown, experienced a culture shock when she moved to Dundee after spending 25 years commuting in Northumbria.
"I got the impression there just isn't anywhere for cyclists to ride in Dundee," she says.
"You don't feel you can share the roads and I couldn't find any paths. I had to Google and talk to people to find out how to get out of the city centre.
"I worked in a market town in Northumbria so had to share the road with cars and that, but here there's a feeling you have to leap over hurdles to get somewhere you can cycle safely.
You don't feel you can share the roads and I couldn't find any paths. I had to Google and talk to people to find out how to get out of the city centre."

Gill Town
"And at the moment you can't use the shared cycle paths around the city (the Green Circular) because there are lots of people walking on them and you can't give each other space.
"It's a strain trying to pick your way through people and if you cycle on the roads you get people stepping off pavements to give others some room. It all feels cramped.
"And clearly there are some drivers who feel cyclists don't belong on the road and ignore the lanes. Paint on the roads is a waste of time – they're just for appearance and people just park on them anyway."
---
---
Town, by her own admission, is "not poor", but finds it hard to understand why money is being spent in affluent, cyclist-dense areas like Broughty Ferry instead of in neighbourhoods where people don't bike at all. In the Hilltown, she is very much the exception rather than the rule.
"When you look at Glasgow and European cities you wonder why Dundee isn't doing more," she adds.
"On a bad day, I would say the council is waiting for this situation to go away so we can get back in our cars. I look at Glasgow and Edinburgh and they're doing things now. They're not waiting about.
"And as for 20mph zones, who's going to enforce those? They've picked things they can just build signs for, nobody will do anything about the actual planning. They're running away from it.
"You see people trying to cycle but some are going on the pavements and annoying pedestrians, and that drives that whole stereotype of 'angry cyclists'. But it's not their fault."
'It still feels very car-centric'
Those who live in some of the city's more deprived areas say their neighbourhoods are crying out for better infrastructure.
Catherine Wykes, a 44-year-old administrator from Douglas, says she would only dare use quiet backstreets to commute – prior to lockdown, at least.
"The focus in Dundee tends to be only on the riverside and in the city centre but with the reduction in traffic I've actually been able to use the main roads where I live," she says.
"Close passes have been a real issue for me on my commute. My journey is only two and a half miles but I experience close passes on a daily basis. That wouldn't be the case if there were safe routes."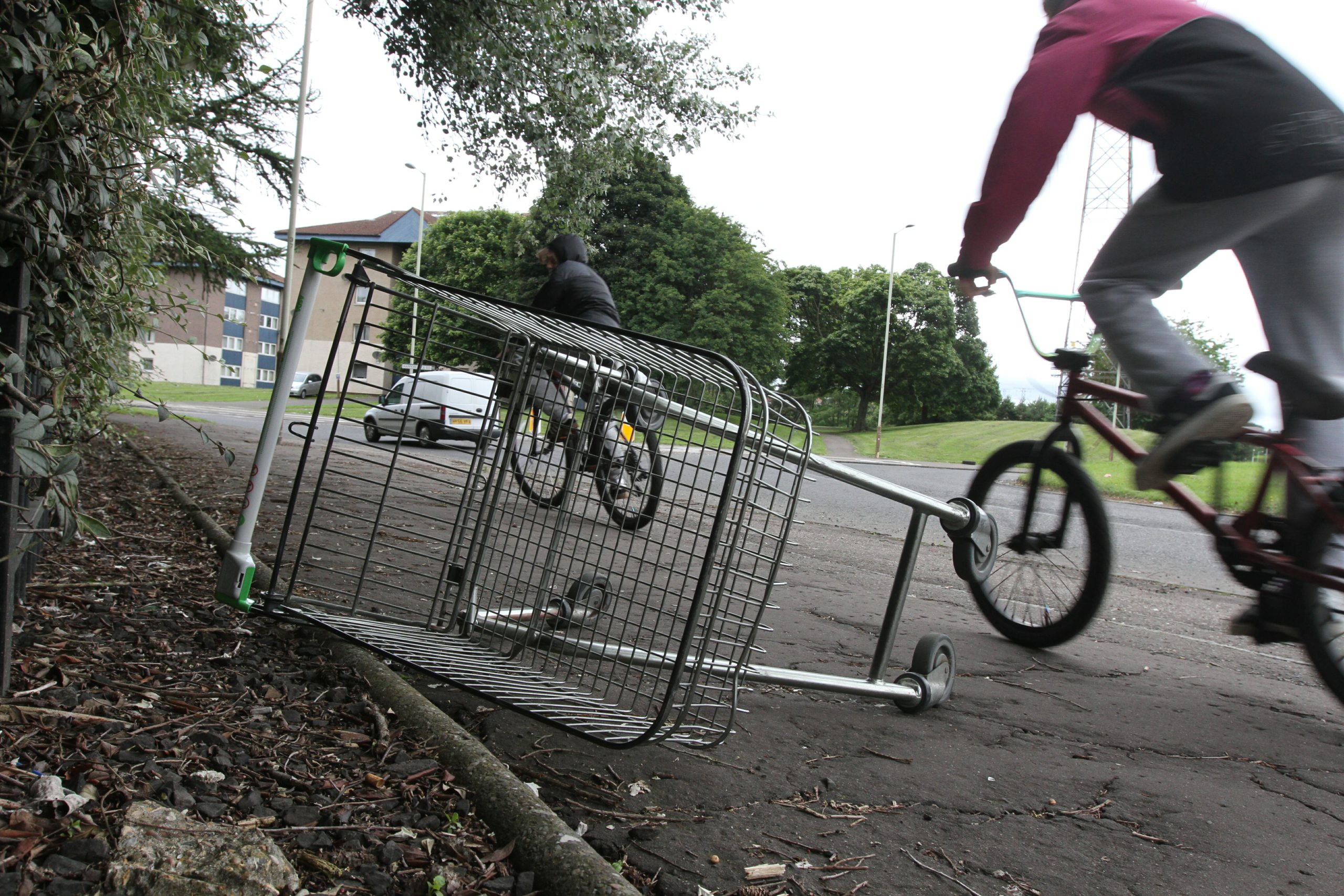 Douglas, along with neighbouring areas such as Fintry and Whitfield, has a number of shared paths which cyclists are permitted to use alongside pedestrians. But like Town, Wykes believes putting the two together creates additional conflict.
"Dundee still feels very car-centric. Going into town, there's enough wide roads where you could create cycle paths without expense right now.
"There's still a commitment to painted cycle lanes but most of the time people use them for car parking like on Happyhillock Road.
"We've got a prime opportunity while the roads are quiet for people to get a taste for cycling but the biggest thing that puts people off is safety. And the answer to that has to be infrastructure. Just one close pass is enough to stop a novice from ever cycling again.
"We need to see cycling as an everyday activity, not just a sport. It's like walking, but on wheels. We're all just trying to get from A to B at the end of the day. I've seen a lot more people on bikes now than before – there's a growing public interest, definitely."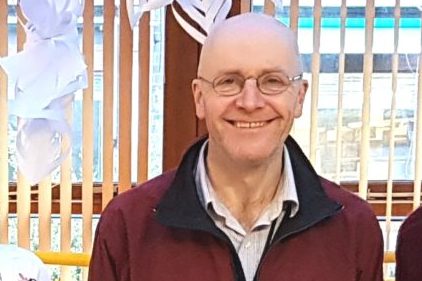 Cycling in Dundee: 'A bolted-on afterthought'
Peter Clinch, an IT worker at NHS Tayside, talks about cycling as a "utility" rather than a means of leisure. It's his main way of getting about. He makes frequent trips to the Netherlands with his Dutch wife, and is almost evangelical talking about how the country gets about on two wheels.
"I've got a car," he freely admits, "but it's cheaper and quicker to get about by bike."
A casual cyclist of 40 years, Clinch believes pedal-pushers are prepared to grit their teeth and hold their own among cars and lorries without infrastructure – but ultimately wonders why this has to happen in the first place.
If you get overtaken closely by a two-ton SUV you put your bike away and that's another cyclist off the road."

Peter Clinch
"It needs to be easier for people to think they can cycle," he says.
"We're seeing a lot more people out on their bikes for exercise at the moment so they're happy to get on their bike and go if they think they'll be okay.
"But if you get overtaken closely by a two-ton SUV you put your bike away and that's another cyclist off the road. Close passes don't kill people but they stop people cycling.
"In the Netherlands, you can just get a bike and get on with it. Cycling is taken seriously and provided for there. But you have to start from the very bottom, at a planning level, when you consider how people are going to get about.
"There, cycling is built into planning; here it's a bolted on after-thought."
---
The Widen My Path website has been collating people's views on where support for walking and cycling is most needed. Click the image below to see some of the local suggestions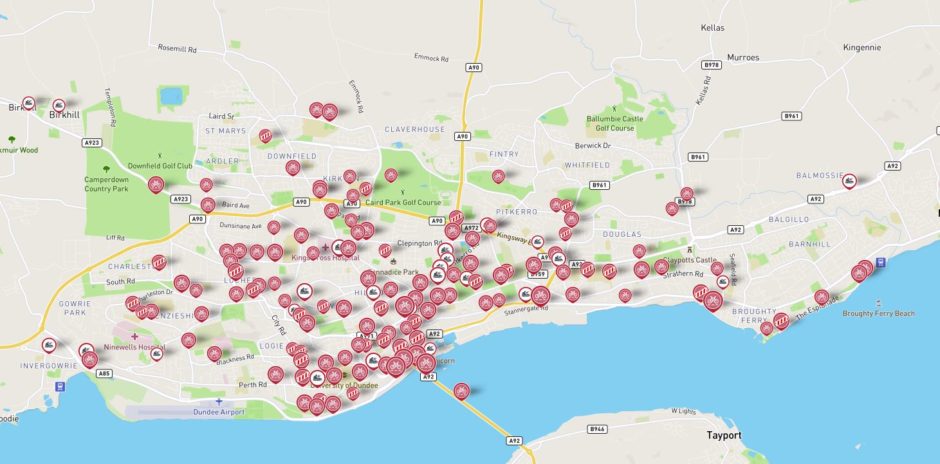 ---
Clinch also believes the messaging about cycling is wrong – that it should be promoted as a means of saving money compared with car use, and paired with infrastructure that makes cycling somewhere easier than driving there.
"I know I shouldn't have a gin and tonic when I come in from work every day but I do anyway because I like it," he added.
There's also the question of tackling the psychology of driving. Clinch freely admits that his own mindset behind the wheel is very different from when he's in the saddle.
"We need to take space away from cars, along with the priority and the sense of entitlement that go with driving. And I say that as someone who owns a car and drives around," he says.
"I find when I'm in my car everything becomes a question of whether I have anything in front of me. You don't get the feeling that you are traffic but that everyone else is in your way, and that's all part of the problem.
"The assumption that the car is more important is built into everything, even pedestrian crossings. You've got to stop three or four times waiting for green lights if you go from the city centre to the V&A because the city has decided you are not as important as the cars. We need to stop thinking they are the most important thing."
---
Our cycling survey
Over the coming days we will hear what local, national and international experts believe needs doing to keep people on their bikes during and after lockdown – and give the council their chance to respond in turn.
We also want to know what you think about cycling where you live, whether in Dundee, Angus or Fife. Are you a seasoned rider enjoying seeing others get in the saddle, or a new member of the cycling club taking to the roads for the first time?
Complete our survey and share it with your friends so we can put together a complete picture of cycling in Tayside.

If you have anything further you'd like to contribute to our story, email jbrady@dctmedia.co.uk with pictures, videos and anything else you'd be happy to share.