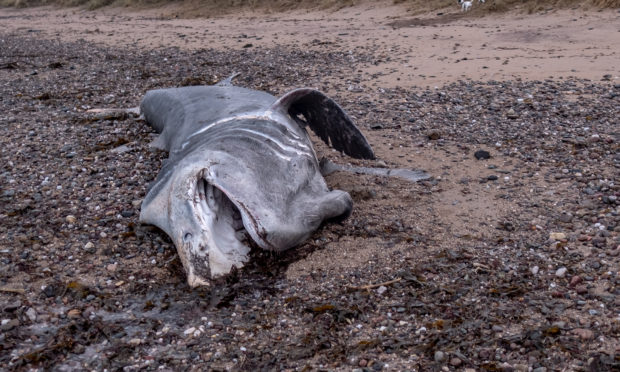 Another giant of the sea has been found washed up on the Angus shoreline, a day after a massive whale was found at Lunan Bay.
Forfar man Ian Bain was walking his dogs along the coast north of East Haven on Thursday when he was "flabbergasted" to find the body of what he believes is a basking shark.
Mr Bain, who is a keen wildlife photographer, said the beast must have been around 20ft long.
He said: "I was walking the dogs and I could smell a rotten fish smell.
"At first I thought it might have been a dead seal somewhere near by but as I looked over the dunes down on to the beach I was flabbergasted to see this monster lying there.
"I have only seen them on the TV and although I am a keen wildlife photographer I never expected to see one washed up."
He added: "What a shame such a magnificent beast should die and wash up on our shores."
Mr Bain's find came a day after the body of what is believed to have been a minke whale was found around 15 miles up the coast at Lunan Bay.
Marine life experts believe the whale probably died of natural causes. Angus Council is now discussing options for disposing of the carcass.
Those plans will now have to include how to deal with the new discovery of the basking shark.
Despite their formidable size – at up to 35ft long they are the second largest shark on the planet – basking sharks are entirely peaceful and exist by feeding on plankton which they collect by passing water through their massive mouths.
They are common in the seas around Scotland and were formerly hunted in huge numbers before they were granted protected status.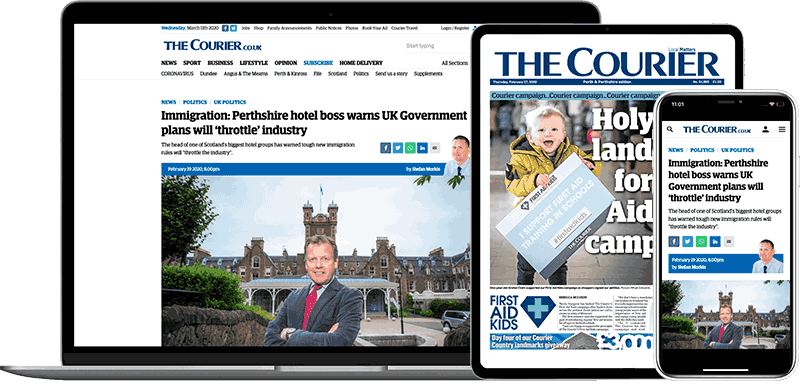 Help support quality local journalism … become a digital subscriber to The Courier
For as little as £5.99 a month you can access all of our content, including Premium articles.
Subscribe