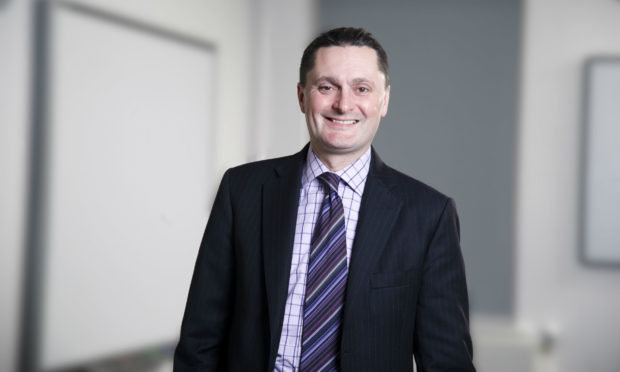 The suspended principal of Dundee University is also facing accusations of bullying, The Courier can reveal.
Professor Andrew Atherton was removed from post on September 13 due to a row over the alleged non-payment of rent on the luxury university flat off Perth Road where he lives.
But it is understood a number of complaints have also been lodged with the university about Professor Atherton's treatment of staff and these are also being investigated.
Dundee University has confirmed Professor Atherton was under investigation but said yesterday it could not comment on the latest allegations.
But The Courier understands a number of staff raised concerns about Professor Atherton's treatment of them.
Professor Atherton joined Dundee University in January.
The 53-year-old, who was previously vice-principal of Lancaster University earns £250,000 a year and receives another £48,000 in annual pension contributions.
He also received a £40,000 "disruption allowance" to help cover the costs of moving to Dundee.
It is understood he and his wife have been staying in a luxury flat in the converted upper floors of University House since the start of the year.
He was suspended following a row over how much rent should have been paid. It not known if the allegations of bullying are related to the rent issue.
The Athertons are still staying in University House although Professor Atherton was not at home when The Courier visited on Thursday.
An investigation is currently underway and the university has brought in external investigators to carry out the probe.
Staff and students at the university were emailed on Wednesday night informing them of Professor Atherton's suspension, although no reasons for the action were given.
EXCLUSIVE: £298k-a-year Dundee University principal suspended for allegedly not paying rent
It states Professor Atherton had been suspended "pending an internal process which remains to be completed".
It continued: "In the interests of fairness and natural justice, and as in all cases of this kind, it would not be appropriate for the University to comment on this matter while due process is ongoing.
"The University Executive Group has, throughout this period, been managing the University's affairs and will continue to do so."
Scottish Conservative North East region MSP Bill Bowman said he hopes the probe does not disrupt teaching at the university.
He said: "This is obviously an irregular situation but the university court has exemplary standards.
"I trust they will resolve their investigation quickly and without detriment to the daily lives of staff and students."
Both the Scottish Funding Council, which administers funding to universities for teaching and research, and the Scottish Government said it would be inappropriate to comment while an investigation is ongoing.
Dundee University rector Jim Spence only learned of the suspension on Thursday but said he could not comment until the investigation has concluded.
Dundee University Students Association president Joshua Connor also said he could not discuss the suspension.
---

---