As the dust settles after the excitement of the Oor Wullie Bucket Trail auction, it has been confirmed many of the much-loved statues will remain in the local area.
Around half of the 70 sculptures are known to have been bought by local organisations or individuals.
One of those local buyers was Euromillions winner Gillian Bayford — who took home five of the sculptures at a cost of £103,000.
She promised to keep Oor Golfer in her hometown of Carnoustie.
"It was amazing – I was completely shocked at how much we got to," she said.
"The total figure at the end was astronomical for a wonderful charity.
"The main one I was looking for was the golfing one as a Carnoustie girl. I think I was adamant the golfer was staying in Carnoustie.
"We've got the Open coming in 2018 and I didn't want it going anywhere else."
Gillian also took home the Bowie-themed sculpture, Woodlands, Oor Wheelie and Minecraft — beating video game entrepreneur Chris van der Kuyl with a £34,000 bid.
However, he later won When Wullie Met Dr Manhattan, before gifting the £9,500 statue to Dundee University.
Chris, a Dundee University graduate, said: "The whole university community has taken the statue to heart.
"I wanted to see it go back there, so I'm delighted to be able to help this happen.
"The event itself was absolutely incredible. Last night shows how far Dundee has come in the past decade."
He added: "Minecraft fans clearly know the value of the Minecraft franchise.
"There's no disappointment whatsoever. We're just delighted to get that amount of money for Archie."
Consultant anaesthetist Dr Simon Crawley, who helped lead a crowdfunding campaign for Ninewells Hospital, said: "I'm delighted that Dreamcatcher Oor Wullie is coming to Ninewells.
"Bidding on Dreamcatcher was slightly nerve wracking but with the additional generous support from Gordon Deuchers, MD of GA Engineering, we were in a good position."
Tracey Falconer, charge nurse on the children's surgical ward, added: "It's like double-barrelled joy for us. We've got a statue and we know the money is going to Archie which in the end will come back to benefit our wards."
Lynda Mulholland, who co-owns Piperdam Golf and Leisure Resort with her husband Phil, said she was delighted to take home the Harry Potter-themed statue.
"We are very proud. He's going to be quite a bright spark out there. He's already created huge interest. People are dying to see him back. He's such an iconic one – I don't think there is an adult or child who doesn't know Harry Potter."
Andy Lothian, CEO of Insights, who bought two statues at the auction, including Oor Wai O' Spikin' which had been sponsored by the company, added: "It has been an absolute privilege to be involved with this project.
"It's an inspiration. I don't think the trail has finished, I think it is just the beginning."
Broughty Ferry is set to be home to several of the statues, including Oor Lifesaver at the lifeboat station, Oor Ideas at Gillie's and Night on the Toon at Fort Hotel.
Fort Hotel owner John Black said: "It's quite amazing. When they said they were going up for auction I said I had to try and keep them in Broughty Ferry.
"I posted on Facebook about it last night and there have since been about 30,000 hits on our site."
DC Thomson also secured three statues and has already installed one, Jute, Jam & Journalism, in its Kingsway reception area.
Here is Jute, Jam and Journalism Oor Wullie in his new home! @ARCHIEtayside @OWbuckettrail pic.twitter.com/GTt8mddt09

— DC Thomson (@DC_Thomson) September 14, 2016
For more on the Oor Wullie Bucket Trail, click here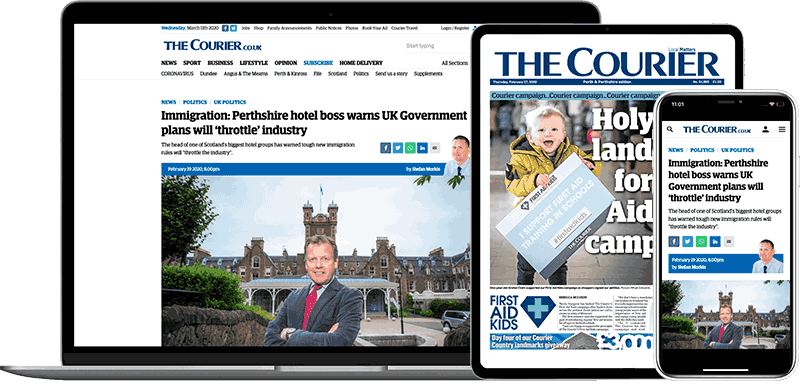 Help support quality local journalism … become a digital subscriber to The Courier
For as little as £5.99 a month you can access all of our content, including Premium articles.
Subscribe