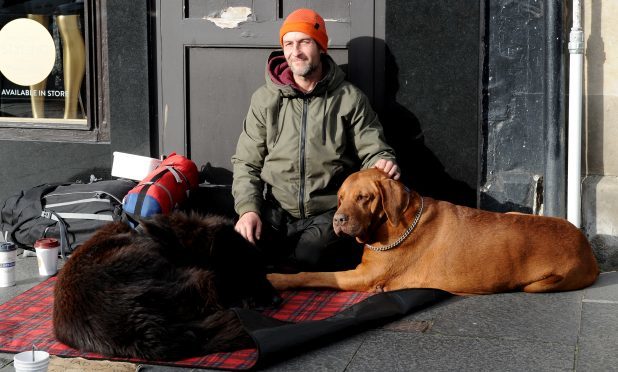 Big-hearted Courier readers have raised hundreds of pounds to help homeless man John Hunter and the furry "bairns" he simply won't be parted from.
Mr Hunter's story has touched the hearts of so many that a JustGiving appeal raised its fundraising target within hours of being set up by St Andrews businessman Steve Cooke as donations flooded in.
Mr Cooke, who has been at The Barber's Pole in South Street for 22 years, originally set a target of £500 but raised it to £750 as the money rapidly rolled in. The total is now increasing by £250 every time the target has been reached.
Mr Cooke said the response had been "sensational".
He added: "I cannot believe it is being allowed to happen. I do a lot of charity work in St Andrews, and had to do something."
People have been left shocked by the plight of Mr Hunter, who is waiting for a heart transplant, but is facing winter living on the streets as he cannot bear to be parted from his dogs Bruno and Nacho.
The 39-year-old, who has lost his home and his job making polytunnels, was diagnosed with cardiomyopathy in 2002.
"Everybody looks at me like I'm scum" — How ill health left this Fife man facing the misery of homelessness
He faces a winter sleeping rough as he cannot get housed with his dogs in temporary accommodation.
They would have to be cared for elsewhere while a more permanent housing solution was found but Mr Hunter cannot bear to be parted from them.
"They're my bairns," he said.
Fife Council's service manager for area housing operations Louise Sutherland had confirmed temporary accommodation was unsuitable for pets but encouraged Mr Hunter to consider the options open to him to help secure a home for him and his dogs.
Mr Cooke said people wanting to help could also donate via the barber's shop.
"I've had a lot of people messaging me about it – it seems everyone has a dog and loves them.
"To say you can't have your dogs is inhuman when they may be the only thing you have left in the world," he added.
Others leaving social media messages agreed.
Sarah Cheyne said: "This man and his dogs need immediate help.
"No excuses, just get it done for heaven's sake."
Donations can be given at https://www.justgiving.com/crowdfunding/helpjohnhunter.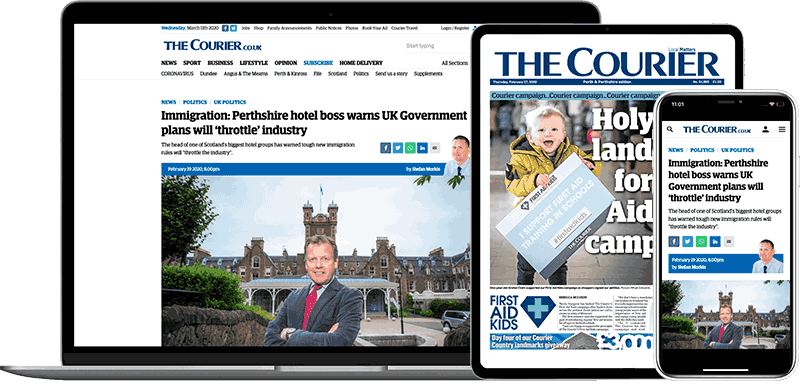 Help support quality local journalism … become a digital subscriber to The Courier
For as little as £5.99 a month you can access all of our content, including Premium articles.
Subscribe