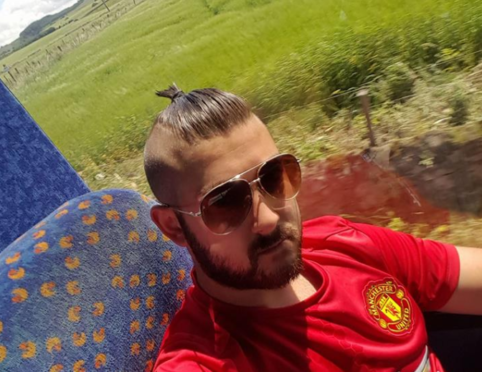 A man who headbutted his victim on a bus before brandishing a bottle has avoided jail because of fears over the impact incarceration might have on his family.
Adam Reid, 22, narrowly escaped a second prison sentence after a judge ruled his being sent down would have a detrimental impact on his two young children, as well as his wife who suffers with mental health difficulties.
Reid had been on a bus travelling from Dundee to St Andrews when an argument broke out with a group of males.
He headbutted Alexander Carey, to his permanent disfigurement and acted in a threatening and abusive manner by brandishing a glass bottle on March 5 last year.
The thug, who had spent time behind bars after being convicted of assault in 2016, will have to complete 230 hours of community service and remain indoors between the hours of 7pm and 7am for the next year.
He had been found guilty following a trial last month by Sheriff John Rafferty.
In mitigation, defence solicitor Scott Norrie told the court: "Your Lordship will see from the reports Reid is a committed family orientated man.
"Your Lordship will also see from the report, the author of the criminal social justice report is impressed with his proactive attitude to parenting and he has taken steps to reduce his alcohol intake, which was a factor in his previous incident."
Sheriff Rafferty said: "You are a 22-year-old man who already has committed an assault of such gravity it required a custodial sentence.
"On March 5, a group of people were out socialising and they became involved with you, or you did them, on a bus that resulted in you assaulting one of them by butting him on the head, causing him injury and permanent disfigurement.
"You also behaved in a threatening manner by brandishing a glass bottle at them.
"This offence would warrant a custodial sentence, particularly in view of your record.
"The report prepared tells me in unequivocal terms you take responsibility for your actions, that you are remorseful and the fact you are a family man.
"The author of your report notes you are in a stable and sound relationship.
"It is sad that against this background you offended in the manner libelled.
"The author of your report considers that by working with you they could promote law abiding behaviour and have concerns for your children if you are sent to jail.
"I have taken some time to consider the matter and were it not for the positive report and the impact on your children you would be going to jail, to the maximum of my sentencing power."
Reid, of Tom Morris Drive, St Andrews, was sentenced to 230 hours unpaid work, a 12 month supervision order and a curfew between 7pm and 7am.