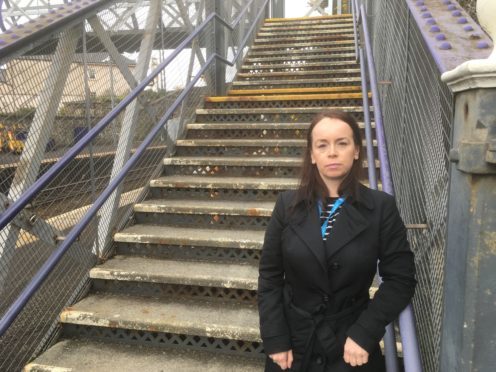 A suggestion that a Fife railway station does not meet the criteria required for a much-needed upgrade has been challenged.
Burntisland Railway Station remains one of 104 stations across Scotland which are not truly accessible to all — the northbound platform cannot be accessed by wheelchair users and is also difficult to access for pram pushers or those with mobility issues.
Those affected have to stay on the train until Kirkcaldy where they can cross on to the other platform using a lift and the subway before taking another train back down the line.
Local Conservative councillor Kathleen Leslie has taken the issue straight to Holyrood after being told by Transport Scotland that Burntisland is not in line for a revamp.
"Last month I received a response from Transport Scotland stating that Burntisland did not appear to fit the criteria for an upgrade which would provide full access to all," she said.
"Criteria such as footfall, areas with a high incidence of disability and particular local circumstances such as the proximity of hospitals were all listed as possible reasons.
"But I have now written back to Transport Scotland with a rebuttal on each of these points.
"Burntisland has higher footfall per annum than Cupar, North Queensferry and Aberdour and all of them are fully accessible.
"Burntisland is also within the catchment area for Balwearie High School which has a dedicated department for additional support needs and Rossyln Special School, which surely provides further evidence of a need for accessibility.
"With NHS services increasingly centralised it makes the case for full access all the more valid.
"The Victoria is the main hospital in Fife and for anyone travelling there from Burntisland or returning to Kinghorn by train who has any mobility constraint these stations are inaccessible to them. Quite simply, that is unacceptable."
A steering group was formed to press the issue last month, and Ms Leslie is understood to have met Jamie Green MSP, the Shadow Secretary for Transport, to request he pushes for all railway stations in Fife to be made fully accessible within the next rail control period of upgrades, which begin in April.
Additional UK government funding for station accessibility improvements will be made available until 2024.
In Scotland, that will be overseen by Transport Scotland, which has started work on its nomination list, although it has been unable to provide any assurance Burntisland will be included.
A Transport Scotland spokesman said: "We are committed to delivering better accessibility and will continue to deliver improvements by increasing the number of fully accessible stations across Scotland. We will shortly be contacting Councillor Leslie to offer her the opportunity to meet with us to discuss her concerns."