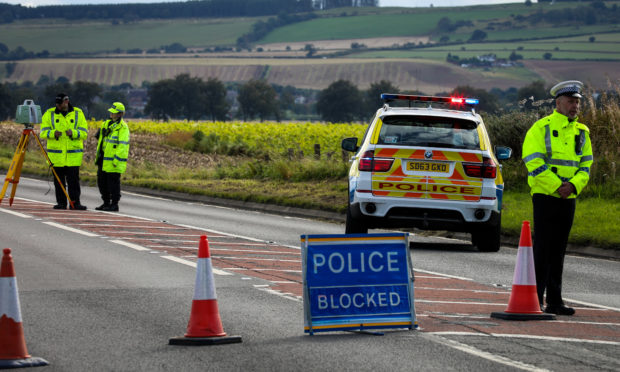 A biker was seriously injured after a horrific crash on one of the busiest roads in Fife on Friday morning.
The A92 Dundee to Kirkcaldy road was closed for almost seven hours following the collision involving a Yamaha XJ600 motorcycle and a Vauxhall Corsa at about 10.45am.
The motorcyclist, a 77-year-old man, is said to have been sent soaring off the road following the collision, coming off his vehicle and landing more than 40ft away down a grass verge.
Passing motorists are said to have rushed to his aid before police and paramedics arrived at the scene.
The motorcyclist sustained serious leg injuries and was taken to Ninewells Hospital.
The 87-year-old woman who was driving the Corsa is also said to have been injured.
The collision took place at the A92's junction with the B938 Ladybank road.
One local man, who witnessed the  aftermath of the accident, said drivers stopped their vehicles and rushed to the aid of the motorcyclist.
"I was on the bus going to Dundee and it had just happened. He'd gone right down the grass verge and was down by the fence," he said.
"The car didn't look too much damaged but the bike was. People were scrambling to get to him. It must have happened literally minutes before.
"One guy scrambled down the bank to try and get to him. It looks like he (the motorcyclist) probably hit the car and has gone through the air. He and his bike weren't together."
The A92 closure stretched from its junction with the A912 Muirhead to Strathmiglo and the A91 Cupar to Gateside roads.
The Corsa's driver is said to have travelled from the unclassified route connecting the A92 with the B937 Giffordtown road at the time of the crash.
Fife police are now appealing for the drivers of a van and a car, said to have witnessed the crash, to come forward.
Sergeant Jill Kirkpatrick of Fife's road policing unit said: "This collision has resulted in significant injury to the male motorcycle rider and we are still working to establish exactly what has happened.
"If you were travelling on the A92 and witnessed this incident take place, or if you have any other information relevant to our inquiries, please contact police immediately.
"Our enquiries indicate that a car and van were travelling behind when the collision occurred and the occupants would have seen what happened. These individuals are asked to get in touch as a matter of urgency.
"We would also be keen to hear from any other motorists who believe their dash-cams may have captured the collision or the preceding circumstances."
Anyone with information on the incident is being asked to call the police on 101 quoting the incident number 1050 of September 6.