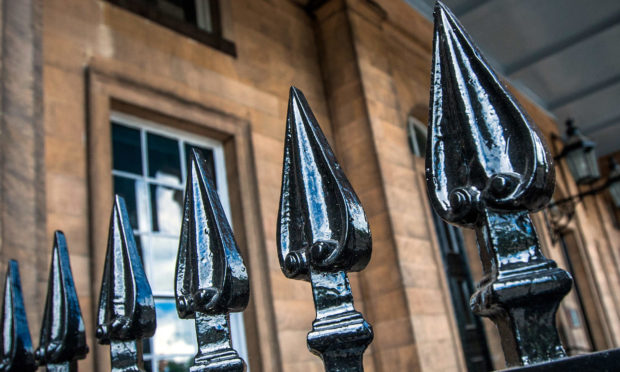 A 21-year-old bus driver has been allowed to keep his licence after hitting a soldier riding a Harley Davidson on a busy Perth road.
Michael Munro, who drives buses in the Fair City for Stagecoach, admitted to not paying attention while trying to turn his Number 9 bus on to Kinnoull Street in July last year.
In what was ruled as an "accident…with serious consequences" by a sheriff, Munro  struck soldier John Willans who was then dragged under the bus.
Mr Willans suffered an open fracture – one where there is a visible wound where the bone break has occurred – on his right leg, with members of the public nearby rushing to his aid.
Depute fiscal Lisa Marshall told Perth Sheriff Court the bike and the bus had approached the box junction on Kinnoull Street from opposite directions.
She said: "Mr Willans is a soldier who was on leave at the time of the incident.
"The accused is a full time bus driver employed by Stagecoach.
"At around 1.45pm on July 18 Mr Willans was on his Harley Davidson motorbike. At the same time the accused was driving south on Kinnoull Street.
"Both parties approached the junction from Kinnoull Street on to Mill Street.
"As the accused approached he indicated to turn right on to Mill Street.
"He entered the box junction and slowed the bus down.
"Mr Willans continued north and entered the box junction.
"The accused failed to observe Mr Willans and pulled directly into his path. Mr Willans then took evasive action and struck the front nearside of the bus the accused was driving.
"Mr Willans then went under the bus.
"Both vehicles came to a rest and emergency services were called.
"Members of the public gave first aid to Mr Willans.
"Mr Willans was placed in the back of an ambulance where he received treatment for an open fracture to his right leg before being taken to Ninewells hospital.
"Mr Willans fractured his right leg, damaged his knee cap and had to receive skin and muscle grafts."
In mitigation, Perth Sheriff Court was told Munro had been suspended from his job while an investigation was conducted immediately after the accident took place.
Munro's counsel said: "He is a 21-year-old man who still lives with his parents in Dundee.
"As mentioned, he is employed as a bus driver and had a full, clean licence, which he gained in September 2015.
"In March 2017 he joined Stagecoach, where he attended their special training school in Dunfermline for a three week intensive course, where he earned his PCD licence.
"He took his first solo bus route in around April or May 2017 and all newly qualified drivers are accompanied regularly on their routes by a supervisor at least once per month.
"Supervisors had no issues at all about Mr Munro's driving.
"All Stagecoach buses are fitted with monitoring systems –designed to assess performance – which drivers sign on to at the start of their shifts.
"These monitor things including speed and breaking and are collated at head office.
"They are coded as red, amber and green, with green being good. Mr Munro's driving had never been recorded as anything other than green.
"He was behind another bus as he turned from Kinnoull Street, traffic was heavy.
"I have been told the turn on to Mill Street can be quite challenging.
"There may have been a masking effect from the bus in front and he was keen to clear the junction in one go.
"He did not make a last minute check to see if there were other vehicles.
"He was suspended immediately while his employer carried out an investigation, which resulted in him getting a final written warning.
"He was also subject to further one-to-one monitoring. He has been driving for ten months since the incident and I am told it is to a very high standard."
Sheriff Gillian Wade asked what the consequences of him losing his licence would be and was told Munro would lose his job.
Munro, of Craigie Drive, Dundee, pleaded guilty to driving a bus without due care and attention and without reasonable consideration for other persons and failing to keep a proper lookout and colliding with an oncoming motorcycle on July 18 2017.
Sheriff Wade fined Munro £800 and endorsed his licence with nine penalty points, but did not disqualify him from driving.
She said: "It is clear this was an unfortunate accident with very serious consequences.
"I'm not going to disqualify you, but that is the discount. I am going to endorse your licence with the maximum number of points."
A spokeswoman for Stagecoach said: "Our thoughts and best wishes remain with the motorcyclist involved.
"The bus driver involved was subject to our internal disciplinary procedure and received re-training following this incident."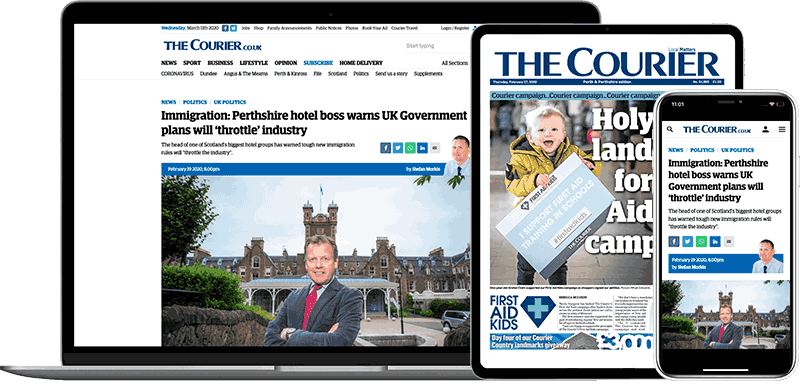 Help support quality local journalism … become a digital subscriber to The Courier
For as little as £5.99 a month you can access all of our content, including Premium articles.
Subscribe