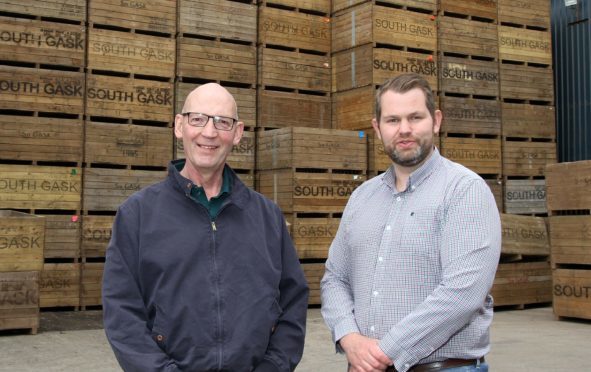 Import tariffs would "cripple" the potato industry and lead to Holland squeezing out Scotland as a competitor, the boss of Strathmore Potatoes says.

The Forfar company exports 6,000 tonnes of seed pots a year, mainly to  Egypt, Morocco, Cyprus, Saudi Arabia and mainland Europe, in particular France.
Director Stuart McIntyre said the company feels in limbo but is concentrating on maintaining relationships with key customers who say they still want the high health status Scottish product.
He said: "Holland already leads the way in seed potato exports across the world.
"They are our biggest competitor and logistically it's hard enough at the moment as we have higher costs than the Dutch, but the introduction of import tariffs  could see their advantage increasing as a result of us leaving the EU.
"Import tariffs would cripple the industry."
Grampian Growers seed potato manager David Murdie said the industry is assuming there will be a return to World Trade Organisation rules and tariffs once the UK leaves the EU.
The Montrose-based company exports 6,000 tonnes of the 18,000 tonnes of seed tatties it trades.
Mr Murdie said: "There is a lot of concern in the industry but several things give us hope.
"The correction in sterling the day after the vote was helpful and we are one of only five countries in Europe that have the legislation and strategy in place to export seed potatoes and I can see us exporting more to non-EU countries in future."
Meanwhile, the chairman of the National Sheep Association Scotland has warned Brexit "could be the nail in the coffin" for producers.
Ninety percent of UK sheep meat exports are to EU and an equivalent amount is import.
The industry secured an extra £200,000 of ScotGov funding for  a new lamb promotional campaign in August. Adverts will start to appear next week.
John Fyall said: "Scotland produces the cheapest sheep meat in the world, but Brexit could be the nail in the coffin for some producers.
"I'm sitting with 2500 sheep at home so I need to make the job work."
St Andrews farmer George Milne, NSA Scotland development officer, said: "I'd say there was uncertainty but not desperation in the sheep sector as Europe will still require lamb. What we don't know is what the trade deals will involve – whether they will have tariffs or not."