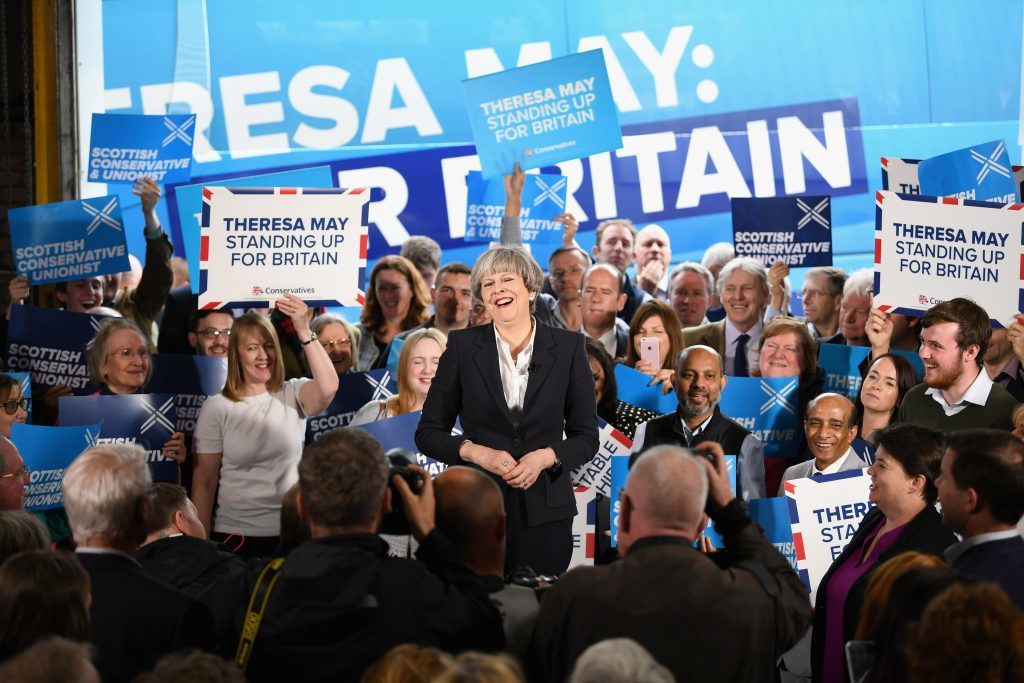 Theresa May was forced to laugh off calls to quit as Prime Minister after Jeremy Corbyn and one of David Cameron's former advisers called for her to go over cuts in police numbers while she was Home Secretary.
During a brief campaign event in Edinburgh with Scottish Conservative leader Ruth Davidson, part of a whistle stop tour of the country, the Prime Minister evoked the London terror attacks, saying the four countries of the UK stood together "in this week of all weeks".
Standing in front of placards, some of which read "Make Britain great again" – an echo of Donald Trump's "Make America great again" slogan – Mrs May was asked about her future.
She audibly laughed at the question, before adding: "This is serious. On Thursday, the people of the United Kingdom have a very simple choice when they come to vote.
"It is about who they believe has the leadership to take this country forward; to get the best Brexit deal for Britain from Europe; to ensure we can build that stronger, fairer, and more prosperous Britain for the future; who has the leadership; who has the vision; who has the plan.
"It's me and the Conservative Party that has that leadership; has that plan; has that vision that will take this country forward for the future."
In the wake of three terror attacks in three months, the Labour leader attacked Mrs May over Government cuts which has left the police with 20,000 fewer officers in England and Wales than in 2010.
Asked by ITV News if he backed calls for Mrs May to resign, Mr Corbyn said: "Indeed I would, because there's been calls made by a lot of very responsible people on this who are very worried that she was at the Home Office for all this time, presided over these cuts in police numbers and is now saying that we have a problem – yes, we do have a problem, we should never have cut the police numbers."
Asked later to clarify his call for Mrs May's resignation, the UK Labour leader stressed that voters have a chance to remove her from office in Thursday's election.
He denied he was rowing back on his earlier intervention.
His comments came after Steve Hilton, a former adviser to Mr Cameron in Number 10, said Mrs May was "responsible for security failures of London Bridge, Manchester, Westminster Bridge" and "should be resigning, not seeking re-election".
Meanwhile, pantomime boos rang from the crowd of Conservative activists and politicians when SNP leader Nicola Sturgeon was mentioned in Edinburgh.
Mrs May said: "Don't forget (Brexit) negotiations start 11 days after polling day and the reality is that if we lose just six seats the government loses its majority.
"That would mean Jeremy Corbyn in No 10 and Nicola Sturgeon pulling the strings in Bute House."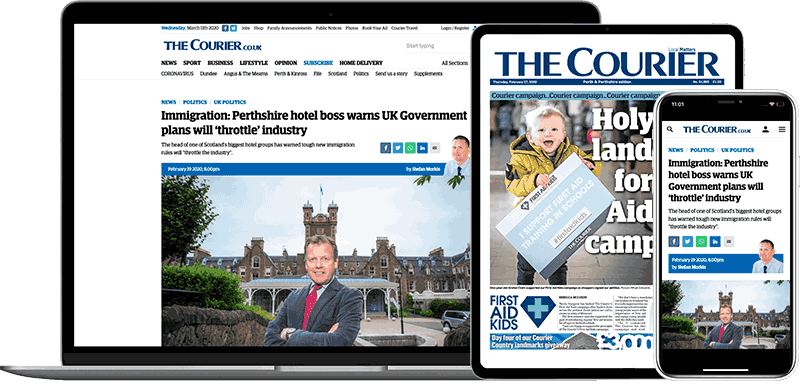 Help support quality local journalism … become a digital subscriber to The Courier
For as little as £5.99 a month you can access all of our content, including Premium articles.
Subscribe