Are BBC plans to move more of its children's news from TV to online an inevitable sign of the times or does it increase the risk of children being exposed to 'fake news'? Michael Alexander reports.
It was one of the world's first television news magazines aimed specifically at children.
But more than 47 years after the launch of Newsround (originally called John Craven's Newsround), the show's iconic teatime bulletin is to be dropped.
Six years after being moved from BBC One to CBBC, and decades after its halcyon days in the pre-internet 1970s/80s when it was a must watch for British children everywhere, the BBC has announced plans to cut the amount of news shown on the dedicated CBBC children's channel, from 85 to 35 hours per year as viewing figures plunge.
Under the plans, submitted to Ofcom, Newsround would keep its morning slot, but its afternoon programme will be axed.
While the proposals have yet to be confirmed, Ofcom has said it plans to approve the changes on the condition that the BBC agrees to additional safeguards to maintain the quality of children's television.
According to the Ofcom report, viewing figures for CBeebies and CBBC have dropped dramatically, with CBeebies now reaching only a third of its target audience, and CBBC only around one in six.
The BBC said: "If our proposals are approved we'll still have at least one daily TV bulletin of Newsround at the same time as doubling our online offer, which is where more and more children are getting their news."
But while the move may make logistical sense at a time when youngsters can access information from a whole range of internet and streaming services, should we be concerned about the demise of an editorially controlled and trusted source of children's TV news? Should editorially-trusted newspaper brands step in to provide their own children's news coverage?
Former Fife College journalism lecturer Marie Penman said that amid elections, Brexit and a changing world, children have never needed a news source they can trust and understand more than they do now.
However, she said the lack of 'filter' from the internet could add to the problem of children accessing "fake news".
She said: "Children nowadays are probably more informed about news than any generation that has gone before, with the vast majority of young people owning or having access to a smartphone.
"However, the concern is that quantity has overtaken quality: i.e there are loads of sites offering newsfeeds, but are they actually reliable?
"Newsround has always maintained certain standards in terms of children's news, and takes care to select and tell stories that are accurate and age-appropriate.
"Online news does not include such filters and worryingly, children will often read a news piece on social media and believe it to be true, even though it's nothing of the kind.
"In the same way that older generations believed that anything published in a newspaper was 100% accurate – definitely not the case! – today's tech-savvy youngsters are often taken in by fake news online.
"Losing Newsround means not only losing a reliable and accurate source of news, but losing one that is aimed specifically at children. Without it, young and often gullible youngsters will access 'news' from anything that pops up on their phones, and that's a real concern."
In his blog, Newsround editor Paul Plunkett said Newsround still had a "really important job to do".
However, he said the changes weren't about saving money as the amount the BBC spends on Newsround will stay the same.
"In the last year we have seen Newsround's online audience surge to close to one million users a week, and viewing of the bulletin in schools has grown greatly to what we think is over 500,000 kids a week," he said.
"Conversely, at the end of the day children aren't coming home and switching on the TV for a news update meaning Newsround's 4pm bulletin is only attracting 35,000 six to 12-year -olds, which is why we welcome Ofcom's consultation on changing their requirements on the way we provide high quality, trusted news just for children. In turn this will allow us to make a bigger impact online and take public service journalism to more kids at a time when fake news and a lack of trust in the media has never been more of a worry."
Mr Plunkett said the current Ofcom consultation, if finalised, will mean that the BBC only needs to provide 35 hours of live TV news a year, instead of 85.
However, while it would mean the end of the afternoon bulletin, he said the BBC would be able to move more resource into online efforts, covering more topics in a range of ways.
"There will always be at least one TV news bulletin every day," he added. "If there's a major event or breaking news story that is important to our audience, we will increase our number of daily bulletins to reflect this."
However, in feedback to the BBC, several parents have suggested the BBC's past changes have contributed to the lack of viewership of the afternoon bulletin i.e moving it off BBC1 and moving it from 5pm to a 4pm slot.
One parent said: "Whilst I appreciate that the world is changing regarding the way we consume news, it assumes that all children have access to online services.
"The effect of this proposal is to increase the divide between those with computer skills and access and those without. It is very important that children know what is going on in the world for the future of democracy."
Ofcom plans to publish a statement on the decision in early 2020.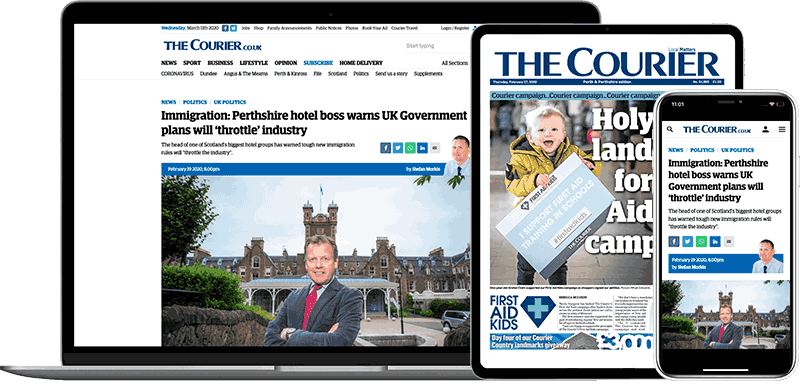 Help support quality local journalism … become a digital subscriber to The Courier
For as little as £5.99 a month you can access all of our content, including Premium articles.
Subscribe