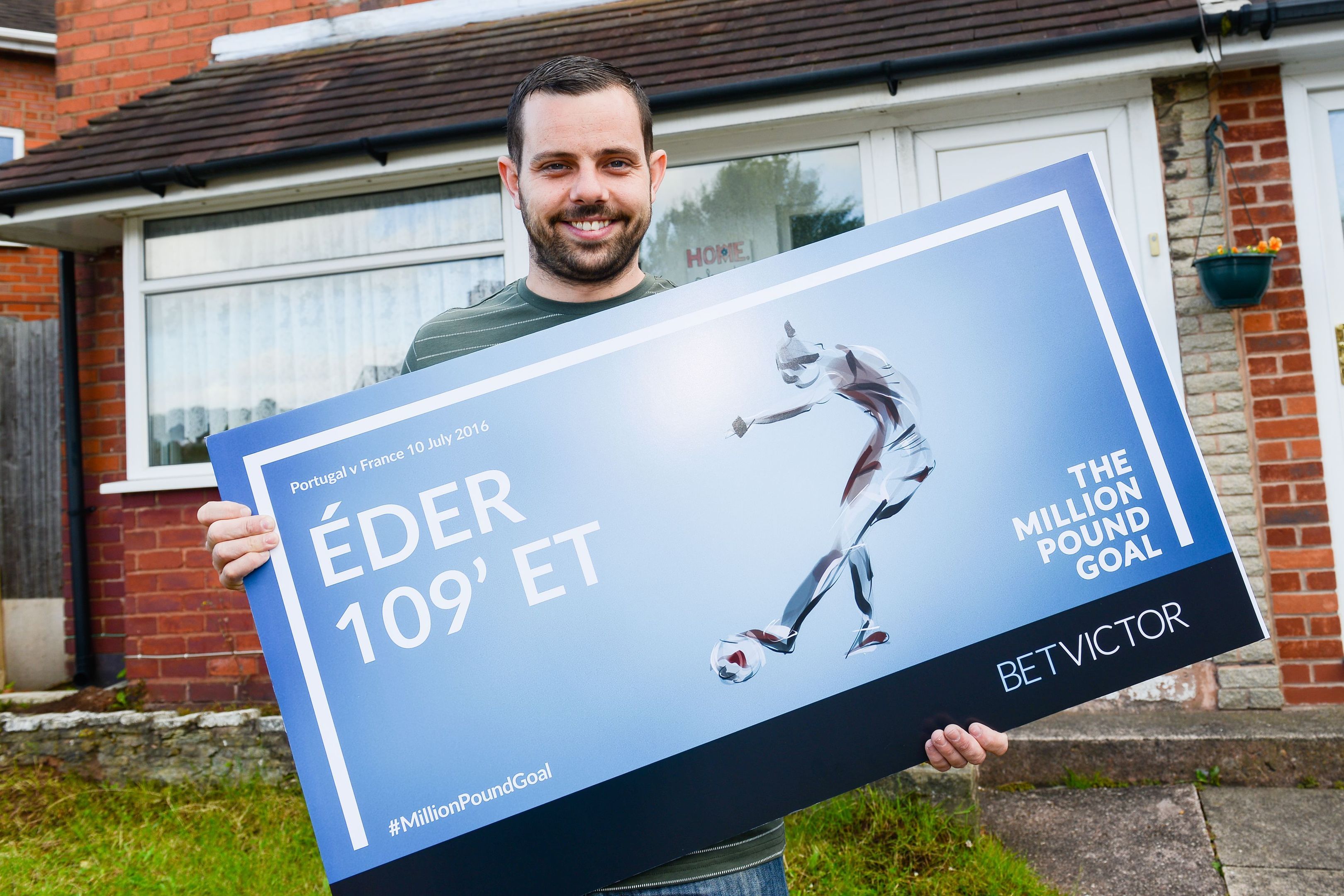 A kitchen fitter has netted £1 million after placing a last-minute bet on Portuguese striker Eder to open the scoring in the Euro 2016 final.
Daman Chick forecast striker Eder would score before anyone else as Portugal beat hosts France to lift the Henri Delaunay Trophy at the Stade de France at the weekend.
Before kick-off the forward, 28, who failed to find the net during a stint at Swansea last season, was 14,322-1 to score as he did in the 109th minute, as the game went to extra time.
Mr Chick had staked on a goal in the 84th minute but BetVictor revealed he was the closest to the actual time in its Million Pound Goal competition, which was enough to bag him the cash.
The 32-year-old family man, who has seen his beloved Aston Villa relegated from England's top tier at the end of the 2016 season, did not know he had initially won.
He revealed how he made his pick at the last-minute while boarding a holiday flight to Greece with his wife and two children, and then forgot the game was even on.
Mr Chick was automatically entered into the competition after placing a £5 bet during the tournament.
After no-one came forward to claim the prize, a worldwide £MissingMillionaire social media campaign was launched.
https://www.youtube.com/watch?v=p4CeGyelLOU
It was only when the appeal turned up in his local paper that Mr Chick realised his good fortune, and got a phonecall from the bookmakers while still at the poolside.
He said: "I didn't have a clue that I had won.
"Only on Wednesday morning, when my wife was sent a picture of the article in the Birmingham Mail did I know the £MissingMillionaire campaign was looking for me."
The campaign had appealed for a 32-year-old Aston Villa fan from Birmingham to get in touch.
Mr Chick said: "When I received the call, I sobered up instantly.
"I was expecting the bubble to burst at some point – I thought I'd just had one too many by the pool.
"In all honesty, it was hard to speak through the surge of tears that came over me.
"You like to think that you'd be controlled in that situation but I just couldn't help it – that moment realising that my life had changed forever."
He added: "I actually forgot the game was on.
"I saw the score the next morning and thought nothing of it – I'd missed a pretty average game.
"My winning bet happened to be the one I placed last minute as I was boarding the plane to Zante."
Asked how he would spend the money, Mr Chick replied: "I definitely want to sort my parents out first.
"They've worked hard enough to support me over the years so I want to give them something back.
"My wife and I have siblings who we want to help out, as well and other family members."
Matt Scarrott, BetVictor director of Sportsbook, said: "When we devised the campaign, our aim was to make someone a millionaire overnight.
"As it happens, Eder's extra-time goal for Portugal has indeed made one happy punter an instant millionaire – a life-changing sum of money – and we are thrilled for Daman."
Eder, who now plays his football with French side Lille OSC, was a rank outsider to open the scoring, well behind the favourite France's Antoine Griezmann, and Portugal's Cristiano Ronaldo.