A mass extinction of life on Earth, on a scale not seen since the demise of the dinosaurs, could accelerate beyond redemption if president elect Donald Trump tears up America's commitment to last year's Paris Climate Change Agreement, an internationally renowned dinosaur expert has warned.
In an exclusive interview with The Courier ahead of a lecture he is giving in Perth, American palaeontologist Dr Stephen Brusatte said humanity's impact on the Earth was already so profound, it meant man-made climate change was leading to the extinction of plants and animals on a scale not seen since the infamous asteroid wiped out the dinosaurs 65 million years ago.
"One of the scariest things about the Trump presidency is that he's vowed to tear up the Paris Climate Change Agreement," said Dr Brusatte, 32, a fellow at Edinburgh University, who was resident paleontologist for 20th Century Fox's 2013 film Walking with Dinosaurs.
"He can't do it on his own, but he could pull the US out of it. It would then collapse like a house of cards."
Dr Brusatte said the United Nations greenhouse gas control agreement, signed by 195 countries which came into effect on November 4 this year, was "probably our last chance to do something about slowing the (world's) temperature increase."
He remained concerned, however, that politicians like Trump – and many voters – routinely fail to look at the longer term picture.
He added: "These are things that most voters don't seem to take seriously compared with terrorism, immigration etc. But surely climate change is a much greater risk than terrorism or immigration?
"In my line of work we are always thinking about deep time and how things change over long periods, and how one thing can lead to another over long periods.
"In politics everyone is so obsessed with what is happening now in such a small window of perspective.
"I hope the kind of worse prognostications of Trump and climate don't come to pass, but if they do those of us who study fossil extinction and environmental change over time have to keep speaking up and make what we do relateable to people."
Dr Brusatte specialises in the study of mass extinctions and examines what fossils can teach about the historic sensitivity of the planet's ecosystems.
And whilst he won't be "ranting" about Trump, at 7.30pm on Friday November 18 at the A K Bell Library in Perth, Dr Brusatte will speak about fossil hunting as part of the "Curious Minds" lecture series that is run by the Perthshire Society of Natural Science (PSNS) with the support of Culture Perth and Kinross.
Dr Brusatte has discovered more than a dozen new species of vertebrate fossils in his career, and he is now helping to lead a project – buoyed by new funding from National Geographic – to investigate dinosaur fossils on the Isle of Skye.
In January 2015 his team announced the discovery of a marine reptile on Skye belonging to the Jurassic period, around 170 million years ago.
He warrants that the giant, long-nosed, fish-like animal, named Dearcmhara shawcrossi is not ancestral to Nessie – the legendary Scottish marine animal said to lurk in Loch Ness.
However, its significance to worldwide dinosaur research is profound.
"Looking back through the long arc of history, the Isle of Skye is the only place in Scotland where you can find the remains of dinosaurs, and they are really important dinosaurs because they come from the middle part of the Jurassic period – about 170 million years ago," he said.
"It just so happens to be a time from which we have very few dinosaur fossils from anywhere in the world – it's one of those blank spots in the fossil records.
"So Scotland believe it or not is a really important window into this time period, which was really important because it was when the first Tyrannosaurs were getting going, when really huge long necked dinosaurs were evolving and when the first birds were evolving."
Dr Brusatte will paint a picture of what Scotland was like when the dinosaurs were roaming Skye 170 million years ago.
It was 30 million years into the break-up of the supercontinent of Pangea.
North America had split from Europe, the Atlantic Ocean was just starting to form and the land that became Scotland was part of a growing island in the middle of that ocean – not attached to North America or the rest of Europe.
With the landmass closer to the Equator, the climate was hot with high ground being drained by big rivers into the ocean.
Lagoons rimmed deltas, and it was these ancient rock forming environments, now exposed by erosion on the coasts, that display many fossils and dinosaur tracks on Skye today.
The first dinosaur footprint was discovered on Skye in the early 1980s.
Now, however, a much more concerted effort is being made to look for more through the creation of the 'Pal-alba' group – uniting palaeontologists from across Scotland.
"Of course it's cool to find fossils, to describe them and put them in museums," added Dr Brusatte.
"That's a neat thing. But the real reason why dinosaurs are important scientifically is that they do tell us how the Earth and animals have changed over time.
"They are a prime example of a group that was doing really well for a long period. They dominated. They were at the top of the world for over 150 million years.
"Then literally one night this asteroid fell from the sky, and it all ended. There is obviously a cautionary tale in there.
"The first cautionary tale is that we don't want an asteroid to hit us because that would be really bad!
"But the second thing is even a really successful group can go extinct rapidly in the blink of an eye.
"We are the dominant species now. We live all over the world and we've been around for a while now.
"Yet the Earth is never as stable as we think. There are things we are doing to ourselves in terms of climate and environmental change that seem to be having a similar affects to the asteroids – they are killing off species and changing the environment.
"I think dinosaurs are just something we should keep in mind -that even things at the top can fall."
Dr Brusatte said it was "inevitable" that another mass extinction causing asteroid will eventually hit Earth. Super volcanoes also have the potential to again wipe out life.
Whilst it was possible to look at the situation pessimistically, however, he says there is also room for optimism at a holistic planetary level.
"The Earth will recover," he added.
"The recovery might not be a recovery that we like – it might be a different kind of Earth. But the Earth will survive – nature is very resilient.
"So I don't think we should get overly pessimistic. The Earth and nature might survive. It's just that we might not!"
Dr Steve Brusatte's lecture about dinosaur fossils is on Friday November 18 in the Soutar Lecture Theatre, AK Bell Library, Perth. Admission is £5 for the general public and £2 for PSNS members and registered students. There is no charge for school students with an adult. Tickets are available at the AK Bell Library and at www.psns.eventbrite.co.uk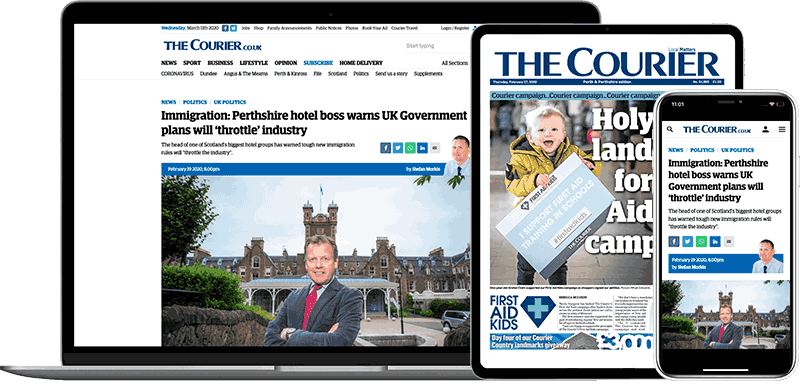 Help support quality local journalism … become a digital subscriber to The Courier
For as little as £5.99 a month you can access all of our content, including Premium articles.
Subscribe