Another week another survey that dares to suggest we've all got it wrong in life!
This time it's a poll from the Halifax bank which concludes that Winchester, in the South East of England, "enjoys the best quality of life in the UK".
The northern isles topped the poll for the "best quality of life" in Scotland with Orkney taking second place and the Shetlands 18th position.
But nowhere else north of the border featured in the survey, with nearly two-thirds (32) of the top 50 'best' places to live in the UK in southern England, according to the list.
The study looked at a range of factors to determine the places with the best quality of life, including life expectancy, health, employment rates, crime, education, broadband access, population densities and the weather.
Among the reasons why Winchester came out top, Halifax said, was that the employment rate was significantly higher than the national average, while gross weekly earnings of £824 were 27% higher than the UK average at £646.
A high proportion (96.6%) of residents reported being in good or fairly good health compared to a national average of 94.6%.
Life expectancy rates in Winchester were also higher than the national average, with Winchester men expected to live to around 82-years-old, while Winchester women could expect to live until they were 85.
Crime rates in Winchester were also among the lowest in the country, while Office for National Statistics (ONS) figures indicated the Winchester adult population was among the happiest, most satisfied, most content and least anxious in the UK, Halifax said.
There was a downside, however with house prices in Winchester 9.7 times the average annual income – significantly higher than the UK average of 7.2.
The Orkney Islands, meanwhile, took second place due to low crime rates, low amounts of traffic on the roads and low population densities among other factors.
But should we take these surveys with a pinch of salt?
After all, how often have you been contacted by pollsters to give your opinion?
Well, it probably depends on how you define quality of life – and which survey you like the look of!
In August, a separate and somewhat contradictory survey concluded that Dundee had the best quality of life of any city in the UK.
Figures revealed by TheHouseShop commended the city for its cheap cost of living, short commute time and low pollution index.
With its copious hours of east coast sunshine, stunning river setting and access to the wider countryside, it ranked ahead of English cities, Cambridge and Plymouth.
Yet even that survey contradicted yet another study out earlier this year which claimed that Dundonians are the least happy living in their community.
By contrast, the Bank of Scotland's Happiness Index claimed that people in Fife had gone from being among the least happy in Scotland to the most happy.
According to the Collins dictionary quality of life can be defined as "the general well-being of a person or society defined in terms of health and happiness rather than wealth".
Perhaps the best advice then is to ignore these surveys full stop.
After all, everyone has their own circumstances  to contend with. No one ever said life was going to be easy!
But if you've got your family and friends around you, keep in good health and are managing to strike a reasonable work life balance, then it doesn't matter if you are in Bangladesh or Ballingry – the chances are you will be reasonably happy – and grateful – with your lot. It doesn't take a bank's survey to explain that.
*Here are the top 50 places with the best quality of life in the UK, according to research from Halifax:
Winchester, South East
Orkney Islands, Scotland
Wychavon, West Midlands
Derbyshire Dales, East Midlands
Hambleton, Yorkshire and the Humber
South Cambridgeshire, East of England
Purbeck, South West
St Albans, East of England
Wokingham, South East
Chiltern, South East
West Oxfordshire, South East
South Hams, South West
South Oxfordshire, South East
Tonbridge and Malling, South East
West Dorset, South West
South Northamptonshire, East Midlands
Waverley, South East
Shetland Islands, Scotland
Horsham, South East
City of London, London
Stratford-on-Avon, West Midlands
Eden, North West
Windsor and Maidenhead, South East
Malvern Hills, West Midlands
Mole Valley, South East
Hart, South East
Mid Devon, South West
Rutland, East Midlands
Ryedale, Yorkshire and the Humber
Lichfield, West Midlands
Richmond upon Thames, London
Rugby, West Midlands
Richmondshire, Yorkshire and the Humber
Guildford, South East
Uttlesford, East of England
Maldon, East of England
Monmouthshire, Wales
Babergh, East of England
Vale of White Horse, South East
Rushcliffe, East Midlands
Harrogate, Yorkshire and the Humber
Mid Sussex, South East
Reigate and Banstead, South East
Westminster, London
Wiltshire, South West
Harborough, East Midlands
East Hertfordshire, East of England
West Berkshire, South East
Wycombe, South East
Aylesbury Vale, South East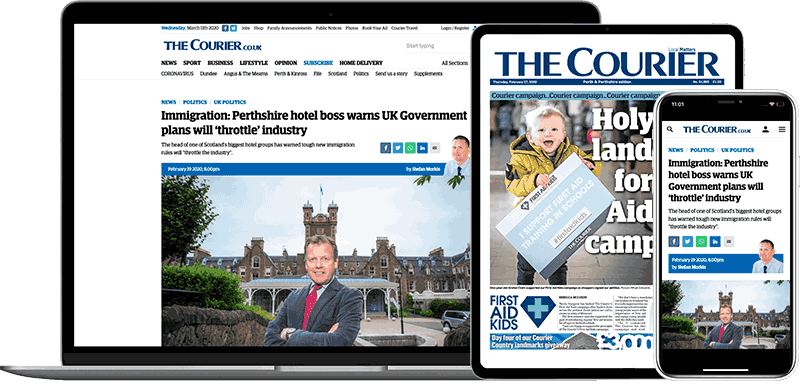 Help support quality local journalism … become a digital subscriber to The Courier
For as little as £5.99 a month you can access all of our content, including Premium articles.
Subscribe