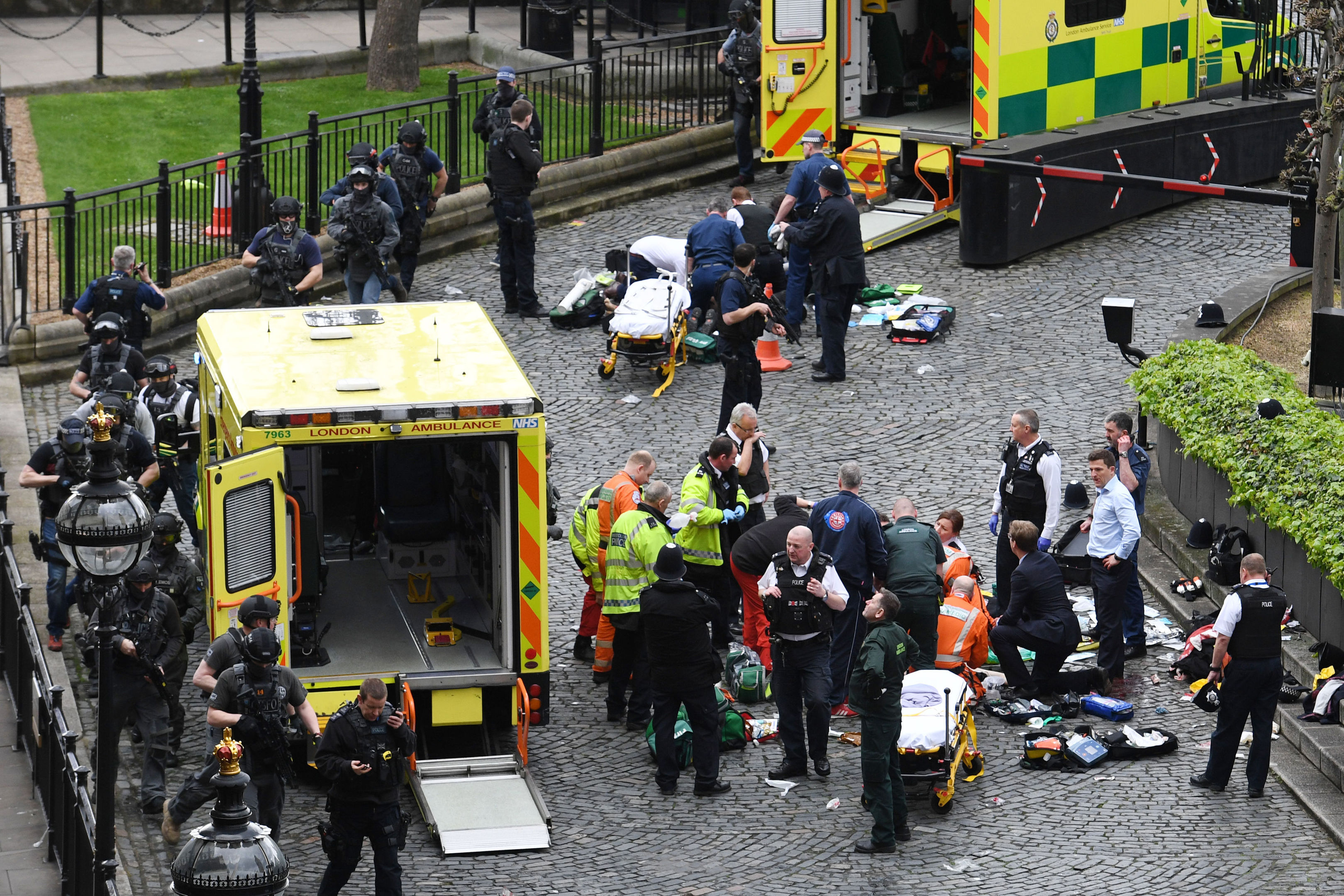 Five people are now confirmed to have died following a terror attack near the Houses of Parliament.
Among the dead are the assailant, and a policeman he attacked with a knife as he attempted to force his way into Parliament.
The dead officer has been named as 48-year-old husband and father Keith Palmer. Reports say he was unarmed.
The other confirmed fatalities happened moments earlier on Westminster Bridge, where the attacker had used a car to mow down pedestrians.
At least 40 other people were injured.
The Metropolitan Police confirmed they are treating it "as a terrorist incident".
Eyewitnesses said the attacker was shot by police as he approached a second officer clutching his knife.
He left a trail of destruction as paramedics tended to his victims on the bridge and at the gate.
Prime Minister Theresa May was seen being ushered into a silver Jaguar in the grounds of the palace as what sounded like gunfire rang out at around 2.45pm.
A Downing Street source confirmed she was "OK".
Eyewitness Rick Longley described the attack.
"We were just walking up to the station and there was a loud bang and a guy, someone, crashed a car and took some pedestrians out.
Parliament attack: Emergency services rush to treat the wounded
"They were just laying there and then the whole crowd just surged around the corner by the gates just opposite Big Ben.
"A guy came past my right shoulder with a big knife and just started plunging it into the policeman.
"I have never seen anything like that. I just can't believe what I just saw."
Around three shots rang out as the attacker ran through the gates into the front yard of the parliamentary compound.
Two people – thought to be the knifeman and the officer – were then seen being treated on the ground in New Palace Yard amid shouts and screams.
An air ambulance landed in Parliament Square and a regular ambulance came in through the front gates as medics rushed to help the injured people.
Armed police cleared the area around the incident and Parliament Square was closed to traffic while Parliament went into lockdown.
As the sitting in the House of Commons was suspended, Commons Leader David Lidington told MPs: "What I am able to say to the House is there has been a serious incident within the estate.
"It seems that a police officer has been stabbed, that the alleged assailant was shot by armed police.
"An air ambulance is currently attending the scene to remove the casualties."
Witnesses described seeing a middle-aged man carrying a knife and running.
Jayne Wilkinson said: "We were taking photos of Big Ben and we saw all the people running towards us, and then there was an Asian guy in about his 40s carrying a knife about seven or eight inches long.
"And then there were three shots fired, and then we crossed the road and looked over. The man was on the floor with blood.
"He had a lightweight jacket on, dark trousers and a shirt.
"He was running through those gates, towards Parliament, and the police were chasing him."
Her partner David Turner added: "There was a stampede of people running out.
"You saw the people and you thought 'what the hell is going on'."
A witness, who did not want to be named, saw Mrs May and her undercover police detail near the area of Parliament where ministerial cars are parked.
He said there were undercover officers in a 4×4 vehicle in the car park.
"We just heard gunshots inside Parliament," he said.
"It looked like they are taking her away."
Another witness, from South Africa and living in Ireland, said she and two friends went towards the palace gates and saw a man lying on the floor inside.
She said: "I saw a body, they were working on the floor. They were just inside the gates.
"He had one gunshot wound to the right side of his chest. I don't know if he was dead or alive, but people were working on him.
"I saw that needed medical attention and I asked if I could help because I am a doctor, but they said they were fine.
"Then the police moved us back."
Scotland's First Minister Nicola Sturgeon said: "My thoughts are with everyone in and around Westminster caught up in this dreadful incident – and with the brave emergency services."
Two people were seen lying within Old Palace Yard, immediately outside Westminster Hall.
Air ambulance just landed at Parliament Square, Westminster, dozens of police cars pic.twitter.com/TZVTO6IzDR

— Peter Yeung (@ptr_yeung) March 22, 2017
An air ambulance landed at Parliament Square within minutes of the incident.
Politicians and journalists tweeted about hearing loud crashes outside the buildings, as witnesses said they saw people being treated for injuries.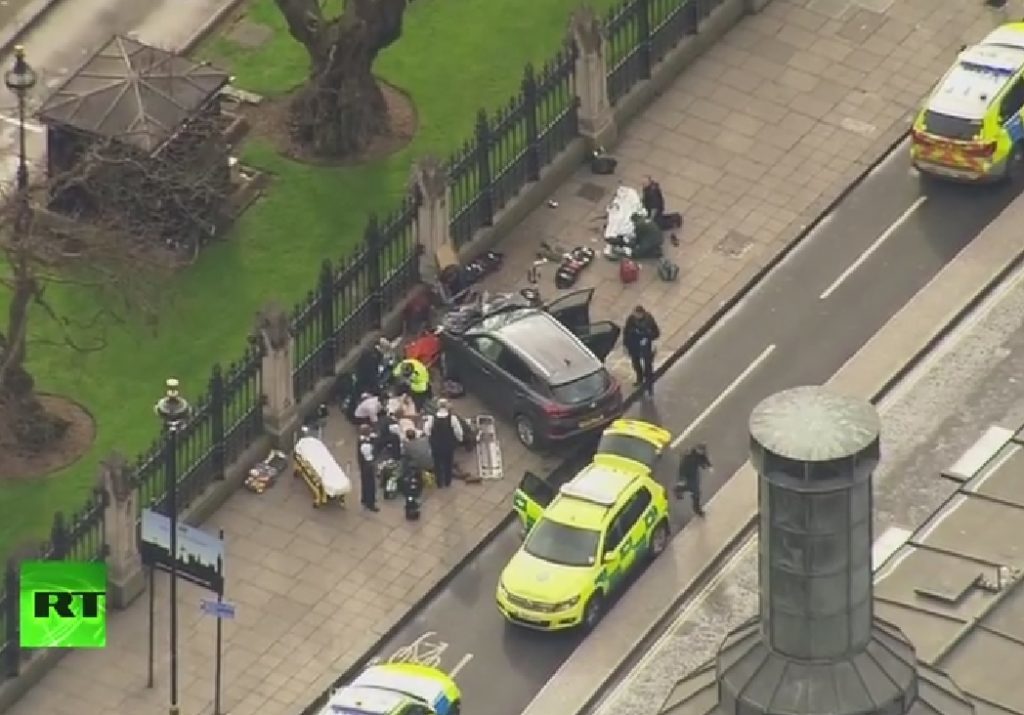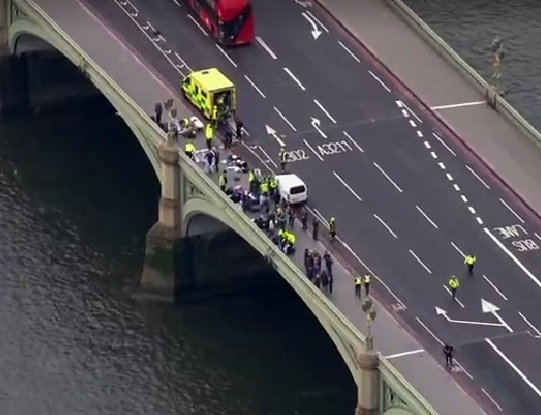 People within Westminster are being told to stay under their desks.
Chris Law, the Dundee West MP, and his Perthshire North colleague Pete Wishart were diverted into Scotland Yard having missed the incident by minutes.
They were part of a group of nine who were about to move back towards Parliament Square but were directed into the safety of the Met Police headquarters.
Mr Law said: "I'm a bit shaken at the moment. For a long time people have been saying the terrorist threat is at severe for some time. There are more MPs coming in here just now."
EN DIRECT sur #Periscope : EN DIRECT de #Westminster après les coup de feu entendus près du parlement britannique https://t.co/IX1NmFy9MG

— RT France (@RTenfrancais) March 22, 2017
Transport for London said Westminster underground station has been shut at the police's request.
Dennis Burns, who was just entering Parliament for a meeting when the security alert happened, said: "As I was coming through the doors at Portcullis House, a policeman grabbed someone who was coming in and threw him out.
"As we were coming though the glass doors I was told by one security guard to get out while another one told me to get in.
"As I walked in I heard a security guard get a radio message saying 'a policeman has been stabbed'.
"Then I walked in as police officers and security start rushing out of the front doors on to the street.
"When I got inside I was wondering what the hell was going on and I saw dozens of panicked people running down the street. The first stream was around 30 people and the second stream was 70 people.
"It looked like they were running for their lives."
A member of staff for Roger Mullin, the SNP MP in Fife, said he saw the grim aftermath of a man being hit by a car that had driven over Westminster Bridge.
"I heard the man screaming so I went over to the window and saw the car sliding along the road and crashing," he said.
"Then I heard two loud bangs. At that point I moved away from the window and urged others to do the same.
"I can see the man lying on the ground, he's clearly seriously injured."
"We've been told to lock our doors and keep away from the window. Everyone's trying to keep level-headed but we have no idea what's going on."
The SNP's Tasmina Ahmed-Sheikh, a  Perthshire MP, is being held in the Commons chamber with her colleagues.
"All of us have been asked to stay in the chamber and we do not know what is going on. We are locked in here," she said.
"There is a huge amount of concern, a policeman has been stabbed, people have been injured and we are very worried about what's happening, but there's not much else I can say."
After the incident, Radoslaw Sikorski posted a video to Twitter purporting to show people lying injured in the road on Westminster Bridge.
Mr Sikorski, a senior fellow at Harvard's Centre for European Studies, wrote: "A car on Westminster Bridge has just mowed down at least 5 people."