Michael Alexander speaks to Angus-raised town planner Graeme Law who is now running the planning operation single-handedly in the Falkland Islands.
When Graeme Law grew up in Arbroath he never envisaged at the age of 69 he'd be working as head of planning and building services in the Falkland Islands.
But following a career that's seen him work throughout Central Scotland and more recently move down south to Peterborough, East Anglia and Nottinghamshire, the South Atlantic archipelago is exactly where the grandfather-to-be has ended up.
Last year, while sitting in his Nottinghamshire garden enjoying the sunshine, the planning consultant received a call from the British dependency asking if he'd be able to go there at short notice due to staff shortages.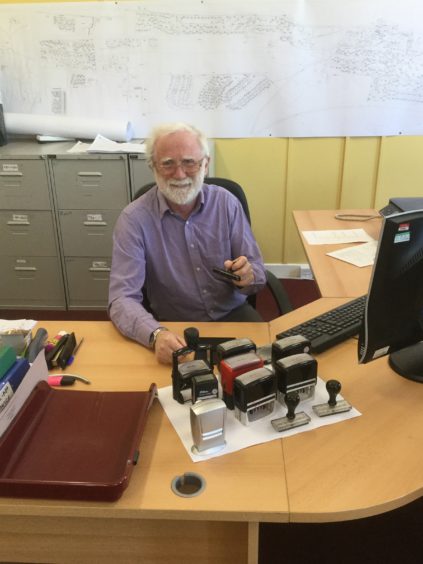 Now, as well as being the Falkland Islands' head of planning, he's also covering two vacant posts for planning officers – and the only building inspector is due to leave soon.
"Being here is a total culture shock," said Graeme in an interview with The Courier from the Falklands capital Port Stanley.
"If you imagine somewhere like Bridge of Earn – imagine it's the main and only town anywhere for hundreds of miles: 2000+ people then lots of hills and bogs and sheep.
"That's basically where I am and when it comes to the planning service, I am basically it!
"In any other Scottish planning authority, you would have specialists in landscape or urban design or conservation to support you. But here you are everything!"
Graeme, who is on a six-month contract due to end in February, said he is doing everything from porches on the front of peoples' houses to the start-up of a whole fisheries industry.
The button hasn't been pressed yet to extract vast reserves of offshore oil, but the exploration has all been done and Graeme said there's the possibility of being responsible for planning the whole oil industry.
"Because there is only one town and one community essentially, you cover every issue from parish or community council level right up to district council, county council, regional council to national government," he said. "It's not a question of doing one slice of the job.
"If I come to the conclusion that national policy isn't right, I just write new legislation.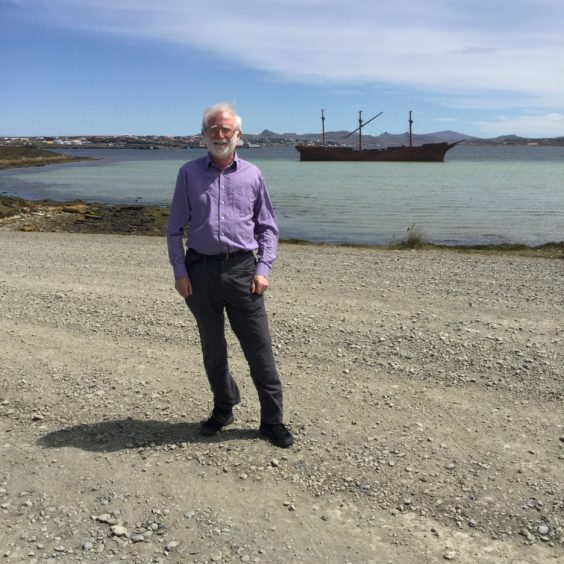 "It's completely wild!
"On the other hand, you bump into people in the street from MPs to shopkeepers. They are the people who are applying to build a house, a porch, a factory – it's very intimate.
"It just does your head in completely – the sheer scale of it!"
Born and bred in Angus, Graeme's parents had a small hotel in Millgate Loan, Arbroath.
The family moved to Edinburgh when he was a teenager and it was in the capital that he became interested in the natural environment. He studied ecology at Edinburgh University and did some voluntary teaching in Botswana, Africa, before pursuing a career in town planning. His wife and grown-up children have stayed at home in the Nottinghamshire area.
Whilst more than 83% of the Falklands' 3000-strong civilian population live in Stanley, the rest are scattered in tiny hamlets linked by the F25 – a track around the perimeter of the island that runs through "miles and miles of nothing".
With the population being so thinly spread, he said the amount of development is relatively small.
But there's also more "subtle differences" with the planning system.
"Their planning system is evolving," he said. "It's actually trying to take the best of the British planning system and trying to incorporate it.
"For example, I have had a lifetime of planning in Britain where they've said 'you can't combine building control and development control.'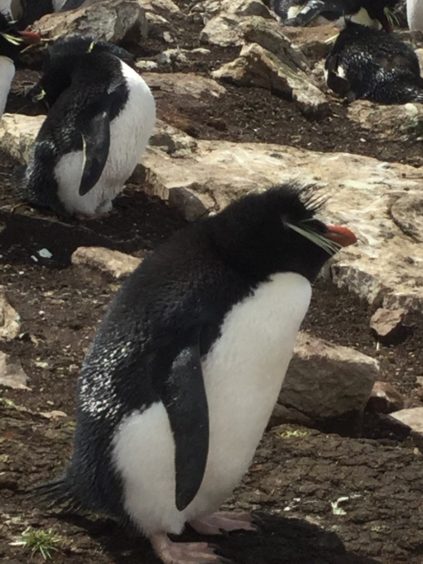 "Down here they just do it and it works!
"Down here they don't have VAT. You realise life can be very simple when you don't have VAT!"
As a one-man operation, Graeme also has "enforcement" powers when it comes to planning.
"You get to know people – you get to know the scallywags," he laughed.
However, at the same time, he said the system is also quite pragmatic. For areas more than 10 km from the spire of Stanley, for example, people can do much more without planning permission.
Despite being more than 8000 miles from the UK, he says there are plenty "British" landmarks including red telephone boxes, post boxes and a "stronger sense of being British in the wider sense".
More than 36 years after the Falkland War, when the islands were occupied by Argentine forces, there's also a sizeable British military base at RAF Mount Pleasant with up to 2000 British military personnel there at any one time, and an "air bridge" linking the UK twice a week.
However, he has also been amazed how multi-cultural the islands are.
"There are people from all over – South America, South Africans, Australians, New Zealanders, Scots, Irish," he said. "They've even got a whole load of folk from Zimbabwe who are very good at removing mines – they are still removing the minefields that the Argentinians laid during the Falklands War.
"It's not isolated in that sense. Culturally it's quite diverse."
Graeme said there are great work opportunities in the Falklands if people are willing to "muck in".
With a 99% employment rate, Scots are already playing a major role on the island with the local solicitor, policeman and TV reporter hailing from Scotland. There are many vacancies for specialist jobs such as teachers, nurses, town planners and building inspectors, he said.
But he was "staggered" to discover companies like Scotframe Timber Engineering Ltd of Dundee are also benefiting through the export of kit houses.
"Because it is so small, there are literally no architects on the island," he said. "What they've found to be practical is that they order kit houses from catalogues.
"They come down in a container and the local builders build them from a kit.
"Frankly it works. You are not in a position where there are builders' merchants here to buy a bit of this buy a bit of that.
"You order everything from the UK and if you forget to order it you wait six months for the next boat to come. That's just the way it is."