Ahead of Royal Scottish Geographical Society talks in Dundee and Dunfermline, Michael Alexander speaks to explorer Benedict Allen about his encounters with Papua New Guinea's Yaifo tribe – one of just a few groups on the planet who have no interaction with the outside world.
He is the British explorer who attracted international headlines when he failed to turn up for his flight home from the jungles of Papua New Guinea in November 2017.
Travelling solo, and without satellite phone or GPS, Benedict Allen was very much "off grid" – and the world was becoming increasingly concerned for his well-being.
But more than a year after a newspaper-funded rescue mission airlifted him to safety, Benedict insists he was never lost and did not need rescuing.
Speaking to The Courier ahead of a talk he is giving to the Royal Scottish Geographical Society in Dundee on February 5 and Dunfermline on February 6, the 58-year-old said he had "sort of" overcome the symptoms of malaria and dengue fever which gave him a physical "battering".
However, he said that emotionally he had found it "quite hard to come to terms with suddenly being extracted from the forest" having been immersed in a solo jungle adventure and being reunited with an isolated mountain top tribe he first met more than 30 years earlier.
"There was a lot of publicity just over a year ago about my trip and some people said all sort of things which I still find quite bizarre," said Benedict in an interview from his home in Prague.
"Some people said I was trying to find a lost tribe which wasn't true. Also I had never been lost. In fact, I think I got more lost in Dundee when I visited a few months ago for the mountain film festival!
"It happens in places I'm not familiar with if I'm not careful.
"But when I'm 'on the job' as it were, in deserts and rainforests and so on, I don't think I've ever been lost. That's my skillset – I immerse myself in a place.
"On this particular occasion, the expedition had actually gone very very successfully."
---
>> Keep up to date with the latest news with The Courier newsletter
---
Born in Cheshire, Benedict decided as a child that he wanted to be an explorer, and as he got older, he developed the technique of immersion among indigenous peoples from whom he acquires survival skills for hazardous journeys through unfamiliar terrain.
One of his earliest experiences came more than 30 years ago when, as an "idealistic" 25-year-old, he decided to track down and write about the Yaifo tribe living in the shadow of gold miners within the mountains of Papua New Guinea.
"They did a war dance around me – threatening me," he recalled. "They thought I was a gold miner or a raider of some sort. Then they settled down. They stopped dancing. It was really scary. They had bows and arrows and were all covered in paint. It scares me stiff the things I used to do. I was so vulnerable."
After 10 days with the tribe, and despite initial hostility, Benedict was led off the mountain to safety by a tribesman called Corsi.
Benedict assumed that the tribal lifestyle, in the face of encroaching mining operations and warring tribal factions, must be coming to an end, and that they too would soon leave their age-old home.
However, in 2016, when Benedict was working in Papua New Guinea with BBC security correspondent Frank Gardner on a two-part documentary called Birds of Paradise: The Ultimate Quest, he learned that the Yaifo were still living on the mountain having decided to "hide" from civilisation. He vowed to track them down again 30 years on, and it was this expedition which he embarked upon at the end of 2017 leading to his 'rescue'.
"I got a helicopter, went back, and climbed up from the base of the mountain to find the Yaifo," said Benedict.
"I had this amazing reunion with the people – really just to say thank you for looking after me as a young man.
"I wanted to go back and find Corsi because he'd done this extraordinary thing – this very human thing. There I was this young and vulnerable man, and he helped me. He was the man I came back to see and I found him.
"There was this amazing moment when he sprang up and hugged me. He remembered my name. He was the only white man I'd ever seen.
"He was going 'Benedict Benedict'! I was going 'Corsi Corsi'!
"It was this wonderful magical moment. I couldn't speak his language and he couldn't speak mine.
"But it didn't matter. What was happening was beyond words."
Benedict said those details were "all lost" in the 2017 publicity that followed after he carried on over the mountain and found he couldn't get out of the forest due to a battle between two warring groups.
He ended up at an abandoned mission station, where he fell ill, and tried to work out how to get out.
"I was never lost, but I immediately told the outside world where I was, and that's when the airlift came in," he said.
Benedict finds it fascinating that in an era when the world is so connected, people fear the worst if someone deliberately goes 'off grid'.
However, for him that's what it is "all about" – disappearing into a place and learning without companions or technology.
He still harbours ambition to return to the air strip where the rescue helicopter picked him up, then walk out of the forest as he originally intended.
However, he'll also talk about overcoming a number of other challenging experiences on his travels – including the time he took part in a brutal male initiation ceremony with another tribal group.
Lashed with bamboo and force fed, the six-week ordeal saw him lose two pints of blood as 'crocodile scars' were permanently impressed on his skin.
But it was not just physical marks that were left on Benedict from this experience – he was left emotionally connected to the group.
"That was a different group of people," he said. "I was in New Guinea prior to being with the Yaifo.
"I did volunteer but I had no idea how intense it was. I was a very naïve young man and I was up for anything. But even so, it was a secret ceremony.
"I knew people who went through it ended up with these hundreds and hundreds of crocodile scars.
"They had a crocodile cult there. The ceremony was all about 'becoming a man – as strong as a crocodile'.
"I was hidden away with people my age – I was 24 at that stage – in the crocodile nest. A big fence was erected around the spirit house and we were kept there for as long as it took to 'become a man as strong as a crocodile'.
"It took six weeks and it turned out to be hell. It wasn't just that we were cut repeatedly with bamboo blades to give us these permanent scars, but we were beaten every day five times a day.
In all my travels I've never experienced anything so terrible."
Benedict said the ceremony was about learning to share and knowing the group.
He said it gave "great insight" and was a "great privilege" to have had the experience.
"It was a seminal moment for me," he added. "Very humbling. I realised what these people went through just to live in this crocodile swamp. They have to be really tough."
However, while it was a great privilege to have explored so many places over the years, it could also be "very dispiriting" to see how indigenous peoples and fragile ecosystems had been destroyed over the decades.
"When I come up to Dundee – and I'm also speaking in Edinburgh, Glasgow and Dunfermline – I want to try and be positive and say that 'yeah we generally think the world has been explored, but there are chunks left like hidden areas," he said.
"But exploration is not just about the golden era of David Livingstone and others that we think of as archetypal explorers.
"It's about now. Because we don't understand the concept of climate change. Ecosystems are being saved, threatened and destroyed, and it's our job – not just my job – to highlight.
"It has been very sad to see the decline of indigenous people.
"But the world is also a very exciting place with a lot to fight for. We just have to fight more than ever – and it's not about me, and it's not about the past, it's about now and it's about everyone and the future, because we all are explorers.
"I had the privilege of going off to spend time with these people, but we all have that curiosity.
"We all want to understand our back yard if not the mountains or anywhere else."
*Benedict will be speaking in Dundee on Tuesday February 5 at 7.30pm. The talk venue is the Dalhousie Building, Old Hawkhill, University of Dundee, Dundee, DD1 5EN.
 Tickets to see Benedict are available via Eventbrite, and some will be made available on the door. Tickets are £10 for visitors, £8 for Tiso Outdoor Card Experience Holders, and FREE for RSGS Members, Students and U18s.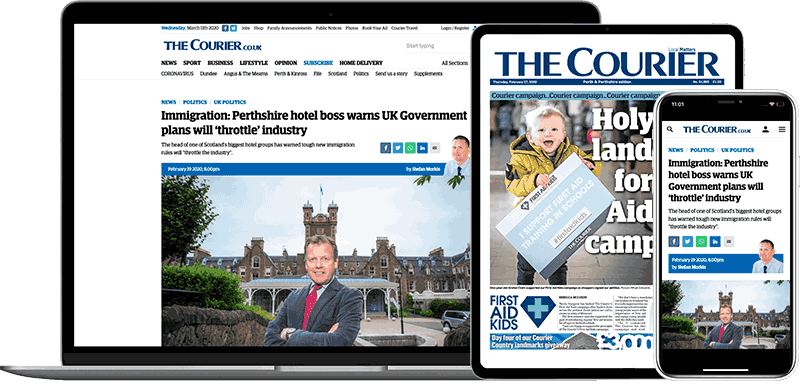 Help support quality local journalism … become a digital subscriber to The Courier
For as little as £5.99 a month you can access all of our content, including Premium articles.
Subscribe