Dutch actor Rutger Hauer has died at the age of 75.
The film star gained iconic status for his portrayal of Roy Batty in Blade Runner in 1982.
His other roles includes performances in The Hitcher, Batman Begins, Hobo With a Shotgun, Flesh+Blood, Ladyhawke and True Blood.
The actor died on July 19 at his home in the Netherlands following a short illness, and his funeral was held on Wednesday.
RIP the great Rutger Hauer: an intense, deep, genuine and magnetic actor that brought truth, power and beauty to his films. My personal favorites: Flesh + Blood, Eureka, The Hitcher, Blade Runner, Ladyhawke and Blind Fury. pic.twitter.com/1F2Via3mLY

— Guillermo del Toro (@RealGDT) July 24, 2019
July 19th was Rutger Hauer's expiration date. RIP. https://t.co/G80k7PBJYf

— One Perfect Shot (@OnePerfectShot) July 24, 2019
Hauer's performance as replicant Batty in Ridley Scott's Blade Runner is cherished among cinema fans across the globe.
The actor famously amended a monologue in David Peoples' script for the emotional "Tears in the Rain" sequence the night before filming took place.
Hauer was born on January 23, 1944 in Breukelen, Utrecht, and went on to attend the Academy for Theatre and Dance in Amsterdam.
He starred in almost 200 films and TV shows during his career with his first role in the Dutch TV show Floris in the late-1960s.
The actor was also noted as an environmentalist and established The Rutger Hauer Starfish Association, which supports those affected by AIDS and HIV.
A statement on Hauer's website following his death reads: "The Rutger Hauer Starfish Association announces with infinite sadness that after a very short illness, on Friday, July 19, 2019, Rutger passed away peacefully at his Dutch home.
"He leaves his beloved wife Ineke, after they have been together for fifty years.
"We at Starfish will always cherish the many unforgettable memories we have of Rutger and his dedication to the Rutger Hauer Starfish Association.
"One of Rutger's last wishes was that Starfish should continue its charity activity and its fight against the AIDS disease, and with Ineke's precious help, involvement and direction we will follow Rutger's wish and will do our best to carry on Rutger's inestimable legacy."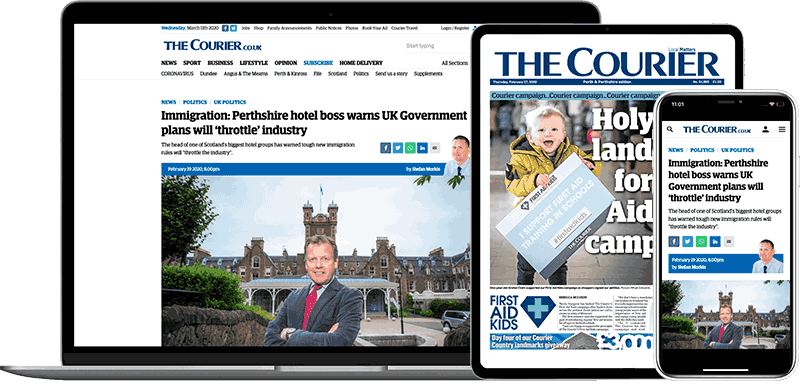 Help support quality local journalism … become a digital subscriber to The Courier
For as little as £5.99 a month you can access all of our content, including Premium articles.
Subscribe