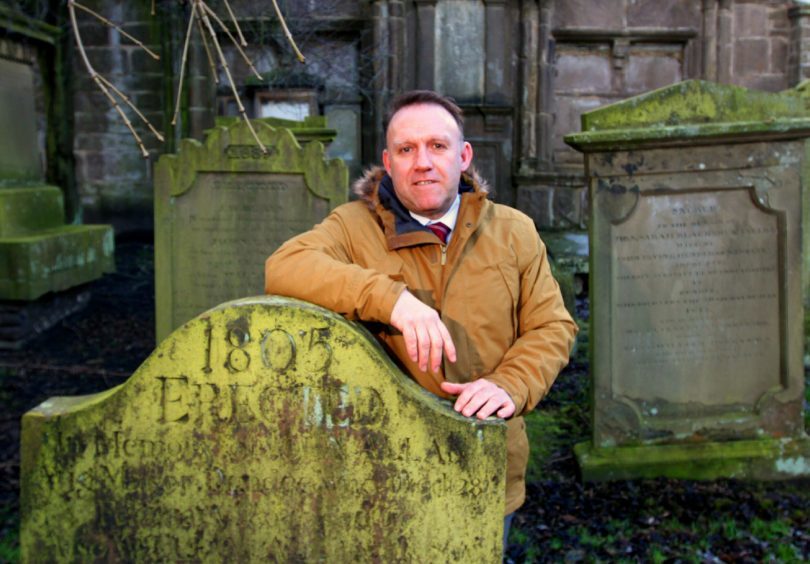 The Howff is bathed in centuries of fascinating history. Local cemetery enthusiast Simon Goulding reveals the important heritage of Dundee's graveyard.
It all began with an advert in The Courier in February 2014. A concerned local resident was seeking volunteers to join a not-for-profit group to help preserve the Howff in Dundee city centre – one of Scotland's oldest urban cemeteries.
Simon Goulding, 50, formerly a special investigator with the military police before joining Dundee City Council as a licensing standards officer, was keen to share his forensic photography skills.
He jokes that an ill-timed cough during the gathering led to him becoming a committee member. Four years on, Simon is chair of the Dundee Howff Conservation Group, which has six committee members and scores of volunteers keen to help with individual projects.
The original idea was to replace or mend some of the fallen headstones, but preserving the heritage of the Howff soon became paramount.
"I started researching and realised there are a lot of procedures to follow if you want to do that – for example, mapping the graveyard," Simon explains.
He saw it as essential to investigate every stone in the cemetery, since time and the elements would one day render the sandstone carvings beyond repair. The group "adopted" the Howff through Archaeology Scotland's adopt-a-monument scheme and set out its aims: to create detailed records of all of the memorials and share this information online, thereby building a valuable resource.
"We are not here for genealogy: our part is to record the stones in as much detail as we can," Simon goes on. "We are preserving the Howff for future generations."
All of the known 1,751 stones will each have a 10-page written record and between 20 and 100 photographs taken. Photography is also used in conjunction with specialist software to create models of the gravestones using a 3D printer.
The Howff is situated in the grounds of a 13th Century Franciscan friary which was burned in 1548 during a raid on the city by the English army. In 1564 the land was granted to the city as a place of burial by Mary, Queen of Scots.
The Howff means "a meeting place" in old Scots because it was common practice for people to use graveyards as a venue for events such as markets. The Nine Incorporated Trades of Dundee discussed business there until 1776. Burials ceased in 1860 due to overcrowding and it's estimated it contains around 80,000 bodies. The Howff was protected as a Class A Listed Building in 1963.
Dundee City Council – which owns the Howff – granted DHCG funding to undertake a week-long digital mapping exercise in April last year. During the process, a rare medieval burial marker was unintentionally discovered by Perth-based archaeologist Dr Oliver O'Grady of OJT Heritage.
The 13th century stone has now superseded a stone dating from 1577 as the oldest in the cemetery. It was excavated in December and will be assessed by sculpture conservation experts. DHCG is now looking at ways to preserve it.
A self-confessed taphophile (the term for a cemetery enthusiast) Simon believes the group is only in the early stages of uncovering the cemetery's historical treasures. He can spend up to 30 hours a week on Howff-related matters: "I come home from work, walk the dog to blow away the cobwebs, then start working again!"
To find out more, visit the Dundee Howff Conservation Group's website or follow on Facebook and Twitter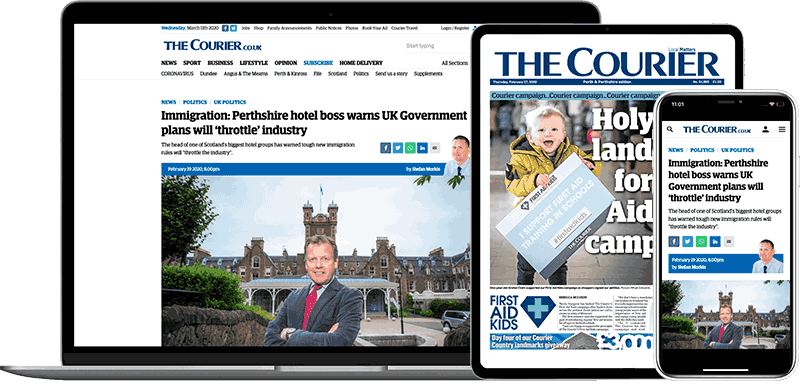 Help support quality local journalism … become a digital subscriber to The Courier
For as little as £5.99 a month you can access all of our content, including Premium articles.
Subscribe