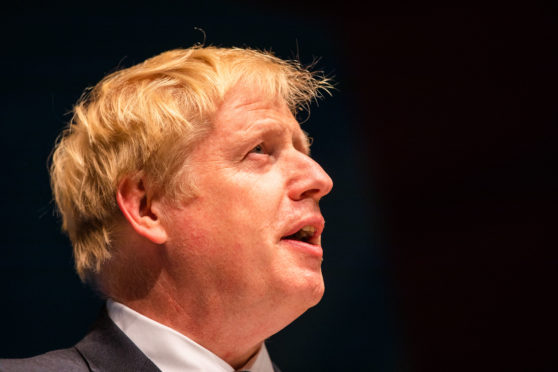 Sir, – Who likes to say they are embarrassed by their own country?
I have no idea who divulged where Prime Minister Boris Johnson was holidaying.
It is not irrelevant and if it turns out to be someone who was trusted with the information, I hope they feel the full force of any disciplinary/legal action.
Is it not scandalous that the prime minister of the United Kingdom has had to leave Scotland for his own safety?
What kind of society do we live in that our own prime minister can't take a holiday in his home country?
What kind of society do we live in that a mother, her very young son and their dog have to curtail a holiday and fly back to London just three days after arriving?
Would this have happened in the Yorkshire Dales or Snowdonia? Would this have happened 10 years ago in Scotland?
Is this what nationalism has brought to Scotland?
The Scottish Government launched a We are Scotland campaign last year claiming that "Scotland's a great country – but it's even greater when people come together.
"Our new campaign celebrates the positive impact of people who choose to make Scotland their home."
This episode has been no great advert for the supposedly welcoming Scotland.
Jane Lax.
Pine Lodge,
Craigellachie.
Watching out for religious hatred
Sir, – Atheists see some merit in Justice Secretary Humza Yousaf's Hate Crime Bill, as it will enable the prosecution of all Scotland's religions and their Holy Books for spreading hatred.
It is utterly unacceptable that in progressive, social democratic Scotland that squalid, Bronze Age village disputes, as described in the Holy Books, about control of women, goats or water should give Scotland's "Holy Willies" authority to spout out vitriol against atheists, agnostics, apostates, sceptics, non-believers, women, trans people and homosexuals.
We fully intend to monitor all Holy Books, sermons in places of worship and the social media accounts of the various religions and report any hatred to Police Scotland for criminal investigation.
Ian Stewart.
Convener,
Atheist Scotland,
Park Avenue,
Dundee.
Explanation for criminal activity
Sir, – In the early days of the Scottish Enlightenment there was controversy as to whether state or deity created a moral sense of right or wrong in humanity .
In the three hundred years since then the influence of the church in Scotland has diminished greatly as has the value of government with many policy decisions not having the general support of the population.
This may explain why crime and disorder is now rather commonplace.
A A Bullions.
6 Glencairn Crescent,
Leven.
Exercise in virtue signalling
Sir, – Westminster and Holyrood wrecked thousands of holidays this summer with sudden quarantines but neither has a clue whether stampedes for the nearest port or airport, hugely inflated ticket prices, 4am deadlines and 14-day house arrests were warranted or successful.
No political leader knows how many holiday makers subjected to quarantine subsequently tested positive for Covid-19, nor how many were hospitalised, recovered or how many died.
It was little more than an exercise in virtue signalling.
Dr John Cameron.
10 Howard Place,
St Andrews.
Grapes ripe for the picking
Sir, – You will have noted Michel Barnier and the EU's current intransigence, their laying down of conditions, and their insistence to be allowed to plunder our fishing waters as a trade agreement towards a full Brexit. M. Barnier is of course a French National and as such I came to wonder at the indignation which would emanate if we in turn insisted on sharing the French grape harvest as an equal right, and also as a partner in the German motor industry.
I can already picture the smoke coming out of ears. Something about the goose and the gander.
David L Thomson.
24 Laurence Park,
Kinglassie.
Broughty Ferry not on agenda
Sir, – I am delighted Councillor Craig Duncan thinks there should be a plan for Broughty Ferry although this is not a new idea (Council chiefs pondering Ferry harbour makeover, Courier August 24).
However, I suspect his plea will fall on deaf ears.
Years ago, when I was involved with Broughty Ferry Development Trust I was horrified to I attend a conference on Dundee's future to be handed a leaflet about the proposed development of the riverfront where the plan began at Invergowrie but ended at the Stannergate.
I asked why Broughty Ferry had not been included I was told there would be a separate plan for The Ferry.
Has anyone ever seen this plan? I'd love a copy but suspect it never existed or Councillor Duncan would have heard about it.
The Trust was also told that the old bathing shed would be knocked down to allow the building of better facilities for the beach. Still waiting for something more sophisticated than an ice cream van.
We also asked about a marina in the harbour and were told it wasn't possible because a lock gate (deemed too expensive) was required because it was tidal.
More obfuscation as Tayport doesn't have one and it functions perfectly well.
Broughty Ferry, arguably a huge asset to Dundee's tourism aspirations, is not high on the agenda in the City Square. So don't get too hopeful Cllr Duncan.
You're probably going to be disappointed. But full marks for trying.
Anya Lawrence.
Gray Street,
Broughty Ferry.
Parks should be maintained
Sir, – I am appalled and disgusted with the state of Magdalen Green at the present time.
The long grass around the verges is populated with weeds, clover, docken and thistles.
The trees are re-seeding and much of it has been been trampled underfoot, adding to its unkempt state.
Leaving large areas to grow wild does not necessarily create biodiversity.
The recent survey undertaken was online and on Facebook.
It was not a fair representation of the residents of the West End, many of whom do not have internet access much less use social media!
It was also mis-leading as some of those taking part were under the impression that the council would be maintaining the area chosen and planting wild flowers.
My understanding is that this is not the case.
Whilst I am not against biodiversity, I do not believe that our city parks are the place for this.
They are for the use of the citizens of Dundee for leisure and recreational purposes and as such should be properly maintained.
There are plenty other areas within the city more suited to biodiversity.
So please Dundee City Council, return the Green to its former glory and stop pandering to the minority with the loudest voices!
Jim Dryden.
Shaftesbury Park,
Dundee.