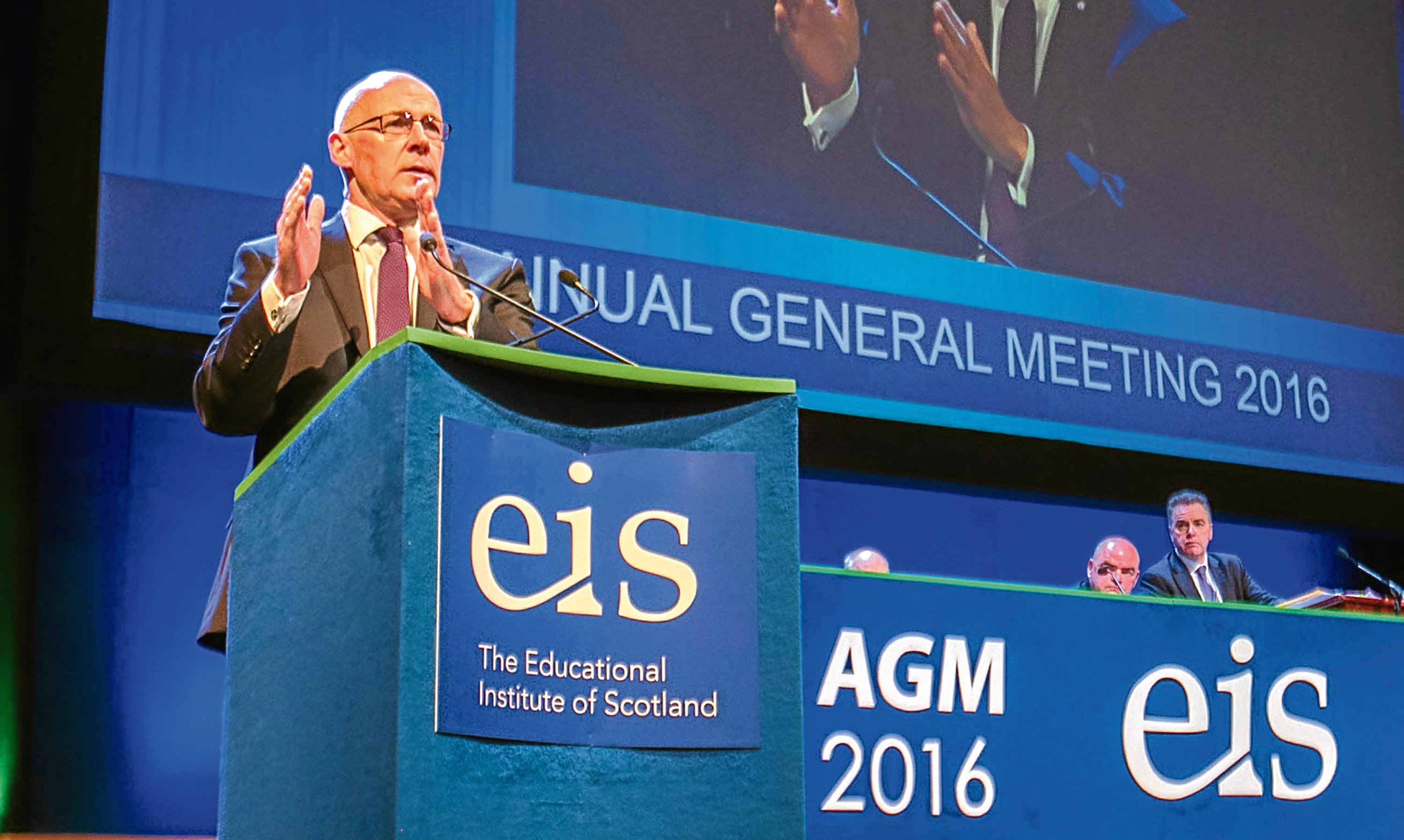 Sir, – John Swinney has been given the task of improving attainment and closing the gap in performance that exists.
It has been known since the 1980s that the attainment of any individual pupil depends on the quality of the interaction between the pupil and the teacher.
So attainment will not be raised by new schools, technology or new government schemes, unless the teaching profession has sufficient numbers of teachers.
Teachers need to be less stressed by reducing workload issues, many of which arise because of the lack of teachers. The quality of the interaction is affected by pupils who interrupt lessons, and due to a lack of staff, pupils are not removed from the learning situation until considerable damage has been done.
Teaching has been recognised as the most stressful job.
New changes to exams take 10 to 15 years to be fully implemented and understood by society and each further intervention increases stress. The proposed named person scheme will not help attainment if, as I understand it, head teachers may have to multiple meetings when abuse is suspected.
The amount of time given will vary according to the catchment area. This may exacerbate the attainment gap, therefore it should be reviewed.
Mr Swinney will know how much time was spent on the independence referendum in the past few years to the detriment of attainment. I would expect a further diversion on this issue will be delayed until there is a significant improvement in attainment. I wish him well in his task.
Philip Kearns.
47 Grove Road,
Dundee.
SNP reaction an embarrassment
Sir, – Politics is a hard, bruising world but one of the things that I believe helps MPs and MSPs reach the difficult decisions they have to make is the mutual respect they have for each other.
I am no fan of David Cameron and his policies but respect him for taking the decision to enter politics and suffer the loneliness and family sacrifice that comes with holding high office.
To see the SNP MPs not at least applauding him at the end of his last question time, for his service to his country, was an embarrassment.
Of course, it was not a spontaneous action as SNP MPs and MSPs are not allowed independent thought. They are very much controlled from the top.
These nationalist, robotic, narcissists just continue to bring shame to Scotland.
David A MacKenzie.
12 Torridon Place,
Kinross.
Time for inquiry on nuclear tests
Sir, – I would like to reply to Laurie Richards' letter about exposure to nuclear weapons testing, Servicemen were willing (July 14).
I do not know which service Laurie was in, but I feel it appropriate to say that in the army, regiments travelled en-bloc.
I was with 38 Corps Engineer Regiment, and when the order came to move, we moved. There was no volunteering.
It was probably different for smaller corps such as the medical and pay corps.
He was very lucky indeed not to have been selected to witness the nuclear testing.
Service personnel were subjected to horrendous levels of radiation, which the Ministry of Defence now denies.
I believe that a full judicial inquiry, like that for Hillsborough and Iraq, should now be held so that the truth can finally be revealed.
Dave Whyte.
73 Blackcraigs,
Kirkcaldy.
Are cyclists the real problem?
Sir, – I wish to express my appreciation to Clark Cross for his many letters to The Courier in which he has exposed the dreadful antics of cyclists. He has certainly opened my eyes.
Mr Cross is rightfully enraged by the behaviour of speeding cyclists and here's me worried about The Courier's report about the 7,300 motorists caught speeding on the A92 despite the 54% drop in speeding tickets.
As he says, it is about safety and the "poor pedestrian that suffers" from these speeding fiends.
Here was me fretting that in 2014 there were 194,477 causalities on UK roads from motorists and of these 1,775 were deaths.
Again I am aghast to hear from Mr Cross that cyclists pay nothing towards the cost of roads, cycle paths and cycle-related expenditure whereas all this time I have believed that, as taxpayers, they pay the same as the rest of us given that road tax has been paid into the general taxation fund since 1937.
Mind you, it is true that most cyclists are also motorists and have a car but this just confuses things so I'm going to ignore it.
I am sure that we can look forward to more illuminating information from Mr Cross on these pests who are clearly a danger to our way of life.
George White.
2 Cupar Road,
Auchtermuchty.
New Chancellor a bit foolhardy?
Sir, – The comments by new Chancellor Philip Hammond that he cannot envisage a scenario where Scotland has a different relationship with the EU from the rest of the UK stands in stark contrast to the comments by David Mundell, Secretary of State for Scotland and Scotland's only Tory MP.
Mr Mundell has stated in the last few days he would be open to a different deal for Scotland if possible.
Prime Minister Theresa May's Government has its work cut out in getting the UK out of the EU, while ensuring a deal that satisfies Scotland's desire to maintain close links.
For Mr Hammond, therefore, to rule out the possibility of a different arrangement for Scotland at this early stage is more than a little foolhardy.
While the Prime Minister has stated that Brexit means Brexit, for Scotland Remain means Remain and the Scottish Government would be doing a great disservice to the vast majority of those who voted Remain north of the border, if it did not secure some sort of deal that respected the aspirations of this group.
Mrs May has visited Scotland and we should expect her and the Brexit Minister, David Davis, to continue to engage with the First Minister, with the Scottish Government and with Scottish MPs.
The Scottish Government should also clearly be involved at the heart of the negotiations, but that requires the UK Government not to reject the option of a different arrangement for Scotland with the EU, as Mr Hammond seems already foolishly to have done.
Alex Orr.
77 Leamington Terrace,
Edinburgh.