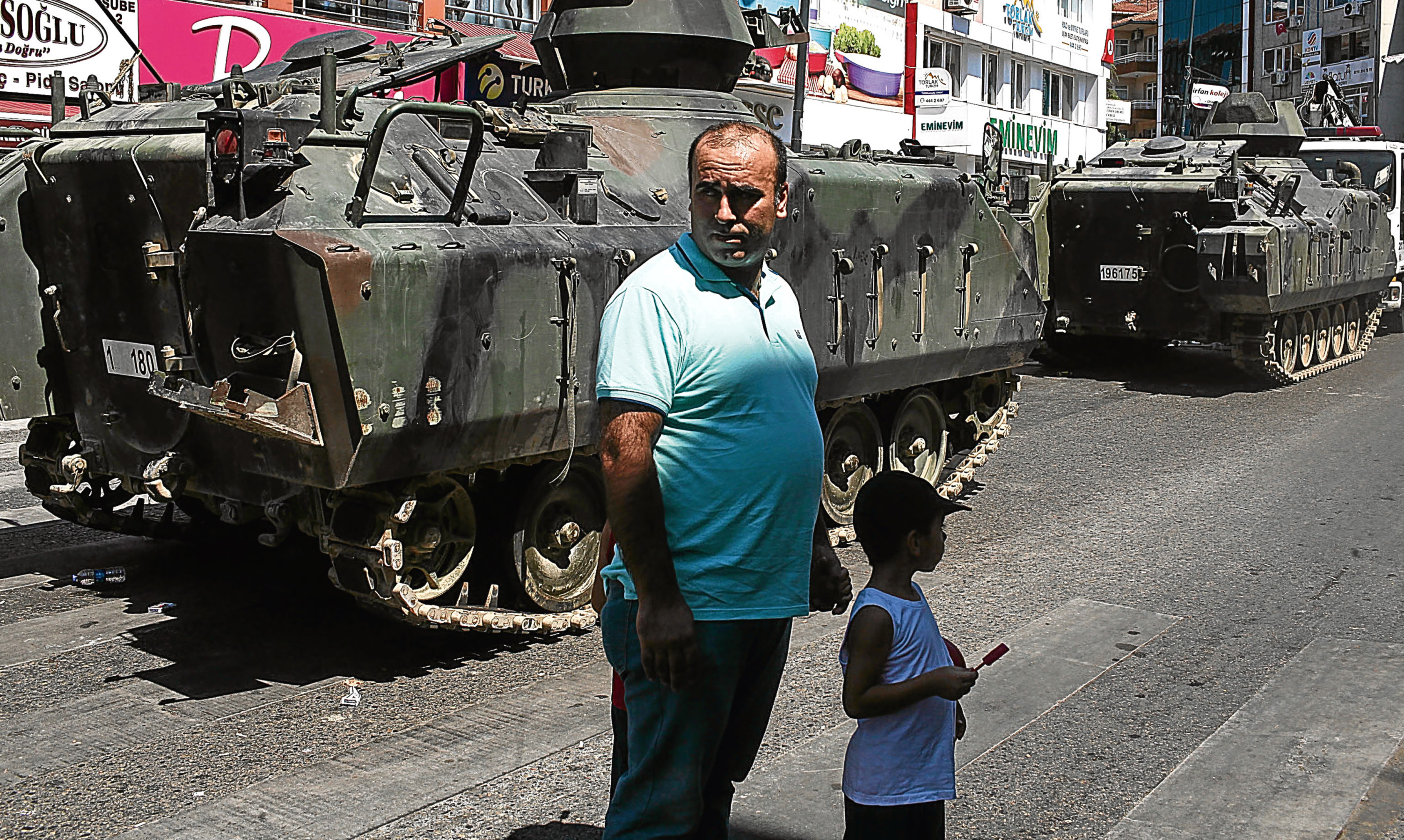 Sir, – The attempted coup d'etat in Turkey and the massacre in Nice must serve as warnings that we live in an increasingly unstable and dangerous world.
In recent years, President Erdogan has led Turkey away from the legacy of Ataturk and in an increasingly Salafi Islamist direction.
Indeed, many believe his opposition to IS or Daesh is less than wholehearted.
The fact that this is a country which has NATO's second-strongest army should cause us grave concern.
The horrific mass-murder in Nice following similar atrocities in Paris and Brussels reminds us that Europe is not immune to sudden senseless slaughter.
At least we in the UK are believed to have the continent's most effective intelligence service and counter-terrorism policies.
At the same time, the future of the euro is open to question. Southern Europe languishes in depression with Greece suffering under permanent and counter-productive austerity. Many ask when not if the Italian banking system will collapse. In Britain, we are fortunate indeed to be outside the euro with our own currency.
Also, the migrant crisis, which is fuelling the rapid growth of nationalist parties through Western Europe, remains unresolved.
Well over one million more migrants are expected to cross the Mediterranean this year.
We are very lucky that Britain is an island with a Government willing, at last, to control our borders.
In this increasingly dangerous and unstable world, only the most foolhardy and reckless would support splitting our country apart.
I, for one, am thankful that we can still look to the UK to protect us.
Otto Inglis.6 Inveralmond Grove,
Edinburgh.
Scottish voters being ignored
Sir, – Your correspondent Martin Redfern is correct in questioning the validity of First Minister Nicola Sturgeon's assumption she can offer a safe haven to EU migrants.
However, he should not be surprised, as this is the way Ms Sturgeon rules Scotland.
Whether it is the health service or education, the SNP approach is all smoke and mirrors.
Scots who vote in a way she does not agree with are eradicated from the debate as if they never existed.
More than one million voted to leave the EU, more than two million to remain in the UK and more than half a million voted Conservative, contrary to the claim that Scotland is a Tory-free country.
I watched David Cameron's last question time and what a miserable looking lot the SNP MPs were.
They made me ashamed to say I am Scottish. Why do they not return home as they obviously do not enjoy themselves.
RHL Mulheron.
28 Cowgate,
Tayport.
MPs were told not to applaud
Sir, – Mr David A. MacKenzie's claim that "nationalist, robotic narcissists just continue to bring shame to Scotland" (July 16) is typical of the bitter Britnasties.
Perhaps he chose not to remember that the Speaker specifically warned the SNP 56 not to applaud some months ago? Britannia waives the rules.
Calum Duncan.
16 Burn Street,
Dundee.
Ship contracts may go south
Sir, – The Scottish Government is getting concerned with regards to the placing of contracts involving the building of the replacement Type 28 destroyers on the Clyde,
I hope that the UK considers what will happen if Scotland achieves independence and thinks hard before signing contracts without a retrieval/cancellation clause.
The UK has many shipbuilding facilities it can redevelop with a minimum of cost, such as Birkenhead, Devenport and Newcastle on the Tyne, so if this deal is not ratified, then there will be a lot of unemployed shipbuilders moving to England where they will be most welcome.
Also, I keep hearing the First Minister spouting off about the removal of the nuclear subs from their base at Faslane. She should be advised that France or America would accept the berthing of these ships until an alternative base is constructed in England, and that would put another 15,000-plus people out of work.
John McNab.
Inshallah,
Rossie,
Montrose.
Bikes would be tax exempt
Sir, – The two letter writers who advocated that bikes should be taxed should realise that as a bicycle emits no harmful gasses it would be exempt from road tax, the same as electric cars.
As a member of one of the Dundee cycling clubs, I know most of the members have cars and thus pay tax .
Barry Carnegie.
9 Earngrove,
Kintillo,
Bridge of Earn.
Cyclists do pay their way
Sir, – In reply to the letter from Clark Cross about cyclists paying to use roads, motorists seem to think they pay road tax.
There is no such thing as road tax as this was abolished in 1932 by Winston Churchill.
We pay vehicle-excise duty which was charged on engine size but now on emissions.
Some vehicles do not pay VED and others only £20 or £30.
Roads are the responsibility of councils, who receive money from council tax, therefore, anyone who pays council tax contributes to road upkeep. Motorists, cyclists and pedestrians all pay for roads. I am a motorist and cyclist of more than 50 years. I hope other cyclists will promote this argument.
Iain McBain.
Wellfield,
Strathmiglo.
Mrs May has no right to govern
Sir, – Just 13 months since the last election and the Conservative Party has plunged the UK into chaos with its main culprits fleeing the scene.
It is simply inconceivable that Theresa May has been anointed Prime Minister without even having won an election in her own party, far less the country.
There must be an election. The Conservatives cannot be allowed to ignore the electorate. Their mandate is shattered. The Brexit result was a massive vote of no confidence.
Both David Cameron's and Theresa May's commitment to EU membership lies in ruins.
Theresa May says Brexit means Brexit but still nobody in the country knows what that means, not even Foreign Secretary Boris Johnson.
Mrs May has no right to govern. No one knows what she stands for barring a two-minute soundbite at the door of Downing Street. We deserve better than this stitch up.
Cllr Peter Barrett.
Scottish Liberal Democrats,
Perth City Centre.
A calculated approach
Sir, – Your correspondent, K Heath from Kirriemuir (July 13), in defence of Nicola Sturgeon, inadvertently disparages her.
Ms Sturgeon is a canny political operator, arguably one of the UK's most effective politicians.
She and her extensive team of taxpayer-funded spin doctors rarely miss a trick.
Her mission, as we all know, is to separate Scotland from the rest of the UK. Everything else is subordinated to this ambition.
So she'll willingly use say, the Gaelic language and an Australian child, the Chief Minister of Gibraltar and, yes, sadly EU immigrants to further her cause.
To imply the SNP reaches out to EU immigrants without an agenda of divisive political spin is to do Ms Sturgeon an injustice.
Separatist dogma drives every action she takes and, my goodness, she works tirelessly to reach her one and only goal.
Martin Redfern.
4 Royal Circus,
Edinburgh.
EU vote was not about Scotland
Sir, – Could we stop hearing the phrase "Scotland voted to stay in the EU" so inaccurately used by people such as Nicola Sturgeon and the media.
Scotland is not a member of the EU, so had no vote on EU membership.
It is a member of the UK, and it was the UK that voted to leave the EU.
Malcolm Parkin.
Gamekeepers Road,
Kinnesswood,
Kinross.