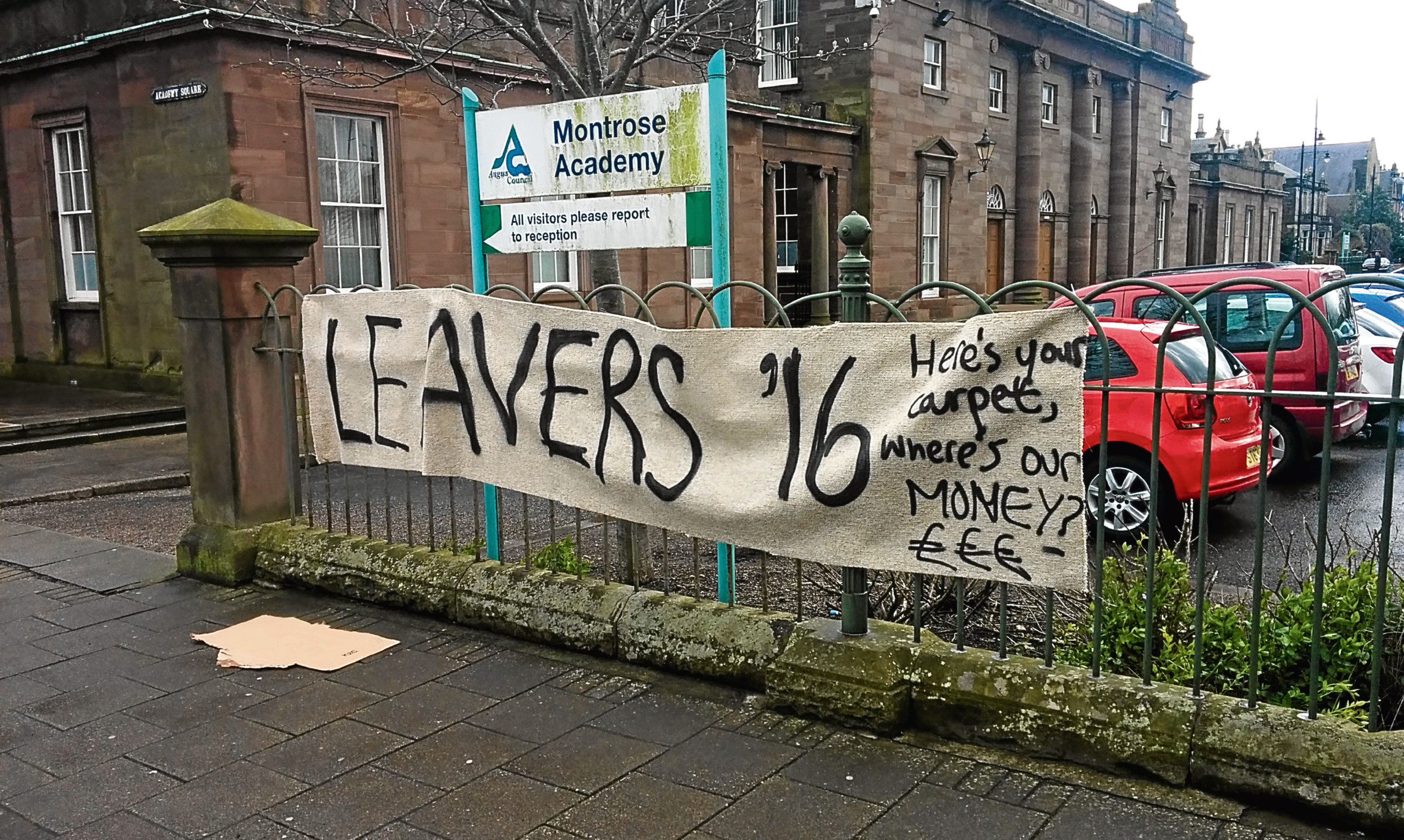 Sir, – It was interesting to read your article (September 6) regarding the result of the Angus Council investigation into the controversial "carpetgate" at Montrose Academy last May.
The council recommendation to possibly centralise all funds raised by pupils for their own purposes such as the prom funds at Montrose Academy, and lump them all together into one account is quite ridiculous and totally unnecessary.
In a previous letter I advised that the senior pupils should open a bank account locally for their prom funds so that they would be in sole charge of them and would be able to spend every penny raised by themselves for that purpose. This advice to them still stands good and the pupils should not be instructed by the council to hand over these funds for them to administer.
I feel sure that the banks would welcome the pupils' initiatives and give them sound advice on running their account.
I look forward to seeing what the council finally decides to do about this matter but I feel they will somehow manage to get their hands on the funds just because they say so.
John M Page.
8 Panter Crescent,
Montrose.
Return control to Westminster
Sir, – Our Prime Minister Theresa May displayed leadership qualities by visiting Scotland so quickly after her appointment.
The picture that day of her and First Minister Nicola Sturgeon on the steps of Bute House should have been memorable but what caught the eye was the cracked and shoddy pavement which mirrored the state of Scotland's infrastructure under this SNP government.
I note that the First Minister has taken on a 14th aide at our expense while Alex Salmond took £30,000 severance pay and has taxpayer-funded pensions.
As a small, indebted country, we cannot afford this largesse towards our politicians, their inept bureaucracy and expensive consultants.
Holyrood is a failed experiment. Surely it is time to revert to the tried and tested government of Westminster.
Michael C. Smith.
Threapmuir Farm,
Cleish,
Kinross.
Hard questions for Government
Sir, – Nicola Sturgeon has decided that there will be a new conversation in her obsessive drive for Scottish independence.
Conversations are supposed to be two way but only those who voted No in 2014 have been doing the talking, or rather asking the questions.
How will Scotland afford it? What currency will it be afforded with? How will Scotland secure its borders? How will the rest of the UK secure its border with Scotland?
Why is the SNP obsessed with Europe when our biggest trading partners are right here in the UK? To date, the Scottish Government has given no hard facts about what splitting up the UK will mean to any of Scotland's citizens and, in particular, those who work, pay tax and have everything to lose from an SNP Government whose incompetence thus far is clear for all to see.
A second referendum will only serve to ensure that the Scottish Government's woeful record is swept under the carpet.
Jim Shaw.
Hill Street
Dundee.
Could we follow Irish example?
Sir, – In a thoughtful article on the tax affairs of technology giant Apple, your columnist Alex Bell asked an important question.
It is about why we put up with a private company making a huge profit while the nation in which it operates makes an enormous loss.
The nation he is talking about is the Irish Republic. When Apple started operations there in Cork in 1980, it employed just 60 people.
Today it employs nearly 6,000 people. The reason for that is not just that it seems to have had favourable tax concessions.
It is as much about the overall approach towards attracting foreign companies in that part of Ireland.
There are lessons which the Scottish Government has not quite learned here.
Attracting foreign investment does not just depend on a favourable level of corporation tax.
It depends on a unified strategy. It depends as much on a youthful, well-trained and flexible working population.
It depends on the quality of our universities and colleges and how they link up to industry.
Just as important are good industrial relations, and a willingness of government, business and trade unions to work together.
The Irish economy has seen setbacks in the last decade. That doesn't seem to have dented its appetite for attracting the businesses of the future.
Apple has increased its workforce across the water a hundred fold in the last 35 years. That must at least get us all asking why they couldn't do it in Scotland.
Bob Taylor.
24 Shiel Court,
Glenrothes.
Scotland would retain jobs
Sir, – Regarding the recent correspondence about GERS, it is worth reminding your readers that this is an estimate and Scotland's financial position as a devolved nation is defined by the union.
For example, almost all my life my income tax has been handled by an office in England, as is my National Insurance.
My driving licence and car tax are handled by an office in Wales. I pay my television licence fee to another English-based office which then spends most of my fee in London and Manchester.
So personally, my taxes support civil servants and broadcasters living and working in England. An independent Scotland would retain these taxes and jobs.
Cllr Bill Duff.
5 MacDiarmid Drive,
Hillside,
Montrose.
Cup revamp is pointless
Sir, – The total attendances at the Irn-Bru Cup games over the weekend was 14,207 and 3,520 of them were at Tannadice.
I can't see the streets of Alloa and Livingston being deserted for the next round for their trips to Bala Town and Crusaders, nor indeed can we expect an influx of TNS supporters to Forfar, or Linfield supporters at QOS, even more so with the games being played on an international weekend.
If Neil Doncaster thinks this pointless revamping is the way forward then he needs to resign immediately.
Eric Travers.
38 Gellatly Road,
Dunfermline.
Reality bites for isolated Britain
Sir, – The G20 summit showed Brexit has marginalised the UK and any idea that we remain a dependable global player is undermined by our absurd officials.
If we don't take ourselves seriously, choosing to be represented by the likes of Boris Johnson and lining up like turkeys to vote for Christmas, why should anyone give us the time of day?
Our special relationship with the US is over and it will focus on trade with the EU and Pacific Rim, leaving us, as Obama had warned, at the back of the queue.
China will never trust us again and Japan has little option but to close its English car plants and transfer to EU nations.
In the new age of unreason, we were the first advanced nation to witness a clash between myth and reality and in this battle between heart and head, Britain undoubtedly lost.
Rev Dr John Cameron.
10 Howard Place,
St Andrews.