When deciding whether or not to move to Dundee, there were a lot of factors I should have been considering.
Factors like – do I think the university course is right for me? What amenities and activities are available here?
And will I ever understand why these people say 'circle' instead of 'roundabout'?
But I remember vividly the moment when I decided I wanted to move my life to this wee city.
It was the first time I saw the penguins.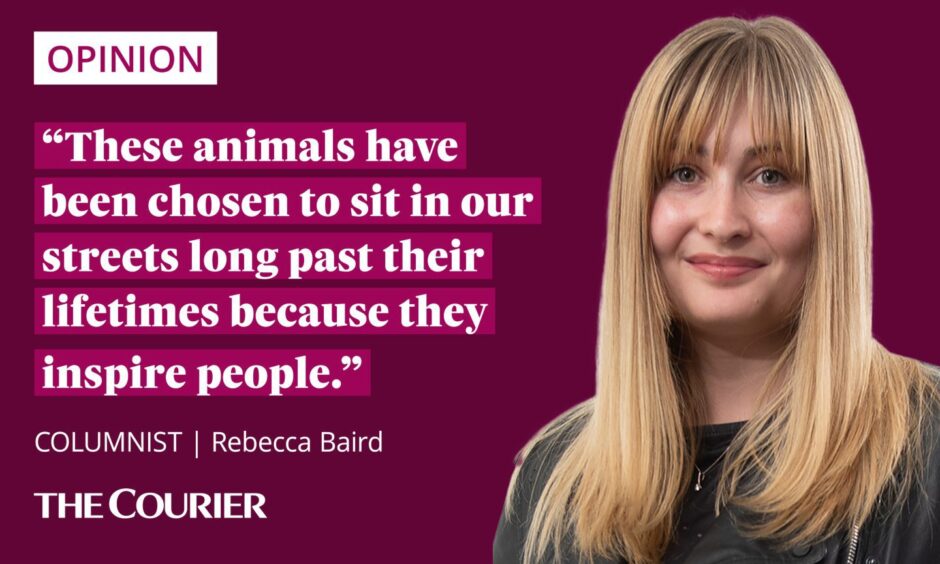 Pootling along the wall outside City Churches, Angela Walker's penguins were all dressed up for graduation when I visited Dundee University's open day.
With their wee caps and gowns, it was clear the pint-sized flock lived in a city with a sense of humour – and a fondness for animals.
That made Dundee seem like a place I wanted to be.
The first weeks of finding my feet here, I used them as landmarks, telling fellow freshers: 'I'll meet you at the penguins.'
Everybody knew them.
Years later, I still smile and pat them on their little heads when I pass by. I see others doing it too – taking pictures with them local celebrities.
They're not alone either – Walker's 'in ma fair toon' mischievous monkey, the Dundee dragon, polar bears and lemmings can all be spotted stopped in their tracks across the city.
And this week, a brand new animal was added to Dundee's statue menagerie – Winkie the Pigeon.
Only this bronze bird is no mere whimsical addition to Broughty Ferry's Beach Street.
Real life heroics from Winkie and pals
Winkie was a real hero, whose homing instinct led to the rescue of an aircrew following a North Sea crash in 1943.
It's only right she should have a statue in her honour, like Bamse the St Bernard who was drafted into the Norwegian Royal Navy and stationed in Montrose and Dundee during the Second World War.
Not only did Bamse break up fights between his crew mates and rescuing sailors who fell overboard, he also had his own bus pass, and regularly took the bus around the area to round up his friends from the local pubs.
He was honoured with a statue in Montrose, facing out to Norway, in 2006.
Perhaps less heroic, but no less beloved, is the adorable Hamish McHamish, St Andrews' iconic cat statue.
A ginger 'cat about town', Hamish was owned by former BBC producer Marianne Baird, but his nomadic spirit saw him become a character of St Andrews life.
Since 2014, he has been memorialised in bronze on Logies Lane – and if you visit his statue, you can see his nose and ears have been rubbed shiny from passers-by 'petting' him.
Statues are cute – so are humans
It's funny, and quite sweet, to think about why we erect statues of animals.
Traditionally, statues are reserved for people who have done something very good, or very bad. They represent impact, inspiration, or change.
It speaks to the character of towns across Tayside and Fife that this area's animals have been credited with such impacts.
We didn't erect Bamse to inspire other dogs, or Hamish to set an example to his fellow cats.
I certainly don't think Winkie is going to bring about a sudden surge in heroism for pigeons.
These animals have been chosen to sit in our streets long past their lifetimes because they inspire people.
And what a great unifier it is to have monuments to souls that we can all agree were good.
There is no nuance needed to know Bamse was a good dog, Hamish was a good cat, and Winkie was a damn good pigeon.
So no matter who you are, where your from or what your politics are, I think it's safe for you to say: Long live the Dundee penguins.
Is this thing on?
I have to confess something: I don't really like comedy.
Now, don't get me wrong – I love to laugh. And I appreciate a well-timed quip or quick-witted comment in the moment.
Despite the girning of some of these columns, I'm not actually totally miserable.
But the industry of comedy, particularly stand-up, has always baffled me.
The idea of paying to sit in a room where people will try to make me laugh feels bizarre.
It's a bit like online dating; the whole set-up feels a bit too contrived for me to know if I'm actually into it, or I just expect to be.
To me, the funniest things are always those that take me by surprise – a spectacular fall, or slip of the tongue, will always crack me up more than an on-beat punchline.
But I'm determined to expand my tastes, so last night I bit the bullet and went to a stand-up gig.
It was…fine. The comics did a good job, I laughed. But I have to admit, I think I was laughing about 50% of the time because I was supposed to – not because I couldn't help it, which I gather is the idea.
It makes me wonder if I'm missing something, if my funny bone is perpetually broken.
(I'm not ticklish either – maybe it's related?)
Or maybe I am just a miserable cow. There, that one's a freebie!