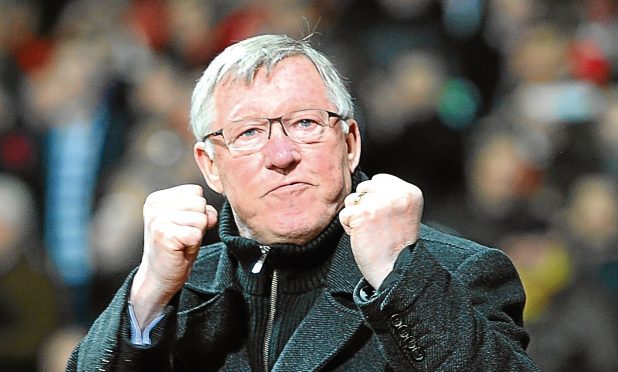 It's not often I find myself listening with close interest to any sporting story these days but my attention was captured good and proper recently when two worlds collided. It fairly brought me up short when a radio reporter referred to someone hurling milk, water and sundry liquid comestibles in the general direction of Manchester United manager Jose Mourinho, in what I was charmed to hear described as a "food-related fracas".
Due to the fact that I have a mind full of mince, I found myself instantly wondering: "Why milk?" and came to the completely unfounded conclusion that maybe, all this time, Mr M has actually been calling himself The Special (K) One and we just didn't notice the cereal reference.
Be that as it may, buffetings from the buffet seem to come with the territory down Old Trafford way, with mention also made of a previous occasion where someone, obviously with more bravura than sense (legend has it that it was Spanish midfield maestro Cesc Fabregas) threw a slice of pizza at then-United manager Alex Ferguson. You can only picture the scene of the infamously short-fused Sir Alex with a faceful of funghi, as he did a completely unplanned impersonation of Freddy Krueger. Apparently, however, the delicacy in question was a Margherita pizza, which actually sounds more like a Wag character from Footballers' Wives than anything likely to be served up down the staff canteen.
If anyone ever got it on film, you can just hear the soundtrack consisting of Dean Martin's That's Amore, the opening line of which goes something like: "When the moon hits your eye like a big pizza pie…" Or perhaps someone might have attempted, as friends of mine once did while traversing the streets of Rome to get to an international rugby match, to sing the words "Quattro Formaggio" over and over again to the strains of La Donna e Mobile.
And Sir Alex, it should be remembered, has previous on throwing more than his weight about. He it was who once kicked a football boot at the head of the fragrant David Beckham, inflicting an injury requiring stitches. Maybe they should just have dubbed it a foot-related fracas and left it at that.
Perhaps that wonderful phrase "food-related fracas" – and doesn't it just roll off the tongue! – struck such a strident chord with me because my entire life is one such, except that most of the time it's me throwing food at myself and consuming it at a rate of knots, rather than wasting it by missing my mouth. Which is why I find it rather difficult to take in that there is a wheen of our great traditional dishes at which contemporary foodie culture is turning up its sensitive little nose.
Apparently, five meals a week on the modern household menu have a "foreign" influence – Mexican, Italian, Chinese, Indian – and not just from the kerry-oot, though this information was elicited from the general public by a fast-food delivery service.
The resulting poll found that huge percentages of the population had never eaten things such as shepherd's pie, toad-in-the-hole, liver and bacon, gammon and pineapple or Lancashire hotpot. Kedgeree and faggots I can almost understand, although I am partial to both and to the latter's not-too-distant relation, beef olives. But mince and tatties? MINCE AND TATTIES? How come almost 20 per cent of the poor, benighted creatures who took part in this survey had never tasted mince and tatties? That's just not right. How times have changed from the days when my late father-in-law was presented by his daughter with a plate of spaghetti Bolognese and wailed for all to hear: "What have you done tae ma mince?"
Now, I don't say these staples of the national diet are on our personal in-house menu every day of the week but even those who like to live on the culinary edge, so to speak, must feel a strong compulsion every so often to sit down to stovies, haggis and neeps or even ham, egg and chips, all of which are apparently but a distant dream in many current domestic set-ups. As is steak and kidney pudding. Now, I can accept that it's a bit of a faff to make it yourself but have these people never heard of Fray Bentos?
And I concede we must all move with the times. I organised a large-scale lunch recently for my mother's 90th birthday and out of 33 adults and five children, the most popular starter choice was haggis bon-bons. If you can make a bon-bon out of haggis, you can surely persuade anyone to eat a faggot.
Having said that, I can't remember the last time we bowed to tradition and had turkey for Christmas dinner. For the last three years, it's been beef and on Monday coming, it will be leg of lamb. Nothing stays the same forever – but it would be nice to think that some of these dated but delicious dishes might still offer a little more than just food for thought.